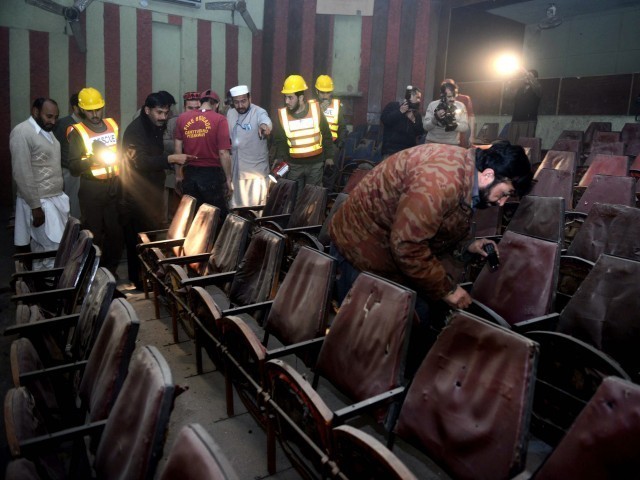 ---
PESHAWAR:



Considering Zargia Khwar Shay (ZKS) is the first Pashto film to premiere in Peshawar after two bloody attacks targeted cinemas in February, its screening on Friday was considered a success.




This was measured less by box office returns and more by the fact that a substantial crowd showed up despite the very real horror shows played out at Picture House and Shama cinemas in Firdous Bazaar on February 2 and 11 respectively.

According to some cinema goers, ZKS was all sold out for its first show. ZKS is the second movie of 2014 and stars Lollywood icon Meera. It was initially due for release on February 7, smack in the middle of the two targeted attacks on cinemas in which over 20 people lost their lives.

ZKS is being screened at Arshad Cinema, a sister cinema of Sabrina theatre. The twin cinemas, situated in Khyber Bazaar, were once again adorned with massive hoardings. Posters plastered the walls and busy squares of the city, beckoning invitingly to movie goers to partake in the almost ritualistic pleasure of watching a movie on the big screen.

The movie is also on at cinemas in Quetta and Karachi; the producers are satisfied ZKS will do well in all three cities.

However, in Peshawar, cinema doors did not open before certain arrangements were put in place, namely security. This was a condition put in place by the provincial government after the February attacks.

A family business

"Making a movie is never easy, such a situation just makes it harder," shared Shahid Khan who co-stars with Meera in ZKS and co-owns Arshad and Sabrina cinemas with his brother Arshad Khan. ZKS has been both produced and directed by Arshad.

"The security situation has completely destroyed our productions and people are not willing to produce movies."

Shahid has worked in more than 150 Pashto, Urdu and Punjabi movies and is popularly known as the 'Jangju hero' due to the extreme violence featured in his flicks. Roughly translated, Jangju means 'warrior' in English.

According to Shahid, ZKS is the only movie to have been released in the last two months. "Most of the cinemas are either still closed or run live shows. If nothing else, they run old movies to keep the house going."

The soundtrack for ZKS includes songs by Nazia Iqbal and Rahim Shah. Shahid maintains special emphasis was also placed on post-production.

User reviews

ZKS is the second Pashto movie starring Meera. Her earlier work was for Orbal, another movie by Arshad. The rest of the cast includes Jahangir Khan, Sidra Noor, Khushboo, Dilbar Munir.

"The film is not very different, just the usual Pashto movie but its late release created more hype and anticipation than it would have merited otherwise," argued Junaid Khan after watching the flick. "People enjoy watching Jahangir Khan and Shahid Khan and look forward to their movies."

The quality of the movie was not the only thing to detract from the experience; Junaid admitted most viewers were worried about whether going to the cinema is safe now. "Installing CCTVs will not prevent another attack."

Ahmad Ali who also watched ZKS was a more generous reviewer. "They should be appreciated for producing this movie. Such work must continue if we want to grow our entertainment industry."

There was no denying it – fear and relief were palpable after the crowd exited the cinema but ultimately the love for Pashto movies was enough to draw the entertainment starved audience.

Most cinema owners in the city have installed CCTV cameras and hired personal guards. They are hopeful such measures will increase the cinema goers' confidence.

The fact that ZKS made it to the box office might make it easier for other producers to release their work. According to the industry grapevine, Nadir Khan's Ilzam is set to be released soon as is Ashiq, a romantic flick from film producer Naveed Khan. Azadi, a telefilm by Qaiser Sanas, will be coming soon at cinemas in the city.

Published in The Express Tribune, April 19th, 2014.