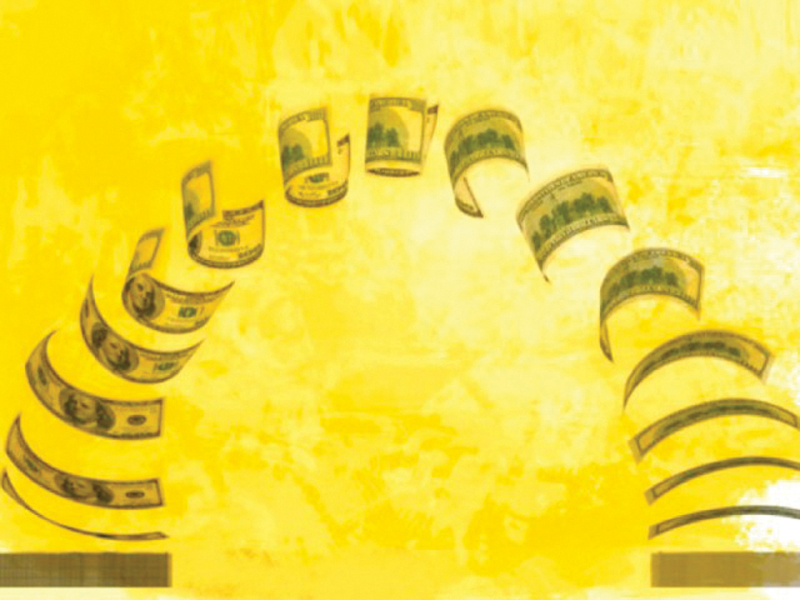 ---
KARACHI:



"Blessed are the young for they shall inherit the national debt," former US President Herbert Hoover is said to have remarked with regard to the dangers of accumulating long-term national debt. After all, actual borrowers are rarely around when the payback time comes.




With Pakistan's total public debt reaching Rs15.49 trillion, or 63.3% of the country's gross domestic product (GDP), many analysts are questioning the rationale of raising $2 billion from international debt markets through five- and 10-year dollar-denominated Eurobonds at rates that are 5.5% higher than the US Treasury rates.

Can we really afford to borrow at 7.25%-8.25%, although Pakistan issued its 2007 Eurobonds at a premium of only 325 basis points above the US Treasury rates?

Speaking to The Express Tribune on Saturday, Arif Habib Corporation CEO Arif Habib said the decision to issue dollar-denominated Eurobonds will improve liquidity in the local market and lead to an overall reduction in interest rates in the economy.




"I think it's a sensible move. It'll benefit us immensely if it succeeds in easing pressure from the local debt market and banks," Habib noted.

Pointing out the recent change in government's domestic borrowing pattern from short-term treasury bills to long-term Pakistan Investment Bonds (PIBs), he said interest rates are eventually going to come down while pushing the banks towards increased asset financing in the private sector.

"This will lower interest rates and reduce the government's own liability. It pays Rs1.1 trillion in interest annually. Paying a little more in percentage terms on Rs200 billion will be compensated by the decreased interest rates applicable to the rest of the debt," Habib said, adding he had been urging the government to borrow a 'few billion dollars' from the international market to avoid 'blackmail' at the hands of local players.

According to Muhammad Shamoon Tariq, who heads the Pakistan operations of Sweden-based mutual fund Tundra Fonder, the premium of 550 basis points that recently released Eurobonds offer over the US treasury rate is 'justified'.

Given Pakistan's junk rating, less than two months of import cover, foreign reserves being 45% lower than the 2007 level, and credit default swaps being 2.5 times higher than the 2007 level, Tariq said the risk taken by international investors justifies the higher yield.

"Structural change in the political situation, IMF's reaction to the reform agenda, and positive developments on the macro-economic front make Pakistan an attractive market for bonds," Tariq added.

Admittedly, analysts showing optimism in the wake of the successful issue of $2 billion Eurobonds far outnumber the doomsayers. But the market's largely positive response is less than unanimous for sure.

"The view that the Eurobond sale was met with (global) market confidence is a farce. Pakistan's yields are higher than those of Greece, an economy in depression," said Asif Punjwani, a Texas-based derivatives trader, while speaking to The Express Tribune.

Notably, the last time Pakistan floated the foreign bond was in May 2007, which was right before the country had to be bailed out by IMF, he added.

"Pakistan ended up borrowing from the international capital markets precisely because it squandered its reserves by running huge trade imbalances. These trade imbalances are still intact. In fact, shoring up reserves from Eurobonds and propping up the rupee via foreign exchange intervention will further worsen trade imbalances," Punjwani said.

Trade deficit, which is the difference between the value of exports and imports, reached $13.9 billion in July-March of 2013-14. Theoretically speaking, there are only three ways to get hold of dollars: trade surplus, remittances and foreign borrowing.

"Unless playing musical chair with foreign debt is the economic policy, there's only remittance to rely on," he said.

In a world of slowing demand and oversupply, he said, it will be hard to reduce trade deficit – let alone run a surplus. "Since the lack of demand has a deflationary effect, real yields on dollar-denominated debt will be higher than nominal," he noted.

Published in The Express Tribune, April 14th, 2014.

Like Business on Facebook, follow @TribuneBiz on Twitter to stay informed and join in the conversation.
COMMENTS (17)
Comments are moderated and generally will be posted if they are on-topic and not abusive.
For more information, please see our Comments FAQ