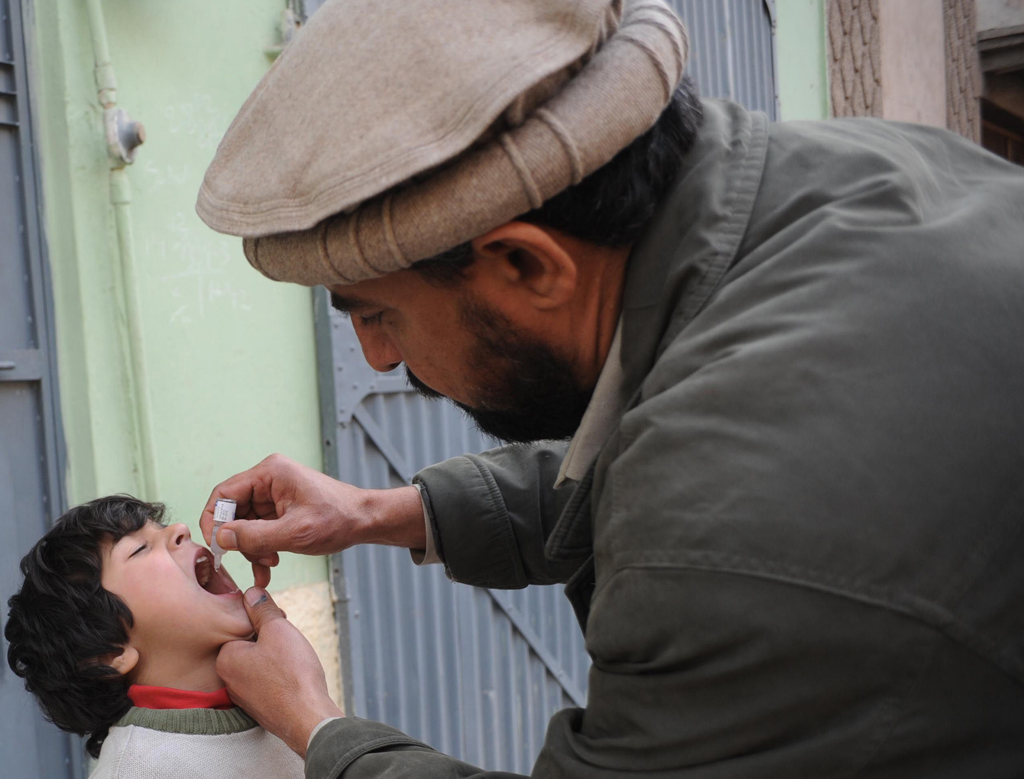 ---
KARACHI: Sehat ka Insaf will be conducting its 11th round in Peshawar today – one cycle away from completing its campaign in the district.

After the 10th round last Sunday, Minister for Health Shahram Khan Tarakai said the success of the child healthcare drive prompted the government to extend the campaign to Charsadda, Mardan and Swabi districts.

The health minister will inaugurate the latest rounds for all four districts today at Molvi Ameer Shah Memorial Hospital on GT Road.

With just four months in to the new year, the country's polio count has already reached 43 (three from Peshawar district). With almost all cases being reported from Khyber-Paktunkhwa (K-P) and the Federally Administered Tribal Areas (Fata), the 'success' of this campaign is crucial for the entire country.

The campaign's activities included vaccinations of nine preventable diseases, including polio, along with raising healthcare awareness.

Before measuring the progress of this campaign, it is important to understand the challenges that K-P faces, especially in Peshawar district.

Dr Mohammad Akram Shah, N-STOP Officer for District Control Room in Peshawar, said there were three main reasons why World Health Organisation (WHO) and UNICEF recommended the government conduct 12 cycles of Sehat ka Insaf in the district. Only four are planned for Charsadda, Mardan and Swabi each.

Firstly, the security environment in certain areas of Peshawar district makes it difficult to reach some children in any given round. Secondly, since the district is a major transit hub - new children keep coming into the area - which is why some rounds achieve more than their target rates. Thirdly, due to the inaccessibility of some areas or incidents when children were 'missed'. Organisers expect to reach these in the next round.

Non-vaccination of children in Fata is a major concern in any anti-polio initiative in K-P, especially Peshawar district, because it is a major transit hub for the region and the movement of people accelerates the spread of disease. Furthermore, migration patterns within the district experience sudden changes when people move to escape militancy in certain K-P areas that border Fata.


| | | | |
| --- | --- | --- | --- |
| 1.  Khalisa-1 | 11.  Karimpura | 21.Asia/Dabgari | 31. Pawaka |
| 2.  Mahal Therai-2 | 12.  Shaheen Muslim Town 1 | 22.  Jehangirpura | 32.  University Town |
| 3.  Khalisa-2 | 13.  Shaheen Muslim Town 2 | 23.  Kakshal-1 | 33.  Shaheen Town |
| 4.  Mahal Therai-1 | 14.  Akhunabad | 24.  Kakshal-2 | 34.  Tehka-Bala |
| 5.  Faqirabad | 15.  Ganj | 25.  Bhanamari | 35.  Tehkal Payan - 2 |
| 6.  Sikandar Town | 16.  Yakatoot-3 | 26.  Deh Bahadur | 36.  Tehkal Payan - 1 |
| 7.  Gulbahar | 17.  Andersheher | 27.  Nothia Qadeem | 37.  Hassan Garhi - 1 |
| 8.  Sheikh Junaid Abad | 18.  Yakatoot-2 | 28.  Landi Arbab | 38.  Hassan Garhi - 2 |
| 9.  Shahi Bagh | 19.  Yakatoot-1 | 29.  Nothia Jadeed | 39.  Palosi |
| 10.  Lahori | 20.  Wazir Bagh | 30.  Dheri Baghbanan | 40.  Larama |

• Due to security concerns, Sehat ka Insaf was only conducted in Sheikhan and Suleman Kheil in the last three rounds

The map

The infographic shows the percentage of children vaccinated in round 10 of Sehat ka Insaf (April 6), measured against the population target set for each UC. It is important to note that campaign organisers froze these targets in December 2012 so demographic movement between then and now has affected these numbers.

"The outflux of migrants escaping violence is why some UCs experience low immunisation rates," Shah explained, adding that the target in these cases (Sikandar Town) is larger compared to the population that remained in the UC during round 10 of Sehat ka Insaf.

The UCs marked for security were identified by the government, in coordination with United Nation Department of Safety and Security (UNDSF).

Areas marked as 'high-risk' were based on the history of polio cases over the past 10 years and other factors contributing to the spread of the disease.

People who refuse the vaccines account for a small percentage of total children missed. According to Shah, those who were missed because they were inaccessible (for security or otherwise) or refused, were revisited in the days following the campaign.

According to Unicef, since Pakistan is a country where polio is endemic, every child up till five years of age should be given the vaccine each time it is offered. The more times a child is protected, the safer he or she is from the crippling disease.

Publishd in The Express Tribune, April 13th, 2014.