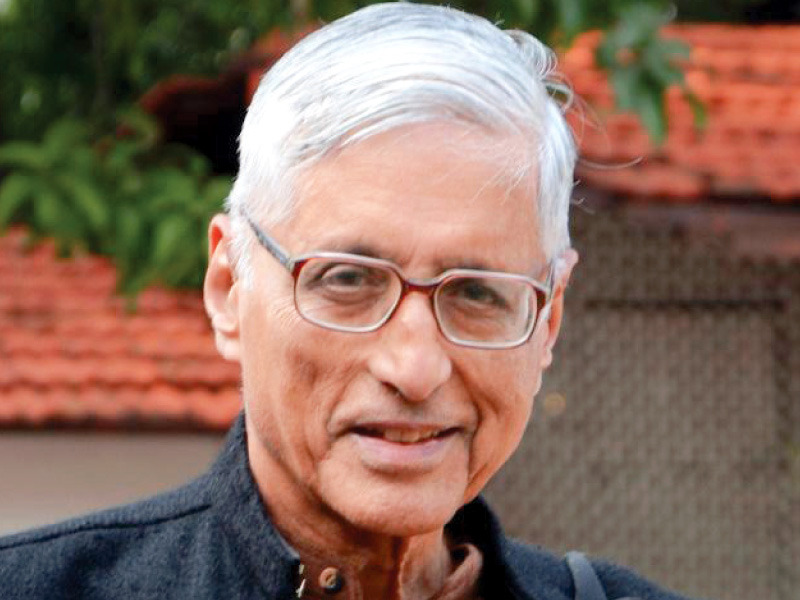 ---
MUMBAI:



It is election season in India, and time again for some political parties to score brownie points with anti-Pakistan rhetoric, strangely believed by many to be synonymous with national pride. 

Narendra Modi, the Bharatiya Janata Party's prime ministerial candidate, has been in the news for calling Aam Aadmi Party leader Arvind Kejriwal a Pakistani agent. He also made a scathing attack on the Congress Party's A K Antony, currently serving as the Union Minister of Defence. Modi has reprimanded both for acting in cahoots with Pakistan, and harming India's interests.




The results of these elections could be quite crucial in shaping bilateral ties between India and Pakistan. And if one had to pick one political personality who could help these South Asian neighbours move past their troubled relationship, it would perhaps be historian Rajmohan Gandhi, the candidate being fielded by Aam Aadmi Party in the East Delhi constituency.

Gandhi has been a biographer, taught at the University of Illinois at Urbana-Champaign, written extensively on human rights and conflict resolution, edited newspapers, and served as President of Initiatives of Change International, among various other professional commitments. His website mentions, "He has worked consistently for India-Pakistan and Hindu-Muslim reconciliation. Since 9/11, he has also tried to address the divide between the West and the world of Islam. A Muslim-non Muslim dialogue at Caux, Switzerland, in 2002 was one such initiative."

Gandhi has also played an important role in establishing Asia Plateau, a centre of Initiatives of Change in Panchgani, a hill station in Maharashtra, where several inter-cultural dialogues have been organized, the latest of which was one called 'Making Democracy Real' in January 2014.




At this dialogue, he had invited five delegates from Pakistan – Salman Rashid, author of nine travel books and Fellow of the Royal Geographical Society; Shabnam Rashid, peace activist and ardent advocate of women's rights, Sajida Haider Vandal, architect and former Principal of National College of Arts, Lahore; Pervaiz Vandal, architect and convenor of Trust for History Art and Architecture Pakistan (THAAP)'s annual conference; Naz Ikramullah, artist and cultural historian.

Gandhi has travelled within the Punjab, Sindh and Khyber-Pakhtunkhwa provinces of Pakistan. Of these, Punjab holds a special place in his heart. In his latest book, he writes about how his first visit to Lahore was marked by a realisation of the strong similarities between Delhi and Lahore, particularly the mix of Mughal and British architecture.

"Interest turned into a bond, and I made several subsequent visits to Lahore, none more enriching perhaps than the one made in 2005, when my wife Usha and I interviewed two dozen or so persons with memories of how Hindus and Sikhs had saved Muslims, and vice versa, in the Punjab of 1947. From those carriers of history, we learnt of the insaniyat which in numerous priceless instances defeated the insanity of that year," he writes in the introductory chapter.
[infogram url="
Words such as 'healing', 'reconciliation', and 'understanding' are an integral part of Gandhi's vocabulary when he speaks of India-Pakistan relations. He writes about the need to acknowledge that the story of Punjab in 1947 was not that of carnage alone; there were Punjabis in towns and villages who reached out to others in vulnerable circumstances, protected them, and helped them escape.

Perhaps this grandson of the late Mohandas Karamchand Gandhi will bring in a ray of hope. In the concluding paragraph of the book, he writes, "Healing and renewal may also come from ordinary men and women, Punjabis and others, who, thinking of their children and grandchildren simply ask one another, 'For tomorrow's sake, can we learn from yesterday?'"

Modi is a Mumbai-based writer. He is the founder of Friendship Across Borders: Aao Dosti Karein

Published in The Express Tribune, April 10th, 2014.