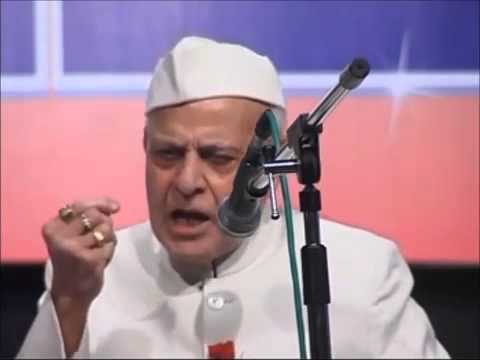 ---
KARACHI: Indian poet Pundit Gulzar Dehlavi believes Urdu can bridge the cultural and religious barriers in the Asian subcontinent by becoming a dazzling emblem of what he defines as the "secular and composite culture".

The Hindu Kashmiri Pandit, who will be celebrating his 90th birthday on July 7 this year, is reckoned as one of the foremost living exponents of Urdu and Persian poetry.

On March 23, Gulzar – not to be confused with another critically acclaimed Indian poet-lyricist with the same pen name – presided over the annual International Urdu Mushaira in Karachi, which is held annually since 1989 under the auspices of Sakinan-e-Shehr-e-Quaid.




His conversation with The Express Tribune, along with his intermittent musings, proved that he is a living archive,  an embodiment of the Ganga-Jamuni tehzeeb.

As early as 1935, he had come under the influence of his maternal uncle Jawaharlal Nehru, who later became the first prime minister of India. He also developed a genuine camaraderie with Maulana Abul Kalam Azad, who in those days was serving as the president of the Indian National Congress for the second time.

However, for him, times are changing for the worse as he claims to have witnessed the degradation and degeneration of language, literature, culture, values and traditions. "In this context, both the countries [India and Pakistan] have adopted a self-destructive behaviour," asserted Gulzar.

Crusader for Urdu's promotion

Gulzar recalled his decades-long battle against the Indian government for ignoring Urdu post-Partition when officials introduced science magazines only in Hindi and English.

With Maulana Azad's support, he was at the forefront of campaigning for an Urdu science magazine. The government ultimately conceded and the magazine in Urdu, titled "Science ki Dunya," was launched in 1975 with Gulzar as its first editor.

"[The first two decades after the Partition] were unfortunate times for Urdu and its speakers as certain influential quarters had launched a smear campaign against the language by juxtaposing it to Muslims and Pakistan," said Gulzar. "A majority of Urdu poets and writers could hardly find courage to speak in favour of Urdu, fearing that they would be labelled traitors."

However, he along with few other notable Urdu-lovers took it as a mission to make conditions conducive for what he defines as "our language" even today.

After the magazine launch, the late Major Aftab Hasan, who launched the Scientific Society of Pakistan and played significant role for the promotion of science education in Urdu, hosted a reception in honour of Gulzar. "[Major Hasan] began to weep, saying, 'while you have succeeded in launching the magazine despite hostile conditions, we could not do so'," he recalled.

Indian elections

Gulzar appeared discontent with what he termed the Pakistani media's 'mild optimism' for Bharatiya Janata Party's (BJP) prime ministerial candidate Narendra Modi, who, despite being absolved by the Indian Supreme Court of any responsibility for the 2002 Gujarat pogrom, is still widely blamed for Hindu-Muslim riots.

"… We publicly condemn crazed Hindu extremists in writing and speech," said Gulzar. "But the Pakistani media seems obsessed with giving them airtime instead of secular [political] parties."

"Although they live in the country of Gandhi, Nehru and Azad, their deeds hardly match with the ideals that these legends lived and struggled for," added Gulzar as he recalled one of his statements for the Hindu right-wing parties, including the BJP, Shiv Sena, Vishva Hindu Parishad and Rashtriya Swayamsevak Sangh.

Second home

Gulzar is no stranger to Karachi and Lahore. Both the cities are home to a sizable Urdu-speaking population from Delhi which migrated to Pakistan post-Partition. Gulzar finds numerous close friends among them, including noted Urdu poet Jamiluddin Aali – with whom he once attended school – and retired Justice Salahuddin Mirza – who he considers as the 'yaar-e-ghaar'.

"I have spent considerable time in these two cities even before Partition and have visited at least 35 times after the formation of Pakistan," said Gulzar while appreciating the respect a 'Hindu Pandit' and, paradoxically, 'molvi sahib ka larka' had received every time. His father, Pandit Tribhuvan Nath 'Zar' Dehlavi, received the public title of 'molvi sahib' for his dedication as a teacher of Urdu and Persian languages at the Delhi University for around 40 years.

Till the India-Pakistan War of 1965, Gulzar's elder brother preferred to stay in Pakistan at their family-owned house in Anarkali, Lahore. "During partition riots in 1947, till 1965, our Muslim tenant who shared a portion of the house did not only pay monthly rent but also vowed that the property will remain ours and he will not let anybody usurp it."

Thereafter, his usual hosts in Lahore are the family of the late Nawab Sirajuddin Ahmad Khan 'Saail' Dehlavi, the son-in-law of Daagh Dehlavi – the last of great classical Urdu poets of the Delhi School.

Published in The Express Tribune, March 31st, 2014.
COMMENTS
Comments are moderated and generally will be posted if they are on-topic and not abusive.
For more information, please see our Comments FAQ