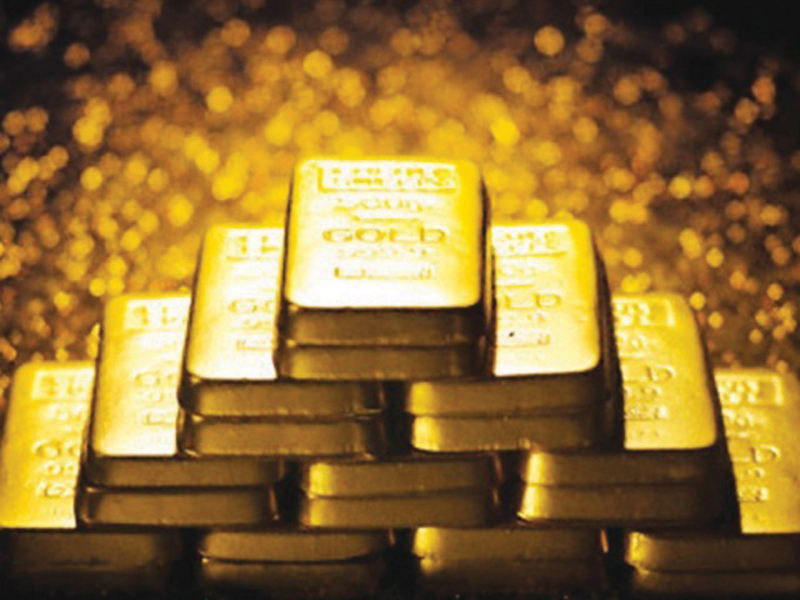 ---
ISLAMABAD:



Pakistan has refused to sell gold worth $2.7 billion, citing national security reasons, as the International Monetary Fund (IMF) pushes Islamabad to convert the precious metal into cash to build foreign currency reserves, revealed the global lender's report on Friday.




The report, prepared by IMF's staff led by its Washington-based Mission Chief to Islamabad Jeffrey Franks, also spills the beans on the '$1.5 billion gift' to Pakistan by 'Saudi Arabia' – the name Prime Minister Nawaz Sharif's government has so far refused to officially share with parliament.

According to the report, the State Bank of Pakistan (SBP) holds over 2 million troy ounces of monetary gold, having $2.7 billion value at market rate. It is not counted in gross international reserves as it is not deemed to be liquid by the SBP, says the IMF.

The IMF and Pakistan authorities discussed what steps would be needed to make gold more liquid, the report adds. "However, the (Pakistani) authorities stressed that they have no plans to sell gold and preferred existing arrangements for gold holdings for national security reasons."




The IMF is pushing Pakistan to sell gold holdings at a time when other countries are buying the commodity as a strategic reserve. The IMF had even sold its surplus gold to India a couple of years ago.

According to analysts, one reason behind the IMF's insistence could be the country's inability to build official foreign currency reserves despite being in the $6.7 billion IMF arrangement.

While the IMF hinted in its report that the SBP was not aggressive in building foreign currency reserves, it disclosed that Pakistan's central bank continued its efforts to build reserves by purchasing dollars from the market.

The SBP purchased $575 million in the last few months till March 17, the report states. The SBP purchases may help stabilise the foreign currency reserves but is considered one of the reasons behind depreciation of the local currency against the US dollar. The rupee started appreciating only after the $1.5 billion grant from Saudi Arabia.

$1.5 billion gift

While the federal government remains reluctant to officially disclose the name of the country that 'gifted' Pakistan $1.5 billion despite persistent demand of the opposition, the IMF report identifies it as Saudi Arabia.

A "$750 million grant recently received from Saudi Arabia" will help the Pakistan government in reducing borrowings from the SBP for budget financing, said the IMF.

"Reserve accumulation was also aided by an additional inflow of $750 million from Saudi Arabia," according to Memorandum of Economic and Financial Policies (MEFP), which is attached with the report and is jointly prepared by Pakistan and the IMF.

In a footnote to the MEFP, Pakistan told the IMF that it received an initial inflow of $750 million on February 19, indicating that it would receive more money.

Strong growth forecast

The IMF confirmed its recent forecast of 3.1 per cent growth this year, which was revised up from an earlier 2.8 per cent. "The overall economic situation in Pakistan is gradually improving," said Jeffrey Franks.

"That 3.1 per cent may still be a bit on the conservative side, so we see indicators of growth that are relatively strong considering the fiscal adjustment that has taken place," he told reporters on a conference call.

For the 2014-15 fiscal year, the IMF expected Pakistan's growth to accelerate to around 3.7 per cent.

The IMF report said the growth was boosted by a stronger manufacturing industry thanks to an easing of Pakistan's chronic electricity shortages, despite weaknesses in agriculture.

It also said that Prime Minister Nawaz Sharif's government, despite its commitment to IMF-backed reforms, faced 'strong' political resistance to certain structural measures.

Published in The Express Tribune, March 29th, 2014.
COMMENTS (40)
Comments are moderated and generally will be posted if they are on-topic and not abusive.
For more information, please see our Comments FAQ