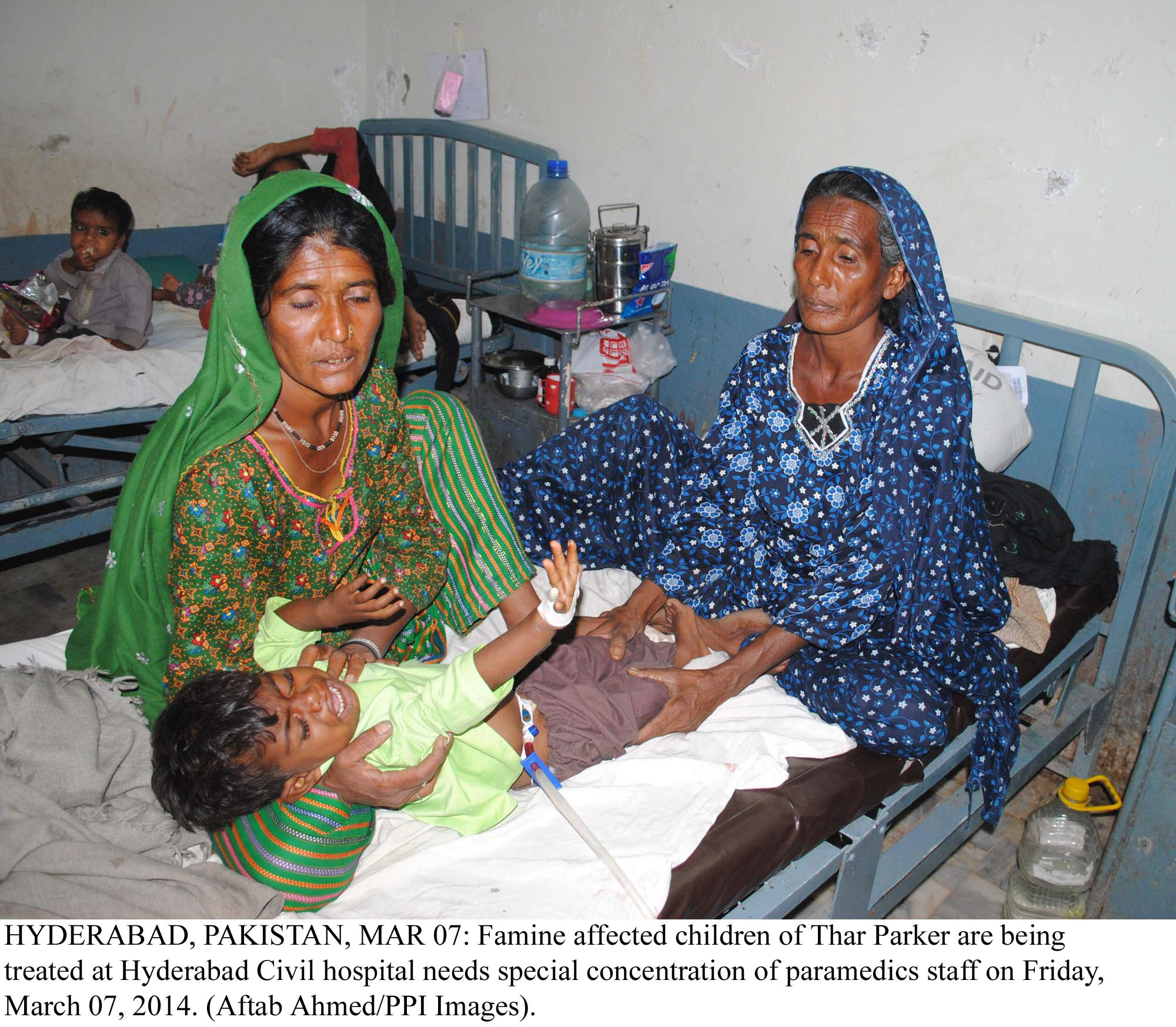 ---
KARACHI: A famine will devastate Tharparkar if the prevailing situation across the desert is not addressed seriously, warned a social activist from the district, Dr Sono Khangharani.

He was speaking at the first dialogue in Karachi on the Tharparkar crisis, arranged by the Pakistan Institute of Labour Education and Research (PILER), at the Pakistan Medical Association on Tuesday. The speakers were of the opinion that it was the failure on the part of the government that led to the pathetic situation in the desert. They lauded the role of the media that had disclosed the true facts and figures of human and economic losses.




"Ignorance and delays in decision-making gave way to the crisis in Tharparkar," said Dr Khangharani. He said that it was common practice in Sindh for officials to simply write letters to their superior officers. "They believe that their responsibility is complete."

Dr Khangharani said that he had never observed such speedy distribution of wheat in Tharparkar. "About 80 per cent of the wheat has been distributed. This is an example of the quick response of the government." He suggested that the government and civil society activists must keep an eye on new developments in the area. Dr Khangharani went on to disclose that around 700,000 sheep have died across the district but the issue had not been highlighted as yet.

"The government must ensure the citizens' right to food," stressed Zulfiqar Shah, the joint director of PILER. "It is uncivilised that a person should die because of hunger." Shah also said that removing officials after a disaster was not the solution, suggesting that accountability should be adopted as officials responsible for the situation could be traced legally.

The participants criticised public institutions for not responding in a timely manner. They said that the officials were aware of the issues being faced by the people of Thar, saying that they did not make any plan before the drought hit the whole district. "The government does not see the poor children of Thar, only the coal reserves there," said a participant from Tharparkar, Khalid Solangi. "Why is there a drought in our desert? Why is there not a similar situation in the Indian part of the desert?" he questioned.

"The people of Thar have been facing this problem since the last few years," said Khishor Kumar from Mithi. He stressed that the government should adopt a mechanism that could resolve the drought-like situation in the area permanently.

"The major issue of Thar is water. The government is fully aware of the issue and is considering construction of dams in Tharparkar," disclosed the Assistant Director of Pakistan Disaster Management Authority, Muhammad Nawaz. He shared that several RO plants had been constructed in different parts of the district before the drought hit.

Nawaz claimed that all health facilities across the district were completely functional, adding that ration was being provided to all affected families.

Published in The Express Tribune, March 26th, 2014.