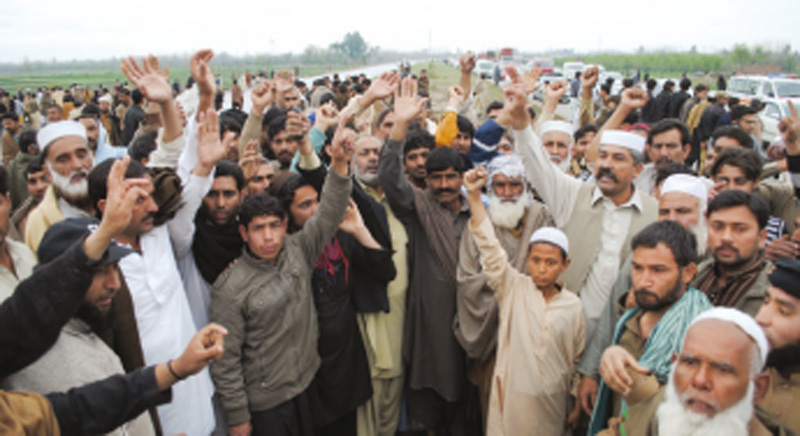 ---
SWABI/ PESHAWAR:



A 45-year-old lady health worker (LHW) associated with polio campaigns was kidnapped and then shot dead in the early hours of Monday.




Salma Karim was asleep at home with her family when around 2am eight men barged in their home in Guluzai village, within the jurisdiction of Chamkani police station. The men had their faces covered and held Salma hostage at gunpoint. They locked her husband, two sons and daughter in a room and proceeded to search the residence. They left the house with Salma, five tolas of gold jewellery and Rs20,000 in cash. Due to the heavy rainfall, Salma's neighbours did not hear anything.

The same afternoon, relatives and neighbours of the deceased protested and blocked the Peshawar-Islamabad Motorway for an hour and gave a two-day deadline for her return.

Around 3pm, her body was found by the river near Koh-e-Daman village, within the jurisdiction of Daudzai police.

A police official confirmed that the body was identified as Salma who had been kidnapped hours earlier and her family had registered an FIR about the abduction with Chamkani police.

He said that she might have been targeted for her work in the polio campaign but it was too early to jump to conclusions.

Remembering the departed

Salma Karim was married to Karim Khan and hailed from Guluzai village, located just outside Peshawar. Her sons, Sheryar and Shahab, are students at Edwardes High School. They also help their father run a wholesale medicine shop in Namakmandi.

The family did not have any enmity with anyone and they believe she was targeted because of her job and involvement in the polio campaigns.

An official from the Chamkani police said she was a relative of an ex-DSP and was a good woman. He added that the way the kidnapping unfolded – the masked men barging in and leaving with cash and gold - was rather unusual.

A relative said Salma was taken away with force, she cried for help but because of the heavy rain nobody could have heard her. He added that she was probably shot by the kidnappers as they had a long way to go and she was not cooperating with them.

Teachers boycott polio campaign

Members of the All Teachers Association in Swabi has once again decided that they would not participate in polio vaccination campaigns throughout the district in the future. They said it was not a part of their job description.

This was decided at a meeting in Swabi on Monday and chaired by the association's district president, Abdul Latif Khan. It was attended by 40 teachers from different parts of the district.

Abdul Rahim said they had been appointed to educate the nation, not vaccinate it against polio. He added vaccinating was a responsibility of the health department.

It was decided that the teachers would stay firm on their stand and not bargain over the issue with anyone.

The teachers said they had lost many colleagues in attacks on polio teams in the district. They appealed to the government to hand this over to the health department, not other teachers.

This is not the first time teachers in Swabi have refused to take part in the polio campaigns. The campaign was suspended when the Expanded Programme on Immunisation's office was destroyed on January 24, 2014. In December, 2013, two police officials escorting polio vaccination teams were gunned down by unknown militants on Swabi-Topi Road. On August 28, 2013 around 40 teachers in Swabi refused to participate because of the law and order situation and attacks on polio workers in the district. Two months before that, they decided against participating because two teachers were killed by militants.

Published in The Express Tribune, March 25th, 2014.
COMMENTS
Comments are moderated and generally will be posted if they are on-topic and not abusive.
For more information, please see our Comments FAQ