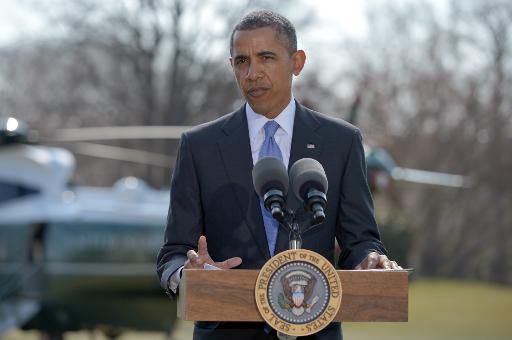 ---
WASHINGTON: US President Barack Obama imposed sanctions on Vladimir Putin's inner circle and a "crony bank" for Russia's elite Thursday, while threatening to target Russia's broader economy over the Ukraine crisis.

"Russia must know that further escalation will only isolate it further from the international community," Obama said at the White House.

Even as US officials reeled off a list of Russians targeted in the worst East-West crisis in years, Moscow hit back with its own sanctions aimed at Obama's closest political advisors and top lawmakers.

The new US measures targeted a new list of 20 lawmakers and senior government officials and other key figures in addition to 11 people already sanctioned by Washington.

Obama made his announcement just hours after Russian lawmakers rubber-stamped a treaty signed by Putin to absorb the Ukrainian region of Crimea into Russia.

The move freezes assets within American jurisdiction and bars US firms from conducting business with those concerned.

It is also designed to frustrate attempts by those designated to conduct international business in dollars.

The US Treasury Department identified the financial institution involved as Aktsionerny Bank of the Russian Federation, also known as Bank Rossiya.

Senior officials said the bank held significant assets of the Russian ruling elite and key figures around Putin.

"Bank Rossiya's shareholders include members of Putin's inner circle associated with the Ozero Dacha Cooperative, a housing community in which they live," the US Treasury said.

A senior US official described Rossiya as a "crony bank."

The list includes key Russian lawmakers and aides to Putin and others, including several prominent business tycoons.

They include Vladimir Yakunin, chairman of Russian state railways, and Arkady Rotenberg and Boris Rotenberg, hugely wealthy brothers close to Putin who were awarded billions of dollars in construction contracts ahead of the recent Sochi Winter Olympics.

Others targeted included Gennady Timchenko, one of the founders of Gunvor, a top independent oil and energy commodity trading firm.

The largest shareholder of Bank Rossiya, Yuri Kovalchuk, was also named in measures that officials said would isolate those involved from the top tables of international commerce.

"These individuals will find their ability to continue to operate in the world economy in any fashion severely constrained," said a senior US official.

Obama said he was taking the steps as "part of a response to what Russia has already done in Crimea."

But he also raised the prospect of tougher future action if Russian behavior does not change, adding he had signed a new executive order that would allow him to target specific sectors of the Russian economy.

"This is not our preferred outcome," Obama said, warning that any future moves would have a "significant impact" on the Russian economy.

The evolving strategy is part of a US effort to force Russia to pay an escalating price for its absorption of Crimea and what Washington sees as threatening moves towards the rest of Ukraine.

Officials denied that they represented nothing more than a "slap on the wrist" for Moscow, adding that their impact would pile up over time and hike pressure on Putin over his actions.

As Washington unveiled its latest sanctions, Moscow hit back with its own tit-for-tat measures targeting members of Obama's inner circle, including deputy national security advisor Ben Rhodes, key political aide Dan Pfeiffer and Caroline Atkinson, a top international economic official in the administration.