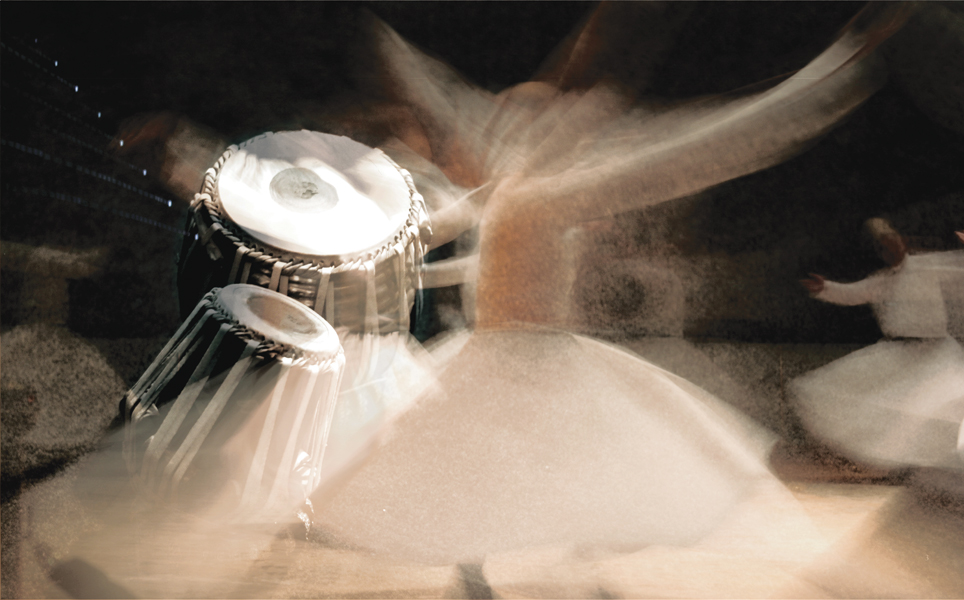 ---
It is not easy to be a visionary and a rock star when you are based in a small city like Jamshoro. Taking up any larger cause instantly raises suspicion and risks being dismissed as a manifestation of your 'elitist' or 'feudalistic' tendencies.



Mai Dhaee at Lahooti live session.  Guitarist Nomi Ali who has also designed the curriculum for the music school. PHOTOS: IBBAD QURESHI AND  ARSHMAAN ALI




Saif Samejo, lead vocalist for The Sketches, has had his fair share of criticism on both fronts, musical and reformist, but that hasn't stopped him from making 'The Lahooti Project' a success. He started it to record and document indigenous musicians from all over Sindh but the project later took the shape of a movement. It is a movement that highlighted discrimination against the much-neglected Dravidian tribes of Sindh, and put the folk musicians of rural Sindh on the world map via Coke Studio. But its biggest milestone yet is the launch the Lahooti Music Aashram — the first formal music school in the history of Jamshoro and Hyderabad.

The Elvis of Jamshoro

Samejo, who grew up in Khairpur, recalls the enthralling music performances that took place in the city every other night as the biggest charm of living in Sindh. This land's people have generally preferred musical congregations to that of any other kind. It was this art-friendly environment that played a key role in his choice of taking up a parallel career in music.





The school provides state-of-the-art music equipment and facilities to students. PHOTOS: IBBAD QURESHI AND  ARSHMAAN ALI




Creating a platform where indigenous musicians can be highlighted and folk tunes documented was always a part of The Sketches' journey that began almost eight years ago. The years passed by reveling in the fame, resolving band issues and learning from the immaculate exposure that they got through Coke Studio. All this combined with Samejo's job as a marketing director at the Daily Kawish, a regional language newspaper, had made life easy sailing for the musician. His social concerns never took a backseat but were sidelined temporarily, as life became comfortable. However, it was a visit to Thar on a bad day two years ago that turned things around.





Faiz Muhammad Qambrani, first registered student for guitar classes and the first sponsored student. PHOTOS: IBBAD QURESHI AND  ARSHMAAN ALI




On September 20, 2011, Samejo was driving to Thar along with Jono Manson, an American musician who was visiting Jamshoro for a collaborative music project. Coincidentally, this was also Ishq-e-Rasool (pbuh) day, which had sparked a series of violent protests across the country. While they were well aware of the situation across the country, Thar was the last place where Samejo expected any sort of hostility. What he witnessed though was quite the opposite. Around 300 to 400 fierce-looking men with weapons and burning torches in their hands welcomed Samejo and his friend. They instantly rushed back to Jamshoro but the image left a lasting impression.

"I couldn't believe what was happening in front of my eyes," recalls Samejo. "I kept wondering how someone could even gather so many angry people in the most neutral part of Sindh and more so in an area which has a zero crime rate." In Samejo's eyes, this particular event coupled with the growing number of madrassahs in Sindh painted a dismal future for the region, especially for its artists. "There is a dire need to provide a counter narrative to this multiplication of seminaries or maybe just revive its original narrative which was all about dance and music. This is where the project Lahooti comes into play."





The school provides state-of-the-art music equipment and facilities to students. PHOTOS: IBBAD QURESHI AND  ARSHMAAN ALI




Lahooti — a timeless tune

'The Lahooti Project' takes its name from the Arabic word Lahooti which means endless or limitless in Sindhi and is also the surname of people belonging to the caste group of Maheshwaris. Primarily used to signify people who are on an endless journey — an interpretation that is supported by the use of 'Lahooti' in some of Shah Abdul Latif Bhittai's poetry — the word has now lost its original meaning. Today, it is commonly associated with drug addicts or those who are lazy, unproductive and mostly a bad impact on society. "Even my mom calls me Lahooti when I am procrastinating and this misrepresentation of the term baffles me every time I hear it," says Samejo with a laugh.

Associating the term Lahooti with a dedicated project for arts was a conscious effort to reclaim the word. This was also the inspiration for releasing a song called Darawar. Though Darawar is the Urdu equivalent for the Dravidian tribe, the aim was also to create awareness about the discriminative behaviour towards some particular Dravidian tribes of Sindh. The issue was highlighted in October last year when the body of Bhuro Bheel was dug out from a graveyard in Badin. The victim was a member of the Hindu Bheels, and the desecration was the work of the Muslim majority of the area. Samejo along with some friends went to meet the family of the deceased to offer condolences and later released their song Darawar. "Sindh is a place where Ramdas and Allahdita are buried together and nothing should threaten such pluralistic values. That is why we made that song," says Samejo. The band found that even though the campaign was restricted to social media, it still managed to open up a few minds, at least on Facebook.





Mai Hanjoo performing during a Lahooti live session.  PHOTOS: IBBAD QURESHI AND  ARSHMAAN ALI




Over time, the name of the project has become a lucky charm for Samejo and his team since their journey has literally become endless especially after the success of the live sessions and the formation of the school.

Breeding tolerance through music

The idea behind the 'Lahooti live session' was to arrange an event where folk musicians from all over the province would get together every week to play music and have a good time. The audio and video of the performances was recorded and released on social media and its popularity quickly skyrocketed. Currently, their Facebook page boasts over 22,000 likes. Around 50 different folk musicians have been recorded and released as part of the Lahooti live sessions and most of them have never been exposed to the camera or the recording equipment before. Some prominent names include Manjhi Faqeer, Mai Dhai, Talib Talari and Mohammad Hassan.

"It is not the first time that people have labeled me as a US agent, our Facebook page is full of such haters," says Samejo. "But I am proud of all the people who have been there with me and made 'Lahooti' something more than a catch phrase."

Increasingly, a large number of folk musicians from rural Sindh have started switching jobs to earn a living. "Folk music is dying in its places of origin such as Badin, Thatta and Tharparkar to the extent that it is hard to find a proper chung player these days, an instrument that Sindh and Balochistan were once known for," laments Fakir Zulfiqar Loond, a folk musician discovered through the Lahooti live sessions and featured in Coke Studio.





Mai Hanjoo performing during a Lahooti live session.  PHOTOS: IBBAD QURESHI AND  ARSHMAAN ALI




The overwhelming success of the live sessions eventually paved way for the Lahooti Music Aashram. The school which is the first of its kind in the area, kicked off classes earlier this month, with an initial batch of nearly 25 students, including five girls. "It was the school's positive reputation that convinced my parents and allowed me to enroll here," says Sana Khwaja, a recent graduate who plans to finish the three-month music course before enrolling for her MBA. The curriculum comprises a 36-hour learning module in keyboards, guitars, bass guitars and drums among western instruments and chung, boreendo, shehnai, danbooro, sarangi, narr, sitar, flute and dholak/tabla, along with other percussion instruments closer to home. For those who can afford to pay, the three-month session costs Rs18,000 but Samejo also offers financial support to those who have a passion for melody but lack the means to nurture it. Once students have mastered the basic playing skills, live shows will be arranged where they will perform alongside seasoned folk and pop musicians. This will not only boost their confidence but also attract more students.

Ustaad Abdullah Khan who has been associated with Radio Pakistan for more than 42 years and has received accolades for his prowess with the shehnai has been employed as an instructor by the school. The job is a welcome respite for the seasoned but underpaid artist — a 10-minute music segment on radio would barely pay him Rs3,000. "Both the floods were very harmful for folk musicians; the water damaged a lot of villages where artists used to live and the flood of clerics has frightened the upcoming generation," says Khan. "Now the key is to make the best of what you have." While it may be too late to inculcate a love for folk music in the average modern music listener, it is still possible to mentor and provide a learning space to those who are interested. And seeing the response the music school has generated, Khan seems optimistic.





Saif Samejo, lead vocalist for The Sketches and the man behind the Lahooti Music Aashram. PHOTOS: IBBAD QURESHI AND  ARSHMAAN ALI




Before the Lahooti Music Aashram was formed, Khan also taught at the Mehran Arts Council in Hyderabad, which offered short courses in folk instruments. But it was Samejo's youth-friendly vision that attracted Khan to the new school. "The Mehran Arts council is more like a blast that was never heard," says Samejo. "But we will consult even them for guidance because if we look at the bigger picture, the school is going to expand with time with bigger and better facilities for the artists."

Dancing to a different tune

"Music can counter any narrative no matter how extreme it may be because it is the perfect relief for the human soul," says Samejo.

"Even if the school manages to produce 30 to 40 dedicated musicians over a decade, I'd be the happiest man on earth. These musicians are going to take the Lahooti thought forward and preserve Jamhsoro and of Sindh's original identity."

Samejo sounds ambitious and also seems to echo Bilawal Bhutto Zardari's thoughts as seen with the 15-day long cultural coup in the shape of the Sindh Festival. While Samejo appreciates the efforts by the Sindh government, he feels a lot more can be done. "A 15-day festival is fine but it's not the solution," he says. "The government should open more places of learning and shelters for artists because that is what they need the most and it will create a systematic method of cultural preservation." He adds that the most effective way of fighting the extremist mindset is to counter it with an equal number of cultural hubs. And that is precisely how Samejo wants to soldier on with his music aashram — without any investment or government interference that could perhaps turn the place into a profit making entity.

Rafay Mahmood is an Arts and culture reporter for The Express Tribune. He tweets @Rafay_mahmood 

Published in The Express Tribune, Sunday Magazine, March 23rd, 2014.
COMMENTS (1)
Comments are moderated and generally will be posted if they are on-topic and not abusive.
For more information, please see our Comments FAQ