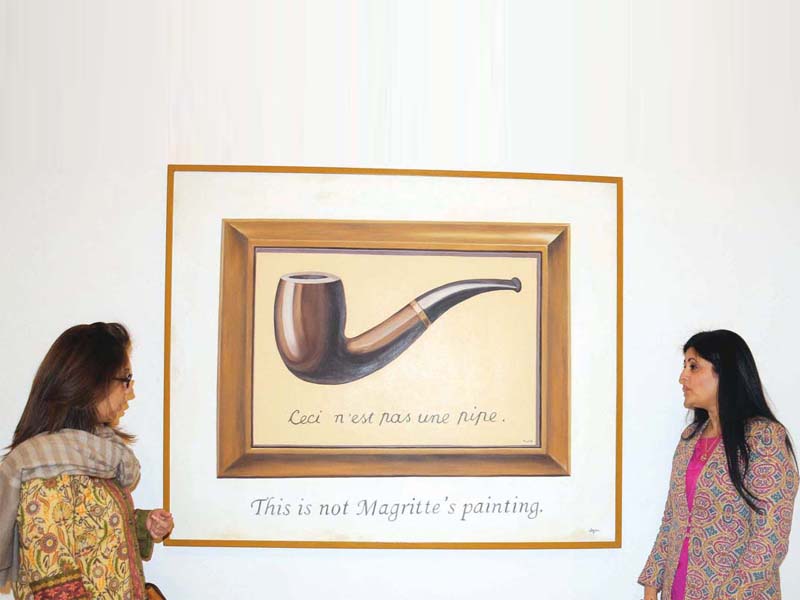 ---
ISLAMABAD:


Just as seemingly unrelated pieces come together to form a puzzle, eclectic elements of design combine into an art exhibition that opened at the Satrang Gallery on Friday.


Titled Piecing It Together, the exhibition marked the gallery's second anniversary, showcasing the critically-acclaimed artists Ayaz Jokhio, Ghulam Muhammad, Hassan Mujtaba and Muzammil Ruheel.
Asma Rashid Khan, the gallery's founding director, expressed pleasure over exhibiting the art pieces, adding that she had received a text message from the renowned artist Salima Hashmi, who said she was proud of these young artists from the Beaconhouse National University in Lahore.
Jokhio questions his audience with a bold directness. A framed canvas painted white, blankly stares back at the viewer, soliciting a thought, an idea or an interpretation. "I want the viewer to think," says Jokhio, who refuses to be stereotyped as a conceptual, literary or political artist.
Taking inspiration from Belgian painter René Margarite, Jokhio has appropriated his work including, This is Not a Pipe, on the same scale, making it his own. The oil-on-canvas paintings are surrealistic, merging everyday objects into thought-provoking art pieces. "My ambition as an artist, if there is an ambition, is to work with all the things I see, that I touch, that I know, that I love or that I hate," he adds.
Meanwhile, Muhammad's work explores the relationship between language and identity, in a culturally-historic and contemporary context. In the process, he revisits the relationship of language and the disintegration of identity, created by the dispossession of certain languages. "My work is about text as an image," says the artist, who has carved out the scripts of various regional languages into a thick yet intricate mesh.
Ruheel plays with text; his script resembles calligraphy. While the intertwined letters make words discernable, one cannot form sentences with them. This limitation he relates to the history of our times. "Most of the history we find is in written form. There are very few images," says the artist, who is trying to make sense out of pre-conceived notions. "Just because something appears to be in Arabic text, we think it must be sacred," he adds. Monochromatic pictures and symbols from the post-colonial Indian subcontinent lend more definition to his work.
On the surface of it, Mujtaba has painted objects that have to do with elementary learning in the education system — chalk on a blackboard or an examination chair, but on a deeper level, he is examining these social constructs of competition.

"[My work deals with] taking part in a competition, you need to achieve some kind of success through education, so those things are pressure on vulnerable children. When an artist equates himself in a third world country, he is responsible for delivering his work's cultural, religious and political elements," says the artist who makes the ordinary seem potentially pretentious. Art exhibition inaugurated by the German Ambassador Dr Cyrill Nunn will continue until March 14.

Published in The Express Tribune, March 17th, 2014.

Like Life & Style on Facebook, follow @ETLifeandStyle on Twitter for the latest in fashion, gossip and entertainment.
COMMENTS
Comments are moderated and generally will be posted if they are on-topic and not abusive.
For more information, please see our Comments FAQ