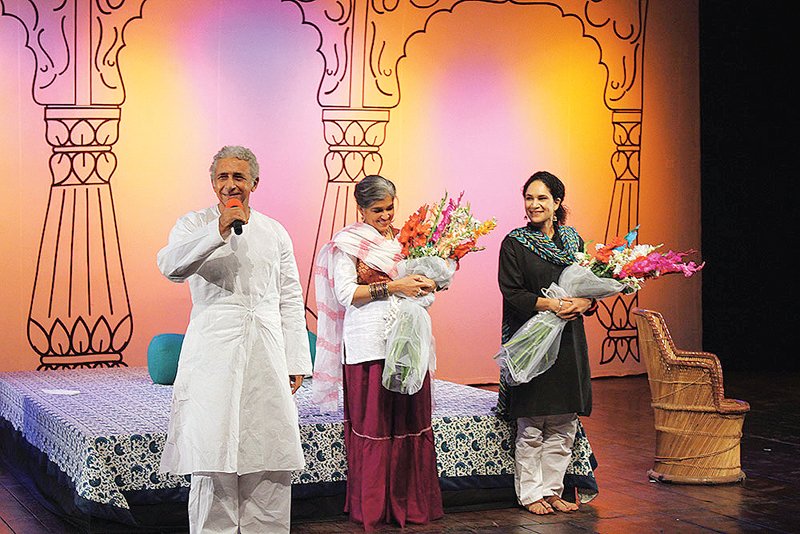 ---
KARACHI:


Though Naseeruddin Shah likes to call Ismat Apa Kay Naam a storytelling session, and not theater per say, his production has more lessons to offer in theatrics than storytelling. Of course, theatre cannot be isolated from storytelling as it is a medium of narrative projection itself, but the kind of storytelling we Pakistanis are used to on stage is more of a listening experience. It's either the Zia Mohyeddin style of dramatic readings with live music, or groups like Zambeel, which have started by reading out stories in groups as characters. All of them can easily be enjoyed on the radio as well.


On the contrary, if we find references to Shah's particular treatment of short stories in Pakistani theatre, and not among storytelling groups, we wouldn't necessarily be wandering into unchartered territory. The fine line on which Ismat Apa Kay Naam operates — balancing between a theatre play and a short story — is quite similar to what Khalid Ahmed did with his play Baadshahat Ka Khatma. It was also a dramatic presentation of a short story, a short story by none other than Saadat Hasan Manto, who has been rumoured to have shared an intimate relationship with Ismat Chughtai.
Naseeruddin Shah inaugurates NAPA Theatre Festival 2014. PHOTO: AYESHA MIR/EXPRESS
Like Ismat Apa Kay Naam, Baadshahat Ka Khatma had a very minimalistic set, but it also had two actors performing distinct roles, and that is where Shah's production nails the show. One actor drives the entire flow of one narrative piece, each by playing all possible characters in that story, and that too, with miraculous ease. So much so, that as a Pakistani theatre enthusiast you'd feel that after a long time, you're witnessing a performance in which the actors actually know what they are doing both physically and psychologically. Above and beyond skill, all are having a good time putting up an act that seems like an extension of their daily lives, to both themselves and their audience.
Such a jarring effect is not surprising when the actors that you're seeing are Naseerudin Shah, his wife and a well-known face Ratna Pathak, and his daughter Heeba Shah. Combine their powers with the extremely meaningful, delicately subtle and passionately aggressive humour, along with the social commentary of Ismat Chughtai, and what you get in return is a sweeping performance that leaves you with questions that are always present in your subconscious, but you never let surface.
Three short stories, Chui Mui, Mughal Bacha and Ghar Waali, were performed by Motley Theatre over a span of eighty minutes, to a packed house at the NAPA auditorium in Karachi.
Chui Mui: Heeba Shah's resilience
Chui Mui or 'touch me not' is possibly the best metaphor that could be used for women who are eager to get pregnant, yet care about the taboos associated with the act of sexual intercourse. In this tongue-in-cheek story, Heeba recalls the tale of a lady who anxiously wants to get pregnant so her husband stays loyal to her and never leaves her. By walking around with an imaginary ballooned belly, she recalls how much of a nuisance that anxious lady had created during her pregnancy, only to experience back-to-back miscarriages. A very interesting parallel is drawn by Chugtai with another character, a helpless lady who successfully gave birth to a healthy baby in a train compartment, who then eases away from the awkward situation by using all her feminine strengths. This pertinent dissection of our society is still very much relevant, though not much talked about today, and its Heeba's resilience as an actor, that makes the transpiration so immediate and powerful. She is an unsurprisingly great addition to the Shah family of immaculate performers, and does a lot of talking through the eyes, that is her strength as an actor.
Mughal Bacha: Ratna Pathak steals the show
It was a smart choice to give the most powerful script to the smartest actor of the night, and that's why Ratna Pathak stole the show despite Shah's star power. Mughal Bacha is a hilarious story that has also been performed as Ghungat (the veil) as it revolves around a Mughal's yearning for his wife to remove her Ghungat herself and not make him do it. For Shah, the term Mughal Bacha is more relevant to the play.
The play stands out for its often very subtle, but sometimes very direct commentary, on the arrogance of the Mughals, and how just to satisfy their ego and laziness they'd never work to earn anything apart from their inheritance. In terms of staging, here is where Naseeruddin Shah's genius as a director comes out, as he uses basic props like a Paan Daan as characters on stage, and Pathak commits no error in very clinically using them as characters in her surroundings. Its Pathak's ability to gather energy from her surroundings that should be a lesson for all aspiring actors at Napa, and elsewhere.
Gharwali: A Dedh Ishqiya like Naseerudin Shah
Gharwali was the last story of the night and that's when the star of the night made his way to the stage. If you have seen Ishqiya and especially Dedh ishqiya, then you're not in for a surprise but an up close and personal experience with Naseerudin Shah. Mirza is a bachelor, who by now has white hair and is very particular about the morals and values of society but Lajjo, his bubbly maid, is quite the opposite. She has a hundred admirers and even more lovers, ranging from the boy next door, to the vegetable seller and Mirza doesn't like that until he actually starts liking that.
Chughtai's woman, like in most of her stories, is strong and lives for the moment, carefree and careless about what is to come, and Lajjo is no different. However, it becomes an exciting experience when you witness Naseerudin Shah playing both Lajjo and Mirza at the same time, transforming himself from a flirtatious maid into a conservative, yet eager old man looking for love. It is his execution of a Romeo under the skin of a stubborn old man, that reminds one of Ishqiya, and it's quite possible that he would have used the character of Mirza to get to the very entertaining Khaloo Jan in the film. This might not be the best performance of the night but definitely the most energising one, and managing to do that at his age is simply phenomenal.
Published in The Express Tribune, March 7th, 2014.
Like 
Life & Style on Facebook, 
follow
@ETLifeandStyle
on Twitter for the latest in fashion, gossip and entertainment.
COMMENTS (6)
Comments are moderated and generally will be posted if they are on-topic and not abusive.
For more information, please see our Comments FAQ