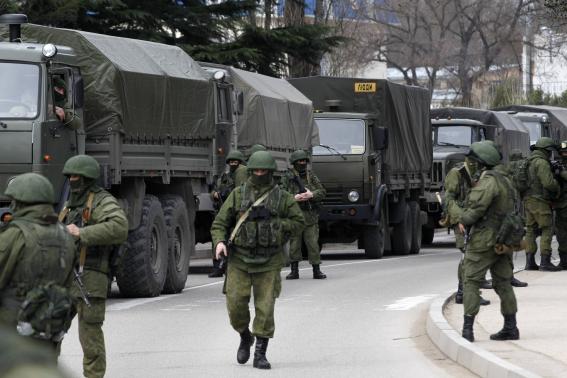 ---
PARIS/ KIEV/ BALACLAVA: Russian President Vladimir Putin secured his parliament's authority on Saturday to 'invade Ukraine' after troops seized control of the Crimea peninsula and pro-Moscow demonstrators hoisted flags atop government buildings in some eastern cities.

Putin's open assertion of the right to deploy troops in the country of 46 million creates the biggest direct confrontation between Russia and the West since the Cold War. It followed days of warnings from US President Barack Obama and other Western leaders that Russia must not intervene, and assurances from Moscow that it would not do so.

Putin swiftly secured unanimous approval from Russia's parliament for the use of armed force on the territory of his neighbour, citing the need to protect Russian citizens and the Black Sea Fleet in Crimea. The authorisation would last "until the normalisation of the socio-political situation in that country."

Troops believed to belong to Moscow have already seized Crimea. The campaign there has been bloodless so far, with Kiev's new authorities powerless to intervene.

Ukraine's Prime Minister Arseny Yatseniuk accused Russia of sending thousands of troops to the area. In a statement late on Saturday, he cautioned any military intervention would lead to war and an end to Kiev's relations with Moscow.

The Kremlin has not yet openly confirmed that the troops that have seized Crimea are Russian. A Kremlin spokesman said Putin had not yet taken the decision to use force under the authorisation granted by the parliament.

Scores were also hurt on Saturday in clashes between pro-Russian demonstrators and supporters of Kiev's new authorities in eastern cities.

By nightfall, demonstrators had torn down Ukrainian flags and replaced them with Russian flags on government buildings in Kharkiv, Donetsk, Odessa and Dnipropetrovsk.

In Kharkiv, scores of people were wounded when thousands of pro-Russian activists stormed the regional government HQ, and clashed with a smaller number of supporters of Ukraine's new authorities. In Donetsk, deposed president Victor Yanukovich's home region, lawmakers declared they were seeking a referendum on the region's status.

"We do not recognise the authorities in Kiev," protest leader Pavel Guberev thundered from a podium in Donetsk.

After Russia's announcement of its intervention, Ukraine's acting president, Oleksander Turchynov, called a meeting of his security chiefs.

Meanwhile, France, Britain and Germany issued calls for de-escalation hours after US President Obama warned that military intervention in the region would be deeply destabilising and 'carry costs'.

Published in The Express Tribune, March 2nd, 2014.