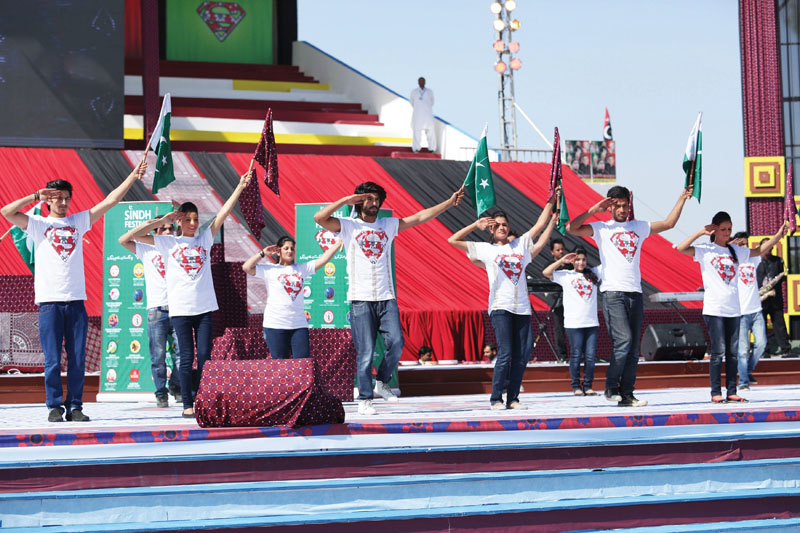 ---
THATTA: What do you get when a 50-year-old political party claims to be the sole representative of a 5,000-year-old culture? The Sindh Festival's closing ceremony -- thinly veiled political propaganda hidden inside a poorly planned event.

Under a scorching sun and almost unbearable heat, the closing ceremony of the Sindh Festival on Saturday was in equal parts brilliant and atrocious. Two hours after the pencilled starting time, a dance performance resembling a high-school physical training session kicked off proceedings.

Shaista Lodhi and Hamza Ali Abbasi then came on stage as the 'presenters.' They littered the crowd with bad puns and even worse jokes, making the heat all the more unbearable. Indeed the loudest applause the two got was when Lodhi threatened to not leave the stage until she was applauded off -- the crowd, all too eager to see the back of her, obliged. The closing ceremony could not have gotten off to a worse start.

However - in what was to become the defining topsy-turvy theme for the afternoon - when all seemed doom and gloom, Mohammad Ali Shyhaki and Allan Faqir's younger brother, Reza Allan Faqir, came on stage and gave a brilliant performance, singing the famous 'Allah, Allah ker bhaya'.

After the duo, a visibly buoyed crowd welcomed Circle of Trust, a relatively unknown band. And soon it was clear why they remain so. The two-member band's guitarist pretended to play an acoustic guitar while electronic music played in the background and the vocalist failed to even lip-sync properly. Halfway through a song, the guest bassist gave up all pretences and promptly walked off to grab a drink, all the while the base-riff 'miraculously' continued.

The next two performers once again lifted the mood of the crowd. Azal and Shehzad Roy, who brought Wasu along with him, managed to help the crowd forget about what Circle of Trust and the presenters had made them go through.

If one was to look at the front row, you could see some of Pakistan Peoples Party stalwarts sitting there - Agha Siraj Durrani, Nisar Khuhro, Qaim Ali Shah and Sharjeel Memon all present. What was missing were the Bhutto-Zardari - either fashionably late or waiting to make a grand entrance, depending on who you ask.

That soon changed with the arrival of the first 'Bhutto'. Bakhtawar's arrival had everyone on their feet, 'Jiye Bhutto' shouted the crowd again and again. Perhaps Bakhtawar was lost, for in front of a crowd in Thatta, she started speaking in fluent Victorian English. The crowd murmured as it failed to grasp any word other than 'Sindh' and 'Bhutto'. "No excuse for us to stop living," she said, referring to the threat of terrorism - from behind bullet-proof glass, with three suited bodyguards standing behind her.

If the crowd was excited at the sight of Bakhtawar, it went into an outright frenzy when they caught a glimpse of Sindh's favourite son.  One wonders if Bilawal Zardari would have gotten the same response that Bilawal Bhutto did. When he spoke, he spoke like a Bhutto would have. Heartfelt and eloquent, despite occasionally struggling and stuttering with broken Urdu, he won the crowd over with his speech. This was where he announced himself to all those watching - Bilawal Bhutto, the charismatic leader, had finally won over the right to wear that name.

Despite Abida Parveen being her brilliant best as the closing performance, the show was stolen by Bhutto - as it was meant to be.

Best moments

Azal: Despite their genre of music being a misfit at the event, the rock band managed to impress the crowd with their performance

Shehzad Roy and Wasu: Drawing loud cheers from the crowd before, during and after his performance, it was clear that he has a prominent fan-following in Thatta

Bilawal: A moving speech during which he broke down. His broken Urdu all the more charming in comparison with his sister's immaculate Victorian accent

Abida Parveen: Enough said

Best forgotten

The presenters: Their performance was summed up by Abbasi's painfully misinformed statement, "Why are we talking about fishermen? Thatta does not even have a shore."

Circle of Trust: By far the worst musical performers on the night, they were too busy trying to copy Atif Aslam's moves to remember to sing

Bakhtawar: Came on to an uproar but disappointed the crowd by not even trying to speak in Urdu and Sindhi

Published in The Express Tribune, February 17th, 2014.