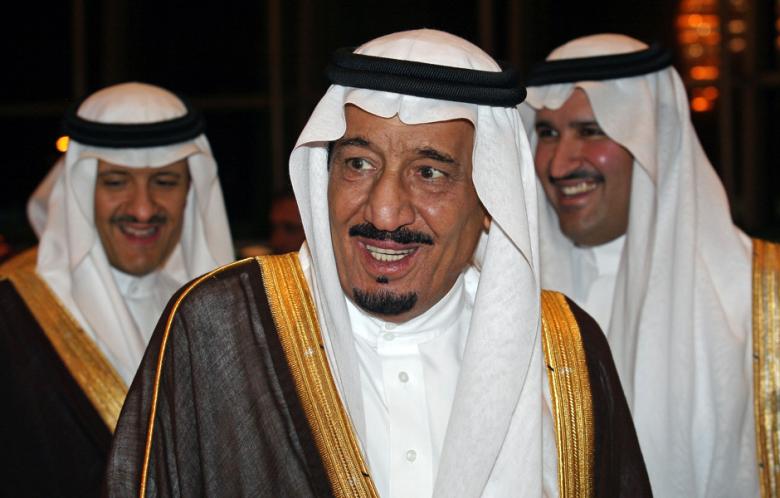 ---
ISLAMABAD: The Crown Prince of Saudi Arabia Salman bin Abdulaziz al-Saud, who also serves as the deputy prime minister and minister for defence of the kingdom, is scheduled to visit Pakistan from February 15-17 on the invitation of Prime Minister Nawaz Sharif for talks on subject.

According to a Foreign Office (FO) release, the Saudi crown prince would be leading a high powered delegation including Minister of Economy and Planning Dr Mohammed bin Sulaiman Al-Jasser, Minister of Commerce and Industry Dr Tawfiq bin Fawzan Al Rabiah, and Minister of State for Foreign Affairs Dr Nizar Bin Obaid Madani along with important Saudi businessmen.

The visit is of special significance since it would be his first visit to Pakistan after assuming this position. He had earlier visited Pakistan in 1998 when was serving as the governor of Riyadh.

During the visit, Prince Salman is expected hold talks with the President and the prime minister on bilateral and international matters of mutual interest.

Among other senior dignitaries, the minister for defence, the minister for finance, the speaker of the national assembly, the adviser to the prime minister on National Security and Foreign Affairs and the chief of Army Staff would be calling on the crown prince.

The key topics in the agenda include ways to increase export of Pakistani manpower to Saudi Arabia and to facilitate the Pakistani community residing in Kingdom of Saudi Arabia.

Later, Foreign Office spokesperson Tasnim Aslam Khan explained that there is no specific reference to stationing of Pakistani troops in Saudi Arabia, though other defence matters are expected to come under discussion.

"We have been providing training to the Saudi Armed Forces. We would also be interested in sale of arms to Saudi Arabia like JF-17 Thunder and Mushshaq aircraft and other equipment."

Categorically denying that Saudi Arabia was interested in acquiring nuclear arsenal from Pakistan, the spokesperson said "Pakistan and Saudi Arabia are not discussing nuclear cooperation."

She added that Pakistani nuclear installations were safe with the country dealing with nuclear technology for more than 40 years. "We have a number of nuclear power plants in the civilian domain. We have a nuclear weapons program which is a declared one. We have extensive security regimes for both. Our civilian nuclear program is under IAEA safeguards and it is meant to provide energy and it is also used in agriculture and medical fields."

She concluded that talks on nuclear installations was propaganda. "This campaign is motivated and baseless and we reject it."

As for a draft defence-cum-security pact between Pakistan and Saudi Arabia having been prepared for signing during the visit of the Saudi Crown Prince, the FO spokesperson said a number of proposals are under consideration, and they will "probably be finalised over the next two or three days."

Trade with India

On the issue of trade with India and postponement of its trade minister's visit, the spokesperson said, that only the Indian side can answer for why they cancelled the visit.

On the resumption of the trade route across the Line of Control in Kashmir, the spokesperson said that Pakistan did not want to create impediments in trade.

"We have already decided to restore trade because it is for the Kashmiris and for their interaction and benefit. We decided that Pakistan should not be the one creating any impediments. We do hope that similar gestures would be visible from the other side."

She elaborated, "Now it is up to the local authorities to decide how they want to proceed with this.… India had proposed that we should hold the meeting of the Joint Working Group on cross-LoC CBMs."

This meeting, the foreign spokesperson said, is likely to take place in Delhi during this month probably after Feb 22 or 23. We hope that during this meeting, we will be able to work out and agree on some arrangements to improve the systems on the line of control (LoC) and monitoring of the cargo that goes both ways so that any incident of this nature does not happen in future. "

About the minister's allegation that there was no clarity on Pakistan side regarding granting MFN status to India, she said, "We agreed on certain timelines. There were Pakistan's concerns that were presented when the two commerce ministers met and there were Indian concerns. They agreed on a number of measures and timelines to achieve those. Since the meeting was held in India, we expected the Indian side to provide the agreed points to us that we discussed. But when the communication arrived, it somehow skipped some parts that were of interest to Pakistan. We have sought a clarification that is where the matters are at the moment. I think, visit may have been cancelled because we still did not have the clarity on how to proceed forward."

Karzai and Obama stalemate

To a question regarding stalemate between President Karzai and President Obama on signing the BSA, the spokesperson said, "We are very clear that we want peace and stability and we are willing to help in whatever way we can. When and how the US and Afghanistan sort out whatever differences they have, is their business."

However, the spokesperson added that Pakistan's reservations on use of Afghan soil also extended to the use of bases on the other side of the Durand line.

Drone strikes in Pakistan are directly related to BSA because there are four air bases in Afghanistan from where drones are operated, she explained, "When we say that Afghan territory should not be used against Pakistan, it covers drone attacks as well. About the spillover effect, yes, we are aware of that."

She added, "There is a question of Afghan refugees as well. Return of those who are already here and apprehensions that if the security situation is not stable, more refugees may pour in. So we have these concerns and that is why we have very high stakes in peace and stability in Afghanistan. We are working with the Afghan government and other international partners."

To a query whether Pakistan is looking to expand its relations with NATO beyond 2014, the foreign office spokesperson replied, "We have ongoing engagement; we have regular dialogue at various levels, and there are also some mechanisms that are under consideration on how to formalise our dialogue and cooperation.
COMMENTS (24)
Comments are moderated and generally will be posted if they are on-topic and not abusive.
For more information, please see our Comments FAQ