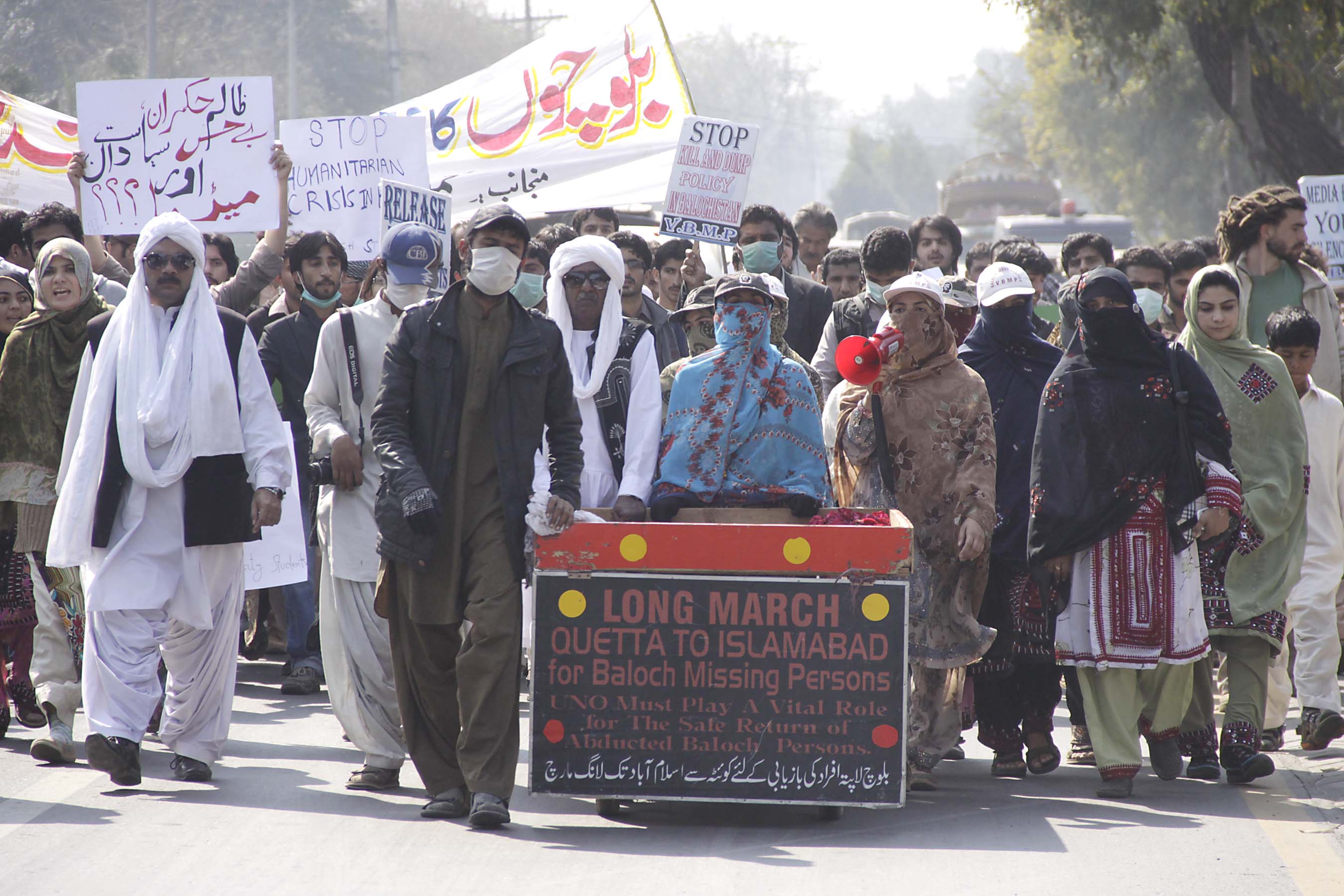 ---
LAHORE: A group of people, who had started to walk from Quetta in Balochistan on October 27, 2013, seeking release of their 'missing' loved ones , marched into Lahore on Thursday three months and nearly 2,000 kilometers later.

"There are 18,000 missing persons in Balochistan including doctors and engineers," informed Mama Qadeer, who is leading the long march that comprises members of Voice of Baloch Missing Persons, collective who want their missing loved ones to return home.

"More than 2,000 mutilated bodies have been found, the list of which I will provide to UN officials as soon as the caravan reaches the United Nations office in Islamabad where we will have a protest and sit-in," he added.

Qadeer warned that unless the authorites learnt from the lessons suffered in the fall of Dhaka, a similar fate could befall Balochistan. He alleged that a 14-year-old from Turbat called Qasim was taken away by the state just a few days ago. "I have received the tortured dead body of my own son. My seven-year-old grandson is orphaned. What was his crime?"

Another marcher Farzana Majeed, sister of a student leader Zakir Majeed, said that her brother went missing in June 2009. "Our innocent brothers are being killed, kidnapped and tortured. They are not citizens of another country; they are Pakistani," she asserted.

Activist Saeeda Diep said that the mobilisation was disappointing. "Out of the 15 million residents of Lahore only a few thousand came here to express their solidarity with our Balochi brothers and sisters. We need to stand with the suppressed and marginalised Balochi people."

Shazia Khan of the Awami Workers party argued that if the sardars of Balochistan were the reason for unrest and question the government's decision to negotiate only with the sardars, rather than the common people of Balochistan.

Qadeer and a small group of people, including women and children, had started their march on foot from Quetta on October 27, 2013. They traveled 730km to reach Karachi 27 days later and hold a protest demonstration outside the Karachi Press Club on November 23.

With little heed paid to their plight, they embarked on the second phase of their march with the aim of reaching Islamabad, a 1,200-km long journey.

Starting in mid-December, they reached Lahore on Thursday where they were received by representatives of the Awami Workers Party and members of civil society organisations.

The marchers, having walked over 1,965 km, braved threats along from nature and man on the way, intend to stop briefly at the Punjab Union of Journalists offices on Friday, before continuing on to Islamabad.
COMMENTS (3)
Comments are moderated and generally will be posted if they are on-topic and not abusive.
For more information, please see our Comments FAQ