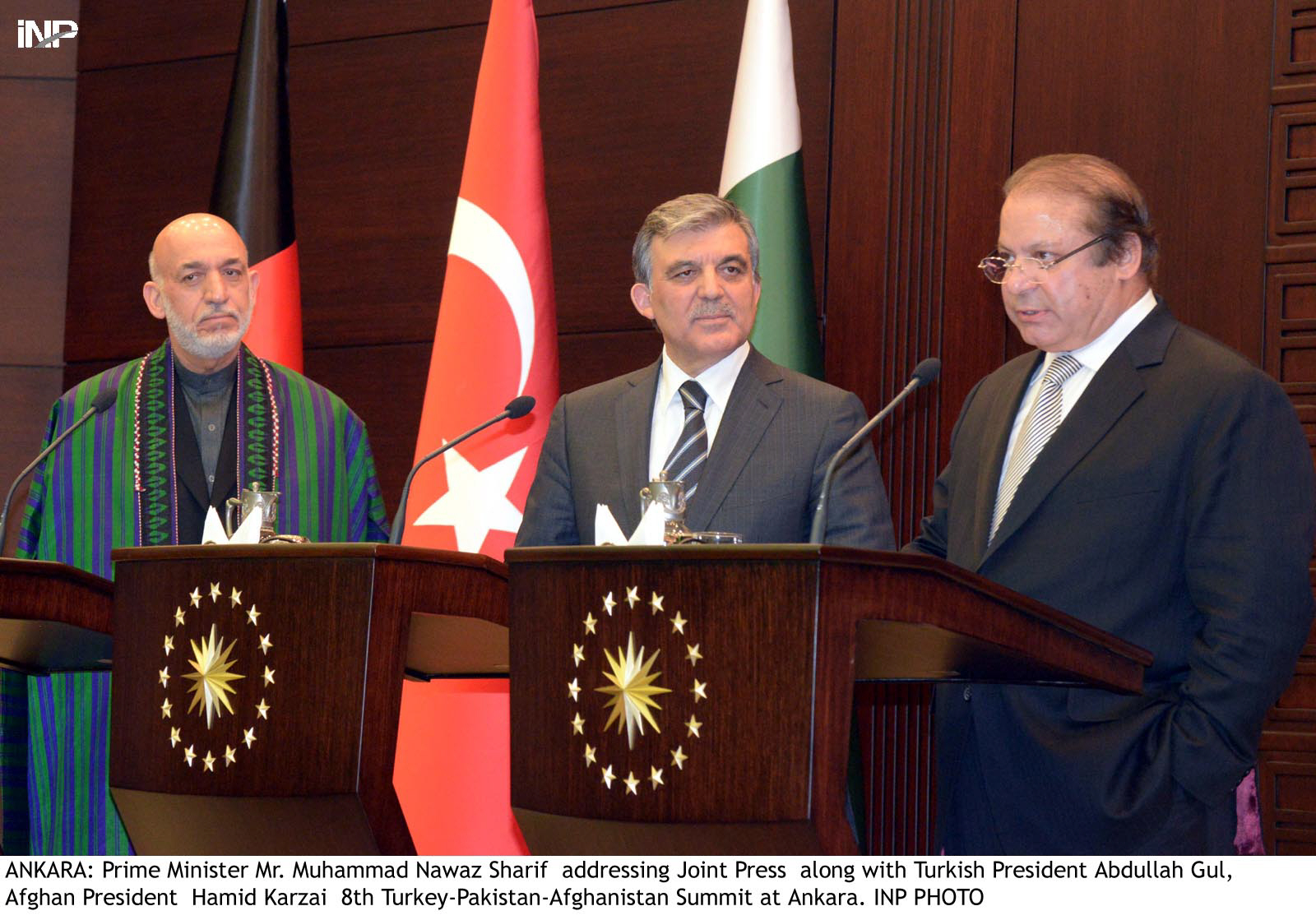 ---
ANKARA: Pakistan is committed to Afghan-led and Afghan-owned peace and reconciliation process in Afghanistan, reiterated Prime Minister Nawaz Sharif on Thursday, Radio Pakistan reported.

Addressing a joint press conference along with the Turkish President Abdullah Gul and the Afghan President Hamid Karzai at the conclusion of the trilateral summit in Ankara on Thursday, Nawaz said Pakistan believed in an inclusive political settlement as key to sustainable peace in Afghanistan and the region.

The premier reiterated that Pakistan would continue to extend all possible facilitation within its means to Afghanistan.

Nawaz said his government would continue to work for promoting neighbourly relations with Afghanistan.

It is time for the Afghans to come forward and make concerted efforts for establishing peace and rebuilding their country, said Nawaz, adding that they were working to open a new chapter in Pak-Afghan relations.

Nawaz added that challenges are best resolved through common effort at the regional and international levels. He further said that during the summit all parties listened to each other's issues and discussed their solutions.

Speaking on the occasion, Afghan President Hamid Karzai said ways and means to promote peace and cooperation between Pakistan and Afghanistan were discussed during the summit.

Karzai said Afghanistan is passing through an important phase' as that there would be complete transition of security to Afghan forces with the massive withdrawal of the US and NATO forces.

The upcoming presidential and provincial council elections in Afghanistan, scheduled for April, are being seen as a test for the Afghan security forces and for the writ of the government.

Afghanistan' Pakistan and Turkey are bound together in strong bonds of Islamic brotherhood, said the Turkish President Abdullah Gul. He also congratulated Nawaz for the smooth democratic transition in Pakistan.

Karzai tells US to 'stop harassing' 

Afghan President Hamid Karzai said Washington should respect his country's judicial authority after the release of 65 alleged Taliban fighters triggered US condemnation.

"Afghanistan is a sovereign country. If the Afghan judicial authorities decide to release the prisoners, it is of no concern to the US and should be of no concern to the US," Karzai told a news conference in the Turkish capital.

"I hope that the United States will stop harassing Afghanistan's procedures and judicial authority."

The release of the prisoners on Thursday dealt a new blow to the relationship between Kabul and Washington, already badly strained by Karzai's refusal to sign an accord allowing some US troops to remain in Afghanistan after NATO's withdrawal this year.

The US said those who walked free were responsible for killing NATO and Afghan soldiers as well as civilians. The US embassy called the releases "a deeply regrettable" move that could lead to further violence in Afghanistan.

NATO head Anders Fogh Rasmussen also criticised the releases as a setback to security and the rule of law in Afghanistan.

Karzai has called Bagram prison where the men were held a "Taliban-producing factory" and alleged that some detainees were tortured into hating their country.

Some analysts believe he hopes the releases could help kick-start moribund peace talks with the Taliban, who were ousted from power in 2001.
COMMENTS (4)
Comments are moderated and generally will be posted if they are on-topic and not abusive.
For more information, please see our Comments FAQ