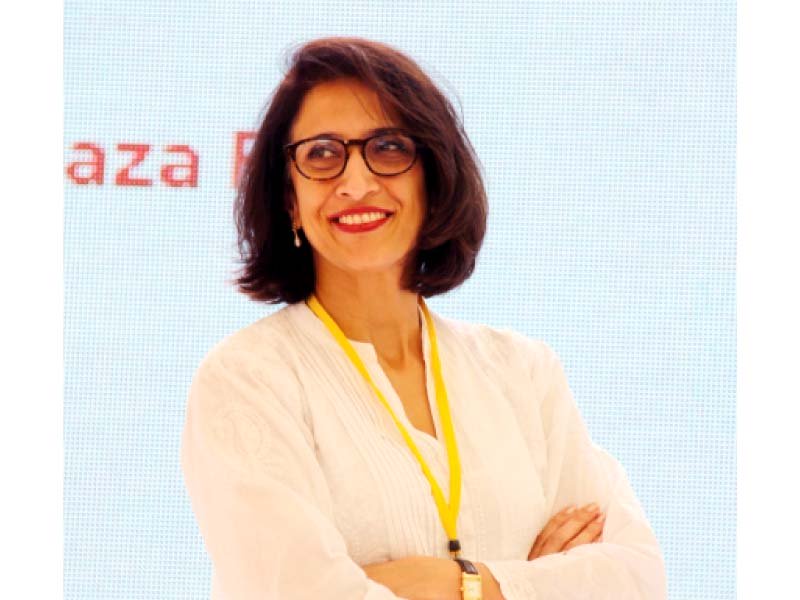 ---
KARACHI:



Those attending Moni Moshin's session at the first day of the Karachi Literature Festival were in for a treat for they got to see their cheeky and politically incorrect social butterfly come to life. "I am the butterfly," the author and columnist repeated throughout the session, titled 'Talking to the Butterfly: In Conversation with Moni Mohsin'.




It wasn't just while reading excerpts of her book that Mohsin became the Butterfly, the character also made impromptu appearances on and off during the session which was being moderated by Raza Rumi.

Mohsin's readings, or one could say her split personality, had her fans (plenty of whom were social butterflies themselves) and the audience in fits of laughter. While channeling the misspelling socialite, Mohsin was witty, charming and got away with the most outrageous commentary (such as mispronouncing condo as condom) under the cover of a wealthy, self-obsessed socialite. Readings from 'The Diary of a Social Butterfly' and 'Tender Hooks' had Butterfly coming up with all sorts of concocted theories, but the crafty writer that Mohsin is, none of it came off as offensive.

"My columns, which were basically Butterfly jotting down entries in her diary, started off as fun but turned into social critique as I thought it would be a waste not to point certain glaring aspects of the society," said Mohsin, whose style of writing is more satirical than humorous. "Humour comes from tragedy while anger is what triggers satire. With satire, you speak the truth and hold a mirror up to the society."




When asked whether the characters in her book were based on the people in Mohsin's lives, she said that she's constantly finding amusing material from people around her. "When I hear things like 'Mein itna hansi kay historical ho gayee' or 'I got stuck up in traffic', I think to myself that I must jot this down and use it in my Butterfly series." Her reason for using their vernacular language is simple - "I wouldn't be able to pack the punches that I do if I didn't use the language that I knew."

Despite currently residing in the United Kingdom, Mohsin said that she was familiar with the language because of spending many years in Pakistan, which "steeped her deep in culture" and because most of Butterfly was written in Pakistan. "Keeping up with the news, peoples' comments on Twitter and regular visits to Pakistan also help refresh my material."

Having said that, Mohsin, in an answer to a question, clarified that Butterfly was not only Pakistani. "You can find her in Riyadh, Lima and in a huge number in Moscow."

Although the character is intentionally shown to be spoiled and also obtuse when it comes to current affairs, Mohsin said that there was more to her than designer bags and her high-society parties [as dear as they were to her]. "Butterfly is loyal, has merit, brave, soft-hearted and candid - proving that even when you may have written someone off, they can still surprise you. My first book was a collection of my columns whereas the second one was a novel so I had more room to create the character arc."

When the floor opened to the audience, more comments poured in than questions. And while Mohsin herself was plenty entertaining, the audience could not get enough of the Butterfly who was visiting the festival for only one day.

Published in The Express Tribune, February 8th, 2014.
COMMENTS (1)
Comments are moderated and generally will be posted if they are on-topic and not abusive.
For more information, please see our Comments FAQ