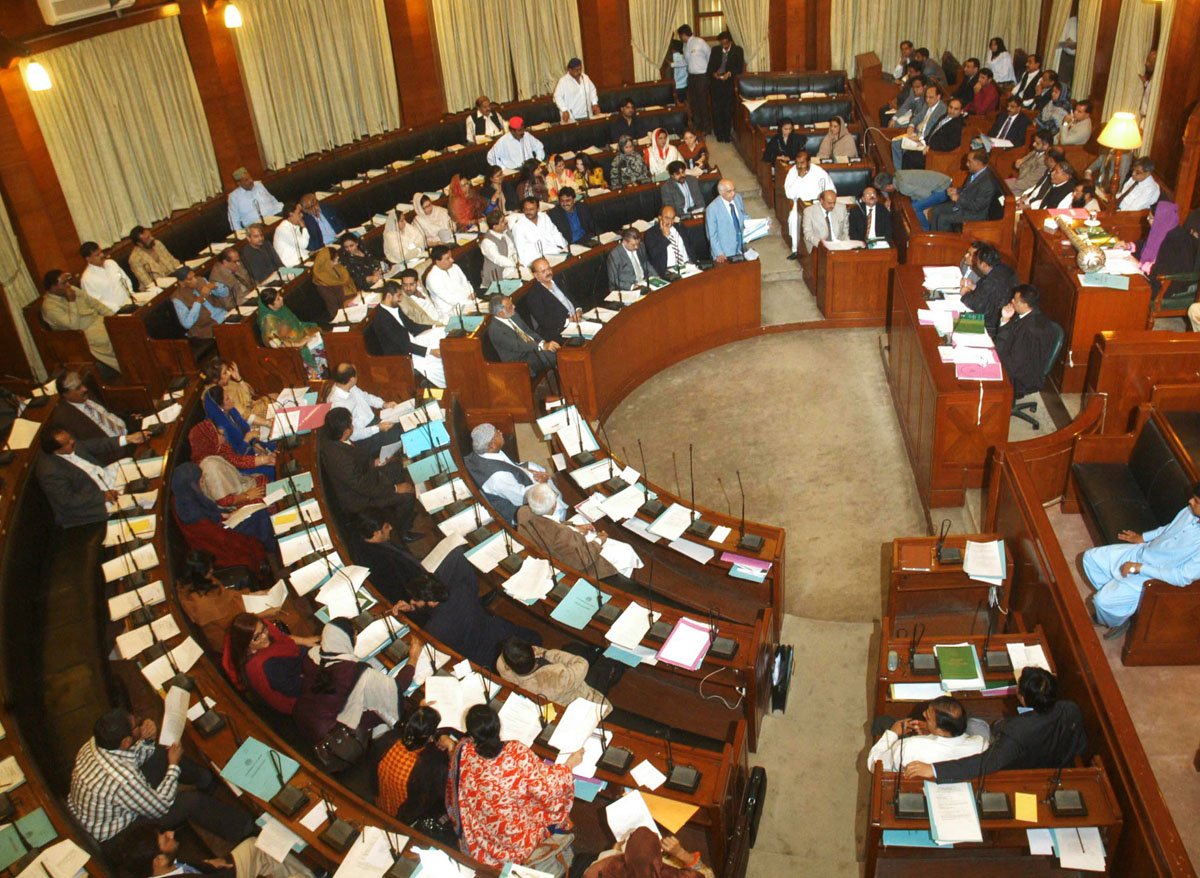 ---
KARACHI:



After a lag of nearly two months, the Sindh Assembly session took place on Monday but it failed to go beyond the education minister's self-praising speech and a bill against wall chalking.




Sindh Education Minister Nisar Ahmed Khuhro announced that he has issued show-cause notices to more than 500 private schools for not teaching the Sindhi language. "Under the private school registration act, all private schools must teach English, Urdu and Sindhi," he pointed out. "Time and again, I have warned the management of these schools to adhere to the law, otherwise action will be taken against them."

He said that schools in the rest of the province apart from Karachi are also violating the act. There are 9,866 registered private schools in Sindh in which more than two million students are enrolled, he said, adding that 6,215 such schools are in Karachi, 1,148 in Hyderabad, 1,040 in Sukkur, 485 in Mirpurkhas and 192 in Larkana. "This assembly has passed two separate resolutions and we have deputed monitoring officers to point out such schools that are not promoting the language."

Khuhro also promised to take action against schools that have failed to implement the Sindh Rights of Children to Free and Compulsory Education 2013 bill, which makes it mandatory on all private schools to enrol at least 10 per cent of their students from families who cannot afford to pay tuition.

Ban on transfer of teachers

The minister announced a ban on the transfer and postings of schoolteachers till the examinations, which are scheduled to take place in April as he wants to end 'copy culture'. "We are facing severe copy culture from Karachi to Kashmore and the degrees of institutions are questionable, therefore, we want to put a ban in order to evaluate the performance of teachers."

He added that all lawmakers have been directed to re-open all schools that have been closed down in their constituencies. "I have asked the supervisor to open at least one school within a few days," Khuhro said. "The schools lying non-functional are like a blot on our face."

Bill against graffiti

After a heated argument, the Sindh Assembly also passed a bill to prevent defacement of property and prohibition of expressions on walls through posters, notices, placards or any other material, without first obtaining permission from the owner.

The opposition members, especially those belonging to the Muttahida Qaumi Movement (MQM) insisted on referring the bill to a standing committee but the Pakistan Peoples Party, Pakistan Muslim League-Nawaz, Pakistan Muslim League-Functional and Pakistan Tehreek-e-Insaf members decided to pass the bill without any delays.

"Any person found violating any provision of the law shall be punished with imprisonment for a term which may be extended to six months or with a fine of Rs5,000," said parliamentary minister Dr Sikandar Mandhro, adding that no wall in the city, whether it is public or private property, is exempted from this bill. Once the bill becomes a law, the government will form an anti-defacement taskforce to assess the scope and nature of the defacement and propose an anti-defacement programme.

MQM parliamentary leader Syed Sardar Ahmed appreciated the idea but asked the treasury members to refer the bill to a standing committee for further improvements. Even PML-N's Mehtab Rashdi argued that Rs5,000 fine was not sufficient and that the law will only be successful if political parties expressed their will. "Most of the wall-chalking is carried out by political parties and their student wings therefore they should come forward against it," she said.

Published in The Express Tribune, February 4th, 2014.
COMMENTS (4)
Comments are moderated and generally will be posted if they are on-topic and not abusive.
For more information, please see our Comments FAQ