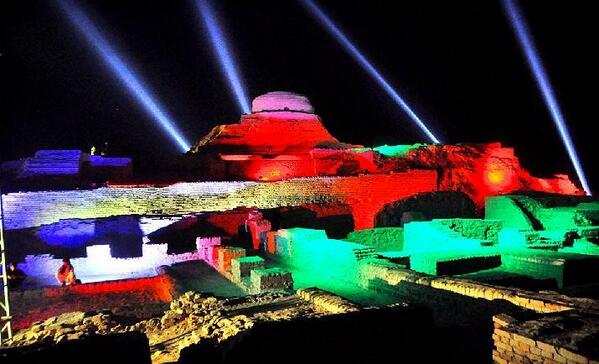 ---
MOEN JO DARO: Hunderds of people arrived at the ancient ruined city of Moen Jo Daro Saturday to attend an inaugural festival aimed at commemorating Pakistan's cultural heritage, though some were left wondering about the glaring absence of rich Sindhi culture in the lavish opening ceremony.

Spearheaded by Pakistan Peoples Party patron in chief Bilawal Bhutto-Zardari, the two-week festival is part of a campaign that claims to conserve the heritage of his home province of Sindh.

However, the opening ceremony was dominated with fashion shows, and music that was a far cry from that of traditional Sindh. Pop singer Ainee Khalid sang a rendition of popular Sindhi folk song about Lal Shabaz Qalander, a song made popular by veteran sufi singer Abida Parveen.


Made a joke of #Sindh Mohenjo Daro festival wth singing pop music,catwalks & English rap. Great way to promote the culture! @BBhuttoZardari

— Dr. Seema Zia (@DrSeemaSZia) February 1, 2014


Sufi-folk singer Sain Zahoor, who hails from Multan, sang a popular sufi number, but the track was accompanied by a modern hip hop electronic remix score and contemporary dances.


The #Sindhi singer Shaman Ali Mirali performing at Sindh Festival right now is the most popular singer of the language! Good choice :)

— Ravez Junejo (@ravezjunejo) February 1, 2014
I, as a sindhi condemns Sindh Festival because it is destroying sindhi culture @BBhuttoZardari @AseefaBZ @BakhtawarBZ

— Ali Raza (@AliRazaTweets) February 1, 2014


But experts warned the festival could put Moenjo Daro, a UNESCO World Heritage site built around 2,600 BC, in danger.

Large wooden and steel scaffolding has been erected over and around the ruin, which UNESCO describes as "the most ancient and best-preserved ruin on the Indian subcontinent", while heavy spotlights and lasers have been installed for a light show.

The site has been transformed into a high security facility, with hundreds of police commandos surrounding the ruins. Some even stood atop the stupa, a Buddhist shrine, as workers hammered nails into a stage, an AFP reporter at the site said.

"We have done all the work very much to international conservation standards," claimed Saqib Soomro, a top official at the culture department.

Zardari, clad in a black jacket over an off-white traditional shalwar qameez, arrived Saturday in a caravan of four vehicles.

A number of foreign visitors, some wearing traditional Sindhi Ajrak outfits, were also among the approximately 1,000 guests waiting for the grand gala to begin. Some of these had been specially flown to Moenjo Daro.


Sindh festival 2014!!!! Opening ceremony pic.twitter.com/WoTOL31XDt

— Sharmila Sahibah faruqui S.I🇵🇰 (@sharmilafaruqi) February 1, 2014


Performers queued up to pass through security gates, with an equally large number of Pakistan Peoples Party (PPP) top leaders also waiting for entry.

The ruins, discovered in 1922 by British archaeologist Sir John Marshall, are 425 kilometres (265 miles) north of the port city of Karachi and are one of the largest settlements of the Indus Valley Civilisation.

They are one of Pakistan's six UNESCO World Heritage sites that are deemed places of special cultural significance.

But many of the country's historical sites are endangered by vandalism and urban encroachment, as well as a booming trade in illegally excavated treasures.
COMMENTS (18)
Comments are moderated and generally will be posted if they are on-topic and not abusive.
For more information, please see our Comments FAQ