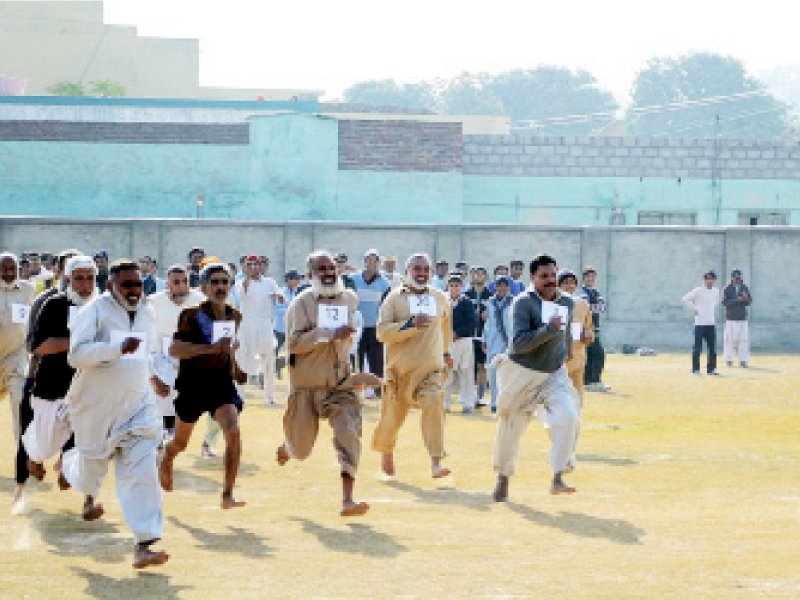 ---
LAHORE:



The Punjab Youth Festival 2014 entered its fourth phase on Tuesday as registration for participation at district-level began.




The games in the fourth phase will begin on Wednesday (today). This stage comprises 147 contests in 14 disciplines. Prize money worth Rs1.04 million would be distributed among winners.

The festival began on December 23 with neighborhood- and village-level games, held union council and tehsil level games in its third phase. The festival is claimed to have created history in terms of the large number of participants.

Contests have been divided into two categories- general and sports.

There are individual and family events for the general public as well as students from schools and colleges. There will be 12 contests for individual participants and six contests for families. Twenty-two sports contests will be held separately.

The rural sector, introduced at tehsil level, will feature eight contests.

The sports competitions include arm-wrestling, athletics, badminton, basketball, chess, cricket (hard ball), football, hockey, table tennis, tug of war, volleyball, kabaddi, karate, billiard, bodybuilding, gymnastics, mat wrestling, mud wrestling, swimming, weightlifting, fun race and tent pegging.

Contests in the general category include naat khwani, qirat, cooking, horticulture, painting, pet contest, photography, poetry-mushaira, patriotic songs, calligraphy, dress designing and stitching, handicrafts, family dressing, healthy baby, kitchen gardening, debate, essay writing, science models, cultural models and dress show. Events like bull, dog, donkey cart and horse races, tippling-pigeon flying, and best agriculture and best livestock produce will be contested in the rural sector.




Student participants

In elementary schools division, there will be six contests in the general category for both male and female students.

Male participants from secondary schools will compete in eight categories and females in 11. Male college students will have competitions in eight categories and females in 11.

For sports events, secondary school boys will compete in 13 areas and girls in eight. College boys would compete in 19 categories and girls in nine.

Events at the festival have been organised by the joint efforts of the Sports Board Punjab, the Population Welfare Department, the Social Welfare Department, the Livestock and Dairy Development, the Education Department and the Tourism Department.

The activities in this phase will conclude on February 5 for the festival to move into the divisional level games.

Old people's homes  

A large number of old people living at old people's homes also took part in competitions arranged as part of the festival at the Social Welfare Complex in Township.

Divisional Convener (Sports) MPA Mian Naseer and MPA Kanwal Nauman were guests of honour.

Baba Ashraf, 70, won the senior citizens walk race. 97-year-old Feroze Din stunned the audience by winning the arm-wrestling contest. The tug of war was won by Feroze Din Greens.

A walk for women, a carom board competition, a luddo match and an arm wrestling competition for children with disabilities were also organised.

Cholistan Jeep Rally

The Cholistan Car and Jeep Rally will be held under the Punjab Youth Festival 2014.

Awais Khan Khakwani, one of the participants of the race, says the Cholistan race track is one of the best in the world.

Talking to the reporters at the National Hockey Stadium on Tuesday, Khakwani said since Pakistanis were deprived of watching cricket in their country, the government should promote jeep race and other races every year.

"If the government provides us support, we can bring international drivers to participate in the race in Pakistan. This would also promote the tourism industry," he said.

Other participants include Asad Khuroo, Jan Kamal, Makhdoom Aamir Abbas, Anas Khakwani, Nadir Magsi, Rohi Patel and Qasim Zaidi.

Published in The Express Tribune, January 29th, 2014.