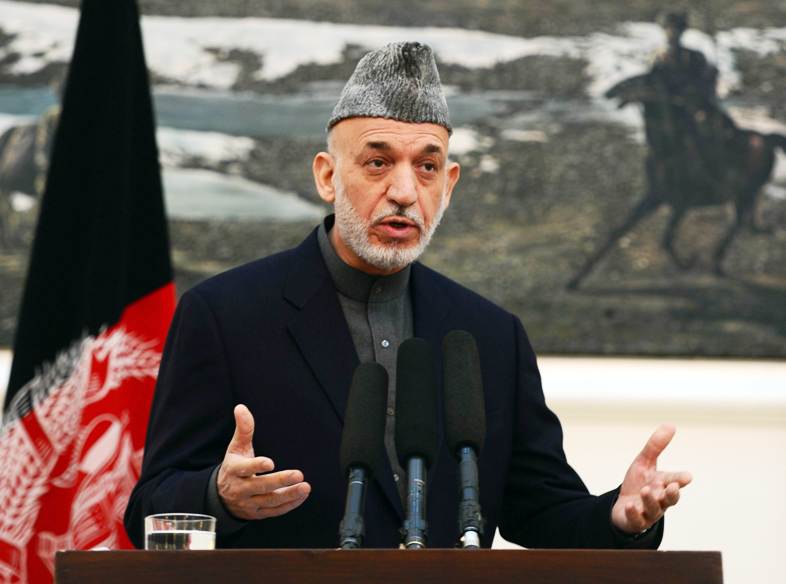 ---
KABUL:



Afghanistan's President Hamid Karzai appeared to stiffen his resolve on Saturday not to sign a security pact with Washington, saying the United States should leave Afghanistan unless it could restart peace talks with the Taliban.




"In exchange for this agreement, we want peace for the people of Afghanistan. Otherwise, it's better for them to leave and our country will find its own way," Karzai told a news conference. The president said pressing ahead with talks with the Taliban was critical to ensure that Afghanistan was not left with a weak central government.

"Starting peace talks is a condition because we want to be confident that after the signing of the security agreement, Afghanistan will not be divided into fiefdoms… The start of a peace process would mean that no foreigners can benefit from the continuation of war," he said.

Along with reviving peace talks with the Taliban, Karzai is also demanding an end to all US military operations on Afghan homes and villages, including strikes by pilotless drones. He said the recent US airstrike that killed civilians in Parwan province and a Taliban suicide attack in a Kabul restaurant that killed 21 people, including 13 foreigners, proved the failure of the US to start a peace process.

"On one day our country gets bombarded by foreigners, and another day people get killed in the name of Taliban," he said.




Most diplomats now agree that Karzai is unlikely to sign the Bilateral Security Agreement (BSA) that would allow for some form of US military presence in Afghanistan after the end of 2014, when most troops are due to leave.

Signing the agreement is also a precondition for the delivery of billions of dollars in Western aid for Afghanistan, but Karzai dismissed suggestions that the aid was essential to future development.

"I don't think Afghanistan will ever be made with foreign money," he said.

Karzai's defiant tone struck a chord with those in the West who have already decided that further discussion with the Afghan president may be pointless and waiting for his successor to be elected is the best option.

"The more people speak about it being signed after the election, the more irrelevant he becomes," said one diplomat. "Sad as it is, we might have to bank on the next guy."

Karzai initially agreed to a text of the pact in November and an assembly of elders called on him to sign it. But he has since refused to do so.

Published in The Express Tribune, January 26th, 2014.
COMMENTS (7)
Comments are moderated and generally will be posted if they are on-topic and not abusive.
For more information, please see our Comments FAQ