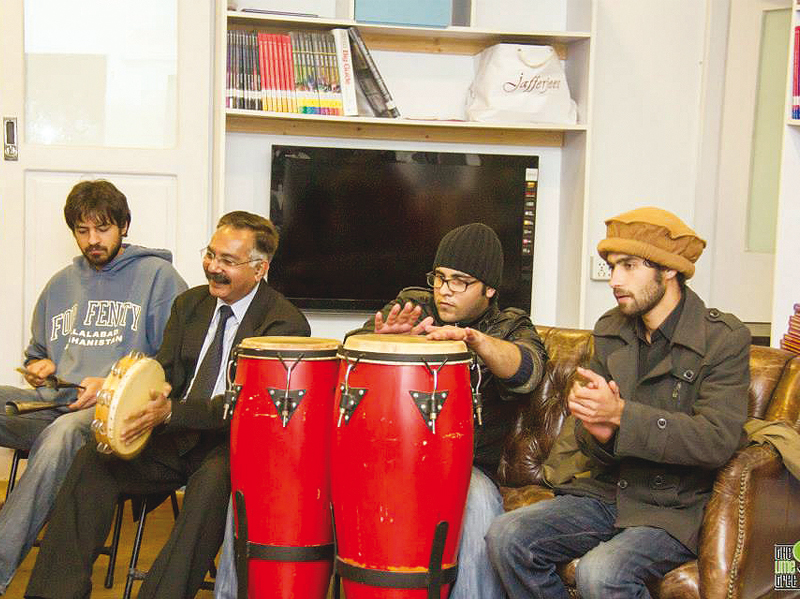 ---
ISLAMABAD:



You don't always need professional equipment to be a drummer; sometimes, the right attitude would do. Drum-circle has been an integral part of and a regular feature at Kuch Khaas (KK) Centre for Art, Culture and Dialogue in Islamabad.




The weekly activity typically involves a diverse group sitting in a circle with musical instruments, as they create unique rhythms together. It is their way of connecting over beat patterns, rhythms and vent creative expression. It is a language everyone understands irrespective of age group, race or ethnicity.




As part of the ongoing, month-long rock festival at the venue, the drum-circle on Wednesday was a special one, as it featured professional drummer Ibrahim Akram, nicknamed Ibba, who has earlier performed with local bands and solo musicians such as Arieb Azhar, Natasha Ejaz, Bumbu Sauce, Malang Party, Zeb and Haniya and Zoe Viccaji, to name a few.

"In a drumming circle, I think a drum kit would be a bit overpowering, so we will be playing a combination of various other instruments," said Akram, as people trickled in, experimenting with various instruments such as two-tone cow bells, djembe, Lebanese drums, doumbek (goblet drum), duff, tambourine, dholak prior to a jam session.

So what new does he bring to the table? "I'm trying to give people a rudimentary understanding, and give them rudiments because in Pakistan, drummers don't learn good technique and they don't learn how to play rudiments, which are different patterns, and if you can learn them, you can play anything," he said. Jazz uses many rudiments, and jazz is an inaccessible style to people here, as they don't know how to play rudiments, which are an essential part of the process, he added.

At the event, Akram also introduced syncopation, which is to have different instruments fill up different spaces within a bar of music. He aims to help participants understand syncopation, and how they can work together to build a beat.




Speaking about his inspirations in music, he said, "I don't really listen to Pakistani drummers. You have great tabla and sitar players but you don't have great drummers and bass players. They are good, I actually like some of them but I listen to Western drummers more," he said, naming some of his favourite Western drummers, including Dennis Chambers, Dave Weckl and Steve Gadd.

Originally scheduled to take place around a bonfire, the setup had to be moved indoor due to the rainy weather. Would it have been better outside? "This is kind of intimate actually, so it's nice," Akram said.

The group played variations of the four-by-four and six-beat patterns. "This is just a social gathering, people are interested in drums, in expressing themselves, it's fun for people," said Akram.

Akram has been both practicing, and trying to dedicate his life to the medium for about six years. He studied music and composition at the Northumbria University, Newcastle. Moreover, he will be conducting regular drum classes at KK.

Speaking about his own band Red Blood Cat, he shared, "Our music is not mainstream music, indie with jazz, blues, funk, hip hop and progressive rock elements in it. So it's a mix up." The band will be performing as part of the Khayaban-e-Lussun Tour on January 26.

Published in The Express Tribune, January 24th, 2014.

Like Life & Style on Facebook, follow @ETLifeandStyle on Twitter for the latest in fashion, gossip and entertainment. 
COMMENTS
Comments are moderated and generally will be posted if they are on-topic and not abusive.
For more information, please see our Comments FAQ