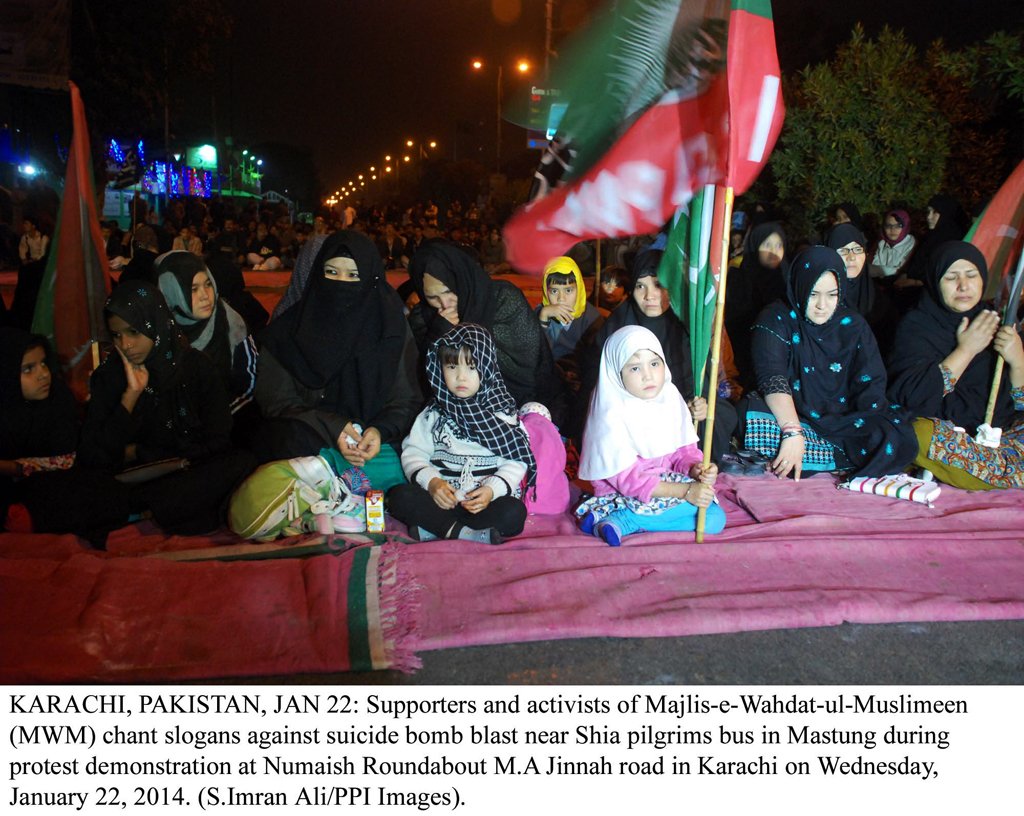 ---
QUETTA: The families who lost their loved ones in the Mastung suicide bombing staged a sit-in on Alamdar Road in Quetta on Wednesday and refused to bury the dead bodies.

As a shutter-down strike was observed in most parts of Quetta city, Chief Minister Balochistan Dr Abdul Malik Baloch arrived to condole victims at the Combined Military Hospital to express solidarity with the protesters at Alamdar Road.

Security forces place the death toll at 26 while according to members of the Hazara community 28 were killed in the blast.

Some of the injured are reportedly in critical condition.

The families took the dead bodies and assembled on Alamdar Road, which is predominantly a Hazara neighbourhood. The bodies were kept near the Nichari Imambargah.

CM Balochistan mulls ferry service for pilgrims

After frequent attacks on the Hazara community on Taftan-Quetta highway despite stringent security arrangements, Chief Minister Balochistan Dr Abdul Malik Baloch said his government is now considering the option of ferry service for the Shia pilgrims.

The distance from Taftan to Quetta is 700 kilometers, which is why it is easy for terrorists to target the pilgrims in any place, he told reporters at the Combined Military Hospital.

Dr Baloch said he discussed the issue with Federal Government and finalizing a new strategy for the routes of pilgrims.  He said it should be a good idea to start a ferry service from Karachi to Chahabar, Iran.

"Ferry service would be safer, we will make special traveling arrangements and subsidize the fare for Shia pilgrims."

Chief Minister said sectarian attacks in Balochistan had declined by 35 per cent in 2013 but the start of this year was marked with very unfortunate news.

As many as 31 Shia pilgrims were killed in two suicide attacks during this month of January while more than 60 sustained injuries. Banned hardliners Lashkar-e-Jhangvi claimed responsibilities for these attacks and vowed to continue such attacks in the future.

Quetta city shuts down

Shops, markets, eateries and trading centres on Alamdar Road, Hazara Town, Liaquat Bazaar, Prince Road, Abdul Sattar Road and adjoining areas remained closed. Traffic was thin on the roads.

The strike was called by Hazara Democratic Party (HDP), Balochistan Shia Conference and Majlis-e-Wahdat-ul-Muslimeen (MWM).

Protesting families raised slogans against law enforcing agencies for their failure to protect the lives of innocent people. Some protestors were carrying placards which read "stop the genocide of Hazara community" and "targeted action is needed against terrorists."

As many as 26 dead bodies have been identified while two dead bodies are yet to be identified, said Bostan Ali, leader of HDP.

Addressing a news conference, leader of MWM MPA Mohammed Raza said the protest will not end until representatives of the federal government come to us and ensure us that a targeted operation will be conducted against terrorists.

"We will not bury the dead bodies until a practical step is taken. No one can pacify us, the Hazara community," he said, adding that the "federal government should order a targeted operation to eliminate terrorists."

Spokesperson of Balochistan government, Jan Mohammed Buledi said a delegation led by Chief Minister will soon meet the bereaved families and assure them of strict action against the perpetrators of Mastung blast.

Protests erupt in Karachi


Simultaneous protests erupted in different parts of Karachi after Tuesday's bomb attack on pilgrims' buses in Mastung.

Protesters said that their demonstrations will continue until government fulfills the demands of the families of the bomb attack victims.
As a result of the protests, traffic in those parts of Karachi has been disturbed.
COMMENTS (11)
Comments are moderated and generally will be posted if they are on-topic and not abusive.
For more information, please see our Comments FAQ