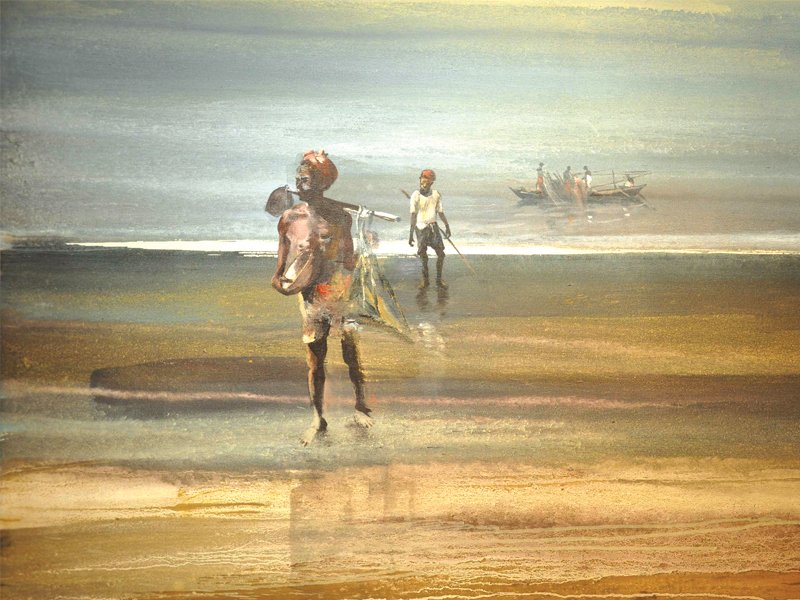 ---
ISLAMABAD: Of Bangladesh's leading artists, Jamal Ahmed is known for absorbing subtle nuances from his surroundings and illustrating them in rich detail onto canvas or paper. Be it drawing or painting, he has an eye for the mundane and a penchant for seeking beauty in the seemingly ordinary.

An exhibition of his artwork was put up on display at the Tanzara Art Gallery on Tuesday. The artist, who was unable to be present at the exhibition, is said to love Pakistan and was here last year, when he painted some of the featured works. Noshi Qadir, the gallery curator, said she got inspired by the artist's work while on a visit to Dhaka, which prompted her to showcase it at the gallery back in 2012 for the first time.




"Jamal approaches his subjects with empathy and passion, immortalising them in his impressionistic-style paintings. Colours are minimal but the bold strokes add poetry to his work," she added. Gesturing towards a portrait of an elderly man with long, white hair and a glazed look in his eyes, she told that the "spiritual" man in the painting actually sits in a veranda close to the artist's residence.

Ahmed's art is a form of storytelling. From portraits of dusky and seductive, semi-nude women with locks of dark hair falling down their voluptuous figures to birds, horses, sunsets on the beach and bearded old men with wispy white-grey beards, his work is versatile. Landscape paintings, presented in a horizontal manner, presenting lashes and flings of the river along with the minute details of the pebbles, dunes and sand on the seashore depict Ahmed's love for nature. Boats, with or without sails, human beings, and even animals are included in vibrant blues and beige. This is touched up with dots and streaks of egret white and touches of jet-black to play on details of overwhelming depictions of nature and man. While each piece has an individual appeal, the larger body of work combines into a sort of narrative about a human relationship with one's environment.

His work is layered and textured. He employs a variation of techniques including acrylic on canvas and paper, oil on canvas and paper, water colours, oil on boards, pencil, charcoal, pastel and pen and ink among others. The artist has won international acclaim for his paintings of pigeons, of which, there are many in the present collection. The birds are portrayed in lively detail, the curls, twirls, and slashes of lines and hues leave a soothing impact on the senses.

"The paintings stand out because of their composition and the play of light," said Javaid Khan, a photographer and visitor at the exhibition.

Meanwhile, Shahla Hasan, another visitor and architect, said, "The textures the artist has created in his work are just amazing. The paintings look more like photographs with some effects added to them."

Ahmed has previously exhibited in Japan, Poland, UK, USA, India, Pakistan and Bangladesh. He has won several awards and much acclaim both at home and overseas.

The exhibition will run until January 25.

Published in The Express Tribune, January 17th, 2014.
COMMENTS
Comments are moderated and generally will be posted if they are on-topic and not abusive.
For more information, please see our Comments FAQ