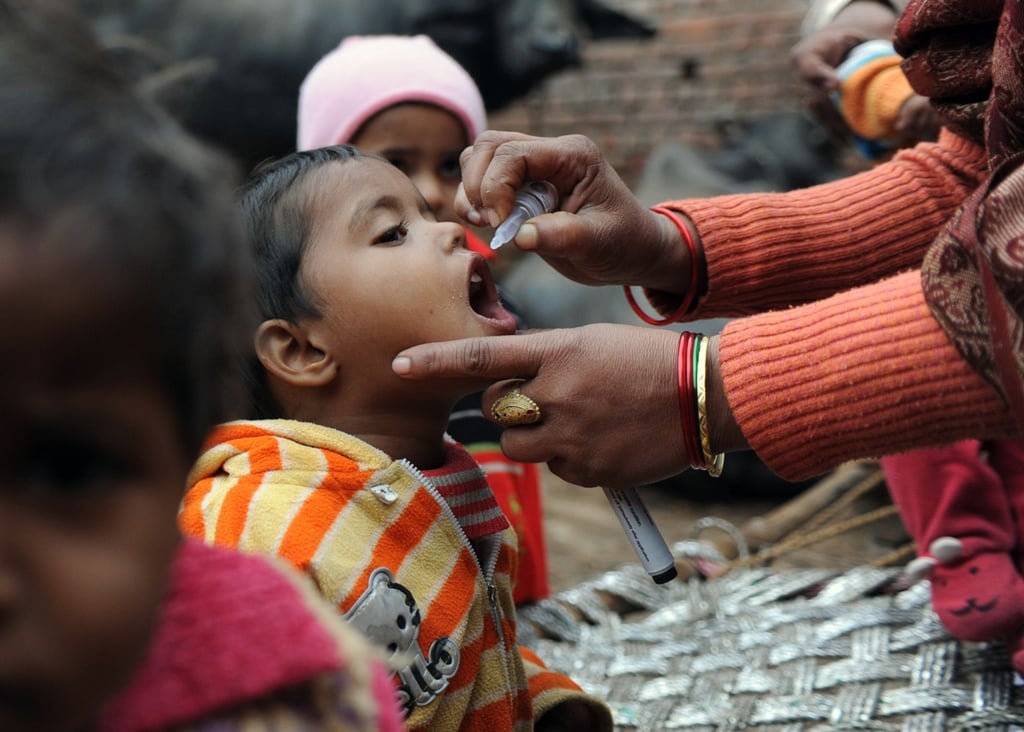 ---
KARACHI:



They've done it. After three consecutive 'polio-free' years, India can now be endorsed by the World Health Organisation as having successfully eradicated the crippling virus from the country.




For a country which accounted for nearly half of all polio cases around the world in 2009, this is indeed a moment to stand tall and celebrate.

To go from 150,000 cases of paralytic polio in 1985 to its last case on January 13, 2011, India required more than vague platitudes. The country employed more than two million vaccinators and made sure their reach was as close as the child next door and as far as distant villages.

Perhaps it would be unfair to draw parallels with the polio crisis in Pakistan but India's success story must be urgently examined for lessons.

Five more paralytic polio cases were confirmed in Pakistan on January 11, taking the toll to 91. Of these, 65 are from the Federally Administered Tribal Areas (Fata) and 35 from North Waziristan Agency (NWA). A ban against polio drops was issued by warlord Hafiz Gulbahadur in NWA and the Mulla Nazir group of South Waziristan in 2012.




The sense of urgency should have kicked in a year ago in Pakistan. Perhaps 91 is not a big enough number to jolt the apparatus into action.

18,200. That's the number of children who could have been infected with polio in 2013. This is calculated according to a global ratio which states: For one paralytic polio case, 200 cases remain asymptomatic but are still carriers, passing on the life-ruining, spine twisting virus to unsuspecting victims.

Looking forward, going nowhere

Talking to the state Minister for Health National Health Services, Regulations and Coordination Saira Afzal Tarrar, it became clear either officials do not think the public has a right to know how the country will get out of this crippling mess. Or their grasp on the range of dynamics at play in different regions, especially Fata's agencies, is limited.

According to Tarrar, NWA and South Waziristan did not receive any immunisation in months, contrary to former North Waziristan Agency (NWA) agency surgeon Jan Mir Khan's version – Khan was part of recent polio efforts there.

Even as Tarrar acknowledged agencies needed their own strategy, the minster was unable to be more forthright about how the individual strategies are meant to play out, if only to ensure their efficacy, she maintained.

"Things were getting better but after the drone strike which killed Hakimullah, it all stopped. Not just the peace talks, but also our efforts."

"I told the prime minister this; we thought when peace talks would happen, we would request the lifting of the polio ban."

Try, try again

Former NWA agency surgeon Khan, who was recently replaced by Sadiq Dawar, shared the volatility of the agency leaves little wriggle room, yet officials did as much as their resources allowed them.

"In April 2013, we set up polio vaccination camps at check posts and (three) hospitals. They come for routine vaccinations – BCG, measles, diphtheria – and we give them polio drops as well."

Khan explained he also did several radio spots with Pashto radio channels from Europe and America in which he tried to highlight the risks of polio.

"I tried to scare reluctant parents, telling them how many cases we have. I told them it's an outbreak. Every child in every area is in danger."

"People started coming to (hospitals) for vaccines which they took back to their villages.  We must have given enough vaccines for over 100,000 children since September."

But this still does not mean complete immunity, highlighting the gap in service provision; polio drops have to be administered thrice monthly, explained Khan.

"We tried to motivate people but we cannot keep track of doses."

The elusive way forward

Khan shared, "There is an aman committee comprising of the government, militants and others which can convince people (to not be scared of polio)."

The former agency surgeon said he met warlord Gul Bahadar. "I took doctors with me and we requested them to at least let people vaccinate their children in hospitals. But they procrastinated over the decision."

At the end of the day, the decision lies in bigger hands – like the aman committee and the political administration. "If they try (talking about access), it is possible to curb polio," he noted.

Access, access, access

Saira Tarrar also emphasised part of the solution needs to be the people of the area. "Parents are now sick of the ban; this pressurises the Taliban."

Going forward into 2014, Tarrar is convinced "100%" that things will improve in terms of the crippling outbreak.

"There is an accessibility problem in Fata, but by 2014, we will get a bargain and get some access."

And access is key, as far as Elias Durray, the head of Polio Eradication at the World Health Organization in Pakistan is concerned. "Immunisation prevents circulation. The virus won't vanish on its own."

Published in The Express Tribune, January 14th, 2014.