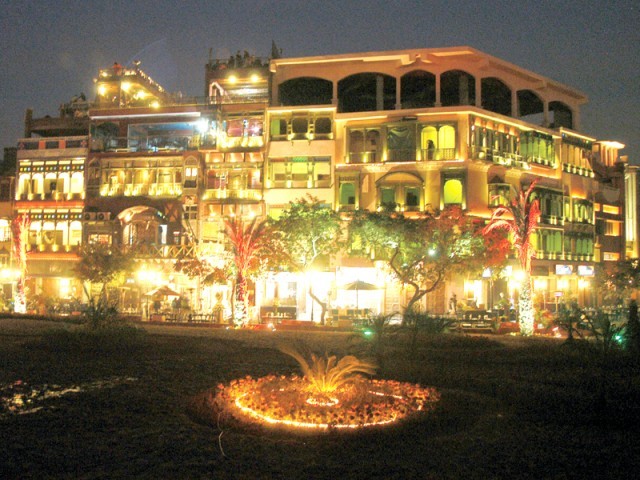 ---
LAHORE:



The Fort Road food street is being renovated and new features and activities are planned to attract tourists, The Express Tribune has learnt.




Restaurants on the street will be repainted. The Walled City of Lahore Authority will also place new shop signs and lights along the street. New fascias have been designed for the restaurants. The entrances will be replaced with new ones designed in line with Mughal architecture. The shop signs have been designed to match the gates. The additions have been designed keeping in view the neighbourhood's heritage significance.

Paints for the buildings have been sponsored by Brighto Paints. The company will also look after the buildings' facades. Several senior architects and designers have been taken on board for the renovation.

Direction signs will be placed on the Ring Road, The Mall and Circular Road by the end of this month.




Director General Kamran Lashari told The Express Tribune that the Fort Road food street was a priority for the authority. "This place is one of a kind...where people can relax and have food with a view of the Lahore Fort. We aim to make it the biggest cultural and food hot spot in Pakistan."

Marketing and Tourism Director Asif Zaheer said, "We are trying to attract as many visitors as we can to this food street. A Master Chef Australia contestant who earlier visited this street enjoyed the food and loved the view as well. We want to turn it into a tourist spot which is why we are focusing on the ambience."

Media and Marketing Deputy Director Tania Qureshi said, "We are taking several steps to improve the Fort Road food street. We have introduced several cultural activities and we are planning to hold several events, including food festivals, qawali nights and street theatre."

Iqbal Hussain, owner of the Cuckoo's Den, told The Express Tribune that the restaurants happy to see interest in the Fort Road food street revive. All stakeholders were taken on board with regards to the renovation."

Habib Khan, owner of the Haveli restaurant, said, "We have witnessed a marked difference in the number of visitors since the WCLA has taken control of this street."

Zamirul Hassan, a visitor to the food street, said, "I am here from Karachi. I had heard about the food street and wanted to experience the mood of this place. One of its most interesting features is the street performances, especially by Sayeen Muhammad Ali who plays the toomba and sings kafis. I have seen many photographers taking pictures of him in his colourful attire."

Published in The Express Tribune, January 11th, 2014.
COMMENTS
Comments are moderated and generally will be posted if they are on-topic and not abusive.
For more information, please see our Comments FAQ