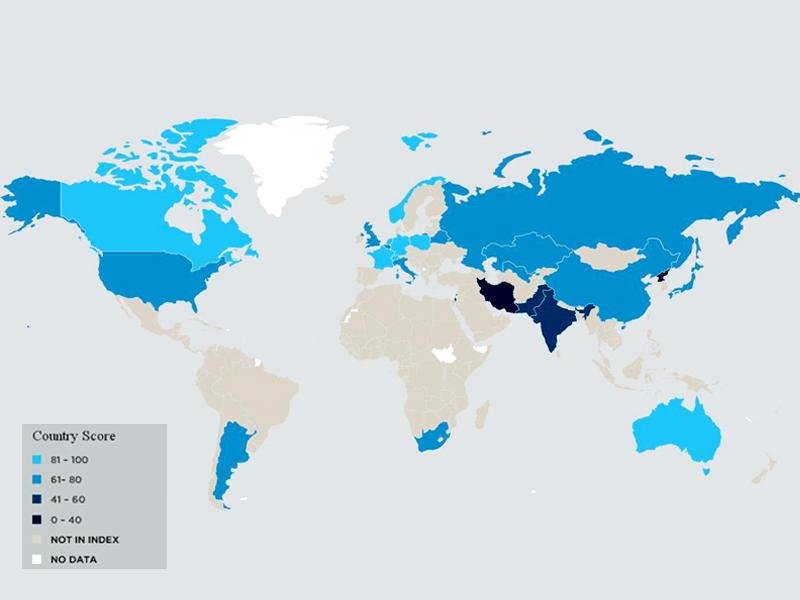 ---
A US study released on January 9, 2014, on worldwide nuclear material security described Pakistan as the 'most improved' country among nine nuclear-armed states, and a state better at safeguarding its nuclear materials than arch-rivals India after having boosted physical protection of nuclear material and weapons.

Among 25 countries with weapons-grade nuclear materials, Pakistan was ranked 22 (46 points out of 100) where as India ranked 23 (41 points out of 100).

"Pakistan, which improved its score by three points compared with 2012," the NTI report says, "demonstrated the largest improvement of any nuclear-armed state. Pakistan is taking steps to update its nuclear security regulations and to implement nuclear security best practices."

The country's score benefited primarily from increased physical protection and stringent regulation of licences and on-site security reviews.

India registered an improvement of one point since 2012.

Army chief satisfied with nuke defence

On Friday, Chief of Army Staff General Raheel Sharif visited the Strategic Planning Division and was briefed on the strategic programme of the country.

According to an Inter-services Public Relations release, Gen Sharif said that Pakistan's nuclear programme was of central importance to the country's defence programme.

He expressed satisfaction over the robust nuclear command and control structure and security controls guarding the nation's strategic assets.

Nuclear Materials Security Index — Methodology

The Nuclear Threat Initiative (NTI) — founded by US Senator Sam Nunn and CNN founder Ted Turnder — describes itself as "a non-profit, non-partisan organisation with a mission to strengthen global security by reducing the risk of use and preventing the spread of nuclear, biological, and chemical weapons."

"The 2014 Nuclear Threat Initiative Nuclear Materials Security Index is the second edition of a unique public assessment of nuclear materials security conditions around the world."

"It assesses states in five categories: (a) Quantities and Sites, (b) Security and Control Measures, (c) Global Norms, (d) Domestic Commitments and Capacity, and (e) Risk Environment."

Global rankings

The report highlighted positive developments in a host in terms of (a) decreasing quantities of materials; (b) strengthening physical protection measures; and (c) passing new domestic laws and regulations aimed at better securing materials at facilities and during transport.

The overall rankings for security of weapons-usable materials put Australia at the top (same as in 2012); United States and United Kingdom tied on the 11th; Russia on 18th, and China, Israel, Pakistan and India stacked together near the bottom, where sat North Korea (same as in 2012).

Pakistan


Source: Ntiindex.org

NTI's Pakistan profile said "Pakistan's score increased by three points compared to 2012."

"Pakistan's improvement is primarily due to an increased score for on-site physical protection resulting from new laws and regulations requiring licensees to provide physical protection to nuclear sites and on-site reviews of security."

It added, however, that:

"Pakistan's nuclear materials security conditions also remain adversely affected due to political instability, high levels of corruption among public officials, and the presence and capability on its territory of criminal or terrorist groups interested in illicitly acquiring nuclear materials."

Making recommendations for further strengthening nuclear security, the NTI said:

"In the future, Pakistan's nuclear materials security conditions could be further improved by strengthening its laws and regulations for physical security of material during transport to reflect the latest IAEA nuclear security guidelines, and for mitigating the insider threat, particularly by requiring personnel to report suspicious behavior and requiring constant surveillance of areas of facilities where nuclear material is located."

Versus India

Breaking down the scores, the report has India scoring higher than Pakistan on international legal commitments because of having adopted treaties which Pakistan has yet to ratify.

Pakistan, however, scored higher in the following areas: existence of an independent regulatory agency; an invitation of peer review of its nuclear security arrangements; and having security and other personnel with access to nuclear materials subjected to additional vetting.

In addition, the report favours Pakistan for having an operational Center of Excellence (COE), whereas the foundation of India's Global Center for Nuclear Energy Partnership was only recently laid on January 3, 2014.


Source: Ntiindex.org
COMMENTS (31)
Comments are moderated and generally will be posted if they are on-topic and not abusive.
For more information, please see our Comments FAQ