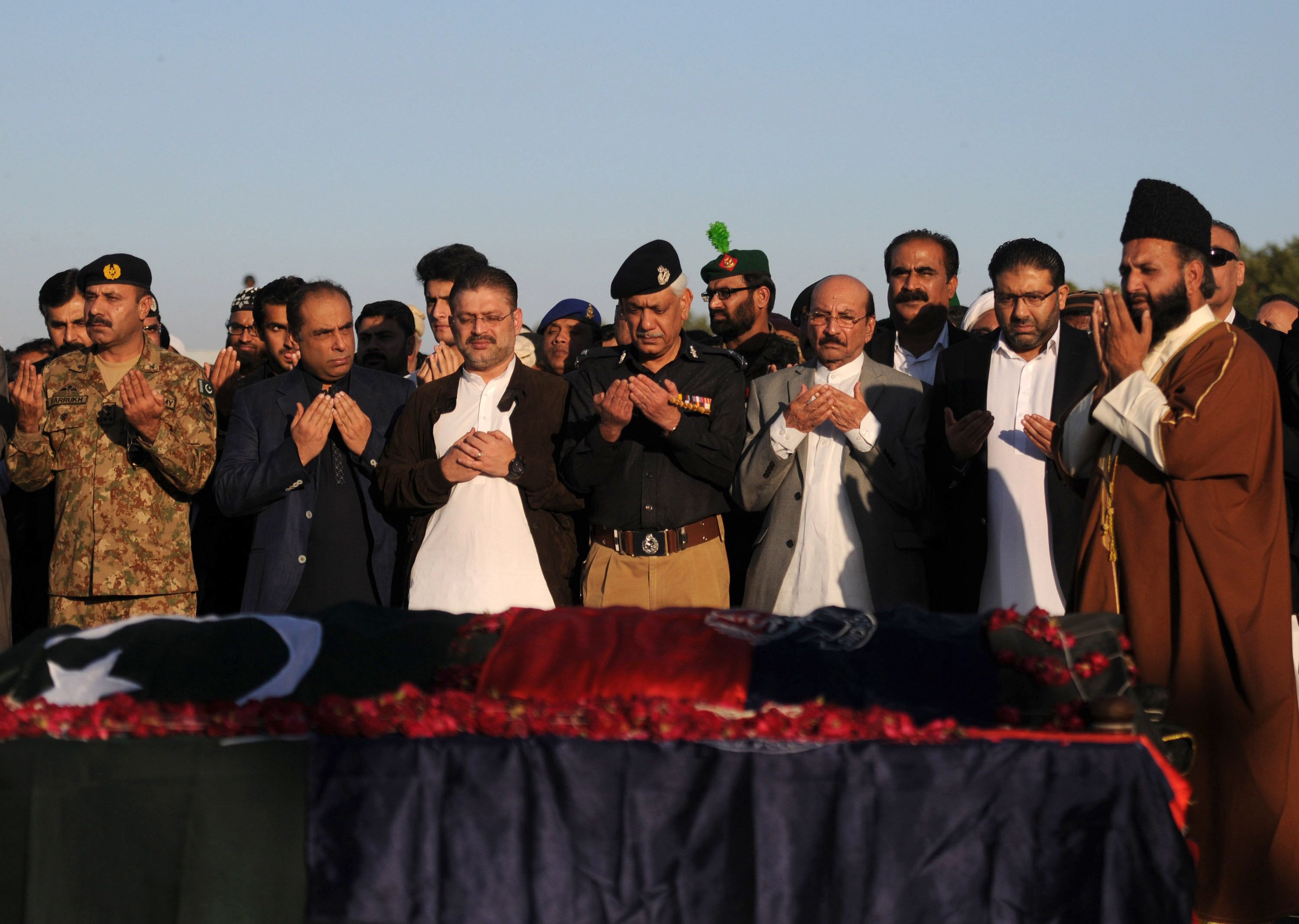 ---
KARACHI: Around 200 kilogrammes of explosives were used in the suicide attack that killed Superintendent of Police (SP) Crime Investigation Department (CID) Chaudhry Aslam in Karachi, Express News reported on Friday.

The Inspector General Sindh had previously said that at least 20-25 kilograms of explosives were used in the blast.

A resolution was passed in the Senate for recognition of Aslam's services.

Funeral prayers

The funeral prayer of Aslam and two of his officers was offered at Karachi Police Academy.

Strict security measures were taken all around the city.

Sindh Chief Minister Qaim Ali Shah along with Muttahida Qaumi Movement, Pakistan Muslim League – Nawaz (PML-N) and Pakistan People's Party members attended the funeral prayers.

CPLC Chief and Core Commander Karachi were also in attendance.




Late SSP was buried at the Gizri graveyard, Phase IV.

Former President Asif Ali Zardari attended the burial accompanied with immense security protocol.




Investigation

Earlier today, it was reported that a pickup truck was used in the attack.

According to sources, parts of the truck and pieces of blue plastic cans were found at the crime scene. The explosive material was kept in blue cans on top of the pickup truck, the sources revealed.

The driver of a police mobile in Aslam's squad confirmed that a pickup truck was used in the attack, the sources added.

On January 9, the suicide blast by the Tehreek-i-Taliban Pakistan (TTP) had killed arguably Pakistan's best known police-commander, Aslam, near Essa Nagri at the Lyari Expressway.

………………………………………………………………………………………………………………………………………



………………………………………………………………………………………………………………………………………

Shortly after the attack, TTP spokesperson in Mohmand, Sajjad Mohmand, had told Express News that the group had carried out a "successful" attack to take revenge for several Taliban members killed by the police. The TTP had also carried out an attack on Aslam's house in 2011.

Aslam, the famed and fearless police officer had 29 years of experience behind him, and ran an elaborate intelligence network across Karachi's complex web of alliances and bitter, bloody rivalries. Over the years, he had amassed a fortune just from gathering bounties over the dozens of militants and wanted criminals in the country.

………………………………………………………………………………………………………………………………………



………………………………………………………………………………………………………………………………………

The bomber smashed his vehicle into Aslam's convoy and he and two other policemen were killed, senior CID officer Iqbal Mehmood had stated.

The blast was so powerful that it threw the shattered wreckage of Aslam's vehicle some 20 metres from where it was hit.


COMMENTS (28)
Comments are moderated and generally will be posted if they are on-topic and not abusive.
For more information, please see our Comments FAQ