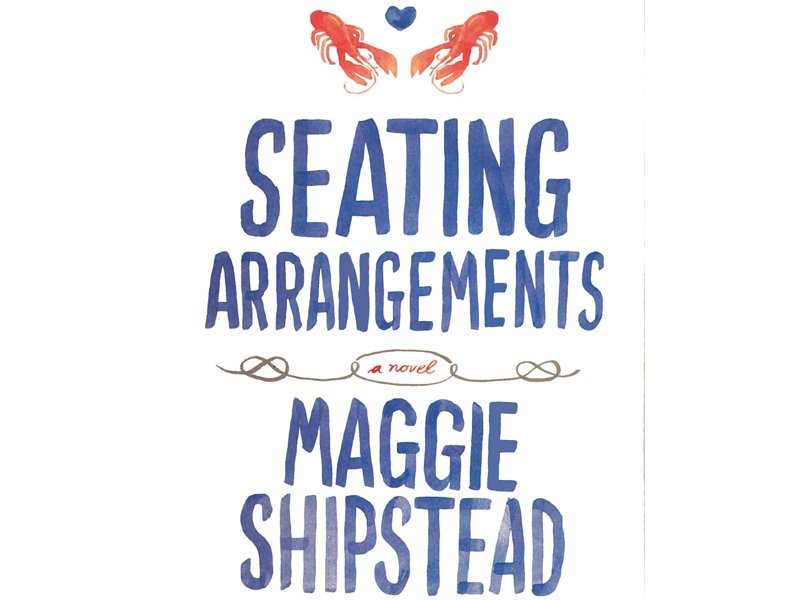 ---
Maggie Shipstead's debut novel is a flippant, irreverent and utterly hilarious yet subtly dark take on the upper echelons of American society, where people still cling to old world ideals to pass off as rich quasi nobility and the affluent try their hands at irony to pass off as common folk. Confused? Don't be.

The book under review steers so far away from the average chick lit bestseller that you'll be left with a grin on your face and satisfaction over time well spent.


Author Maggie Shipstead

Seating Arrangements starts off as a simple story about a family gathering at the New England island of Waskeke to celebrate the wedding of Daphne Van Meter to Greyson Duff. Daphne is seven months pregnant and knee-deep in wedding related paraphernalia and shenanigans. She is too busy to worry about the ripples her impending nuptials is creating in the lives of people who have come together for the event. There is Biddy, Daphne's straightforward and uncomplicated mother, Celeste, her perpetually drunk aunt who is a bit of a serial bride with a few marriages behind her and perhaps a few ahead of her, the bridesmaid Dominique, whose Egyptian heritage and worldly knowledge are at odds with the general silliness that abounds in the house full of estrogen and wedding gifts, Piper, who is a smidgen of pale limbs, utterly unremarkable save only her loyalty to Daphne, and finally Agatha, who is the 'troublesome one', with a husky voice and dirty blonde hair. And alongside them is Daphne's maid of honour and younger sister Livia, who has brought her environmental warrior and recently heartbroken self to the occasion, much to everyone's dismay.




The superbly written cast of female characters, however, is set around the central figure of Winn Van Meter, Daphne's father who has long suffered teetering at the edge of being a part of the upper crust of East Coast. Despite his lifelong affiliation with all the right social circles and clubs, he finds himself denied the membership of one of the most prestigious social clubs on Waskeke, and the failure to receive an invitation has opened up old wounds. It has also brought into focus Jack Fenn, a man Winn considers a sworn enemy for the fact that he denied him a membership for the Harvard fraternity in their youth, and just happened to have dated his wife, Ophelia, before she met him. It is Winn's own insecurity at the end of his fifties paired with the psychological turmoil of knowing that, despite his staunch control of his life, his daughters have stubbornly careened out of the axis of propriety defined by him. Pair that with his long suppressed lust for Agatha rearing its ugly head in the most inopportune of times, and you've got a recipe for disaster. Spanning over three days of the wedding weekend, the well-constructed blocks of the Van Meters' lives seemed to be fitting in all the wrong sequences like a long ignored game of Tetris. As Shipstead writes in one of her masterfully concise paragraphs, "Spending so much time with the Van Meters was like returning to a cherished childhood home and discovering that either her memory had been wrong or time had taken its toll, and the place was not magical or special at all but ordinary, flawed — a revelation doubly offensive because it made a certain swath of past happiness seem cheap, the product of ignorance."

The book is a lighthearted yet pensive read for autumn when even our own country turns into a giant marriage hall. Culturally, many people will find a lot of similar social nuances that plague most of us halfway across the world when it comes to wedding parties. The familial intrigue, the constant unabashed flirtations, the resolutely uncouth manner in which old family feuds are hashed again and how only a few sane voices try to make peace rule over the proceedings is almost familiar to those of us who have had a chance to participate in large family weddings. This book delivers hilarious twists and studded with retellings of Winn's humble heritage, Biddy's quiet longings, Livia's desperation, Dominique's ennui, Agatha's waywardness, Piper's cluelessness, Celeste's drunkenness, and the Duff family's failing pact to 'be pleasant', it makes for a uniquely fulfilling read that will be quick and fun to digest, like a slice of good quality wedding cake. 

Wedding Woes

That Old Cape Magic (2009)




Pulitzer Prize winning Richard Russo's eighth novel is about an ageing Hollywood writer and professor who travels to New England to attend two weddings after losing both his parents in quick succession. The witty book revolves around the idea of ageing, fidelity and familial affinity, while ensuring that at no point the reader forgets that the book's protagonist is a malicious, old coot.

Madras on Rainy Days (2004)




Samina Ali's story revolves around the arranged marriage of an Indian-American Muslim woman, whose wedding in Hyderabad sets into motion a curious chain of events that are rooted in ritual and tradition, clashing with the protagonist's burgeoning sexuality.

An excerpt from the book can be read on the NPR website.

Wedding Babylon (2009)




Ever wondered what goes into making a super expensive wedding? In this book, Imogen Edwards-Jones and an anonymous author go in-depth to explore the wedding industry, and how prices of everything are inflated to cheat gushing couples out of their money. A witty and sardonic book, this is a must-read companion in the wedding season.

Nuzhat Saadia Siddiqi is a Lahore-based writer and book hoarder. She tweets @guldaar

Published in The Express Tribune, Sunday Magazine, January 12th, 2014.