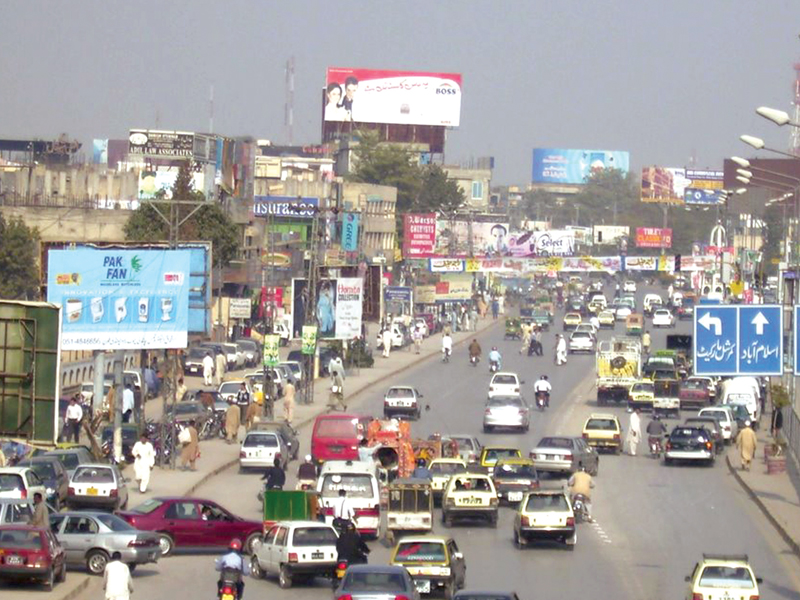 ---
RAWALPINDI: It's the money that drives the muncipal corporations to blight the stretch of azure over our heads. Major roads and intersections in big cities and towns are peppered with never-ending advertisements in all forms, shapes and sizes popping over your head and flashing before your eyes as you commute to and fro from work.

Whatever remains seems to have been gobbled up by political advertisements. Rawalpindi is no exception. In fact, it may be worse off than some other large cities, as the local bodies contest here is quite fierce, with the Pakistan Muslim League-Nawaz and Pakistan Tehreek-i-Insaaf both stepping up to assert their presence. Political parties are spending huge amounts of money on adverts in an attempt to outshine the others.




Some residents shared their views with The Express Tribune. "People do not want to be constantly assaulted by enticements to buy cars or cell phones. There are plenty of other avenues available — the print media, television, radio, leaflets, promotions," said Rafaqat Ali, a businessman.

Advertisements are a form of visual pollution, said Khalid Hussain, an environmentalist. "Banners and hoardings intrude on the surrounding landscape with bright colours, lights and large fonts, making it difficult to focus on anything else. "Rooftop hoardings are another ugly feature of the urban landscape. The practice continues unabated," said Hasan Kamal, a resident of Shah Khalid Colony.

Ali Rizvi, a carpet trader in Saddar, said the rush to get hold of public attention has led to an explosion of hoardings. "Free-for-all advertising must be reined in."

In the wake of local bodies elections, the town has been seeing a gradual increase in the number of banners and hoardings. Although the Election Commission of Pakistan (ECP) has announced the election schedule, it has yet to issue a code of conduct for candidates regarding advertising, allowing the free-for-all advertising campaign to go unchecked. Mian Waheed, the staff officer to the district coordination officer, said district administrations would check advertisements only after the code of conduct was issued.




The ECP public relations officer said that the code of conduct is generally issued on the day the schedule was announced. He said the ECP had been busy with delimitation, which had delayed the announcement of the code of conduct. Although a code has since been issued, no one is enforcing or adhering to it. The ECP officer argued that the commission lacks the manpower to enforce the code on its own.

It is little wonder then that one sees politicians' faces brazenly smiling down on passersby from hoardings and banners installed at busy intersections. "These are traffic hazards for unwary road users," said Munawwar, a student.

"Although in bad taste, there is nothing much that can be done about it. Politics in this city has sunk to such depths that nothing surprises anyone anymore," says Shabbir Naqvi, a lecturer at a local college.

"Among  the many things that disfigure the city are outdoor ads, graffiti on the walls and the hoardings, which now have come to display the new low that local politics has sunk to," said Zainab Ali, a college lecturer.

Published in The Express Tribune, January 6th, 2014.