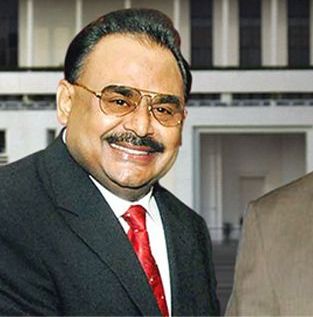 ---
KARACHI: Sindh Information Minister Sharjeel Memon on Saturday temed comments by Muttahida Qaumi Movement (MQM) chief as a bid to divert attention from more important issues at hand, and that the MQM should withdraw its support for former President Pervez Musharraf, reported Express News.

Addressing a press conference, Memon claimed that during the MQM chief's telephonic address to Hyderabad on Friday, Altaf had spoken about breaking Pakistan's foundation when he stated that Sindh should be divided.

Memon was accompanied by Pakistan People's Party (PPP) senior member Taj Haider who said that that the population of Karachi has increased and that's why there are more constituencies. He also lamented that Pervez Musharraf divided PPP's votes through delimitation.

Altaf's statements had garnered criticisms from other politicians as well, including Chief Minister Sindh Qaim Ali Shah.

Shah reacted to Altaf's comments, on Saturday by saying that he shouldn't take little things to the heart and talk about dividing the province. He also went on to say that Altaf is a "son of Sindh."

MQM justify's Altaf's comments

Earlier on Saturday, members of the MQM's Rabita Committee held a press conference where they justified Altaf Hussain's comments.

MQM leaders Farooq Sattar and Khalid Maqbool Siddiqui clarified that Altaf made no such comment.

During the press conference, Sattar reiterated that MQM members were being treated as if they did not belong to Sindh.

"Why are we being treated like the step-children of Sindh?" he said.

Sattar said that the delimitation policies of the government were undemocratic and were being used to hijack MQM's legitimate mandate.

He added that after the success of Friday's rally in Hyderabad, a second rally will be held in Gulshan-e-Iqbal area of Karachi on Sunday.

Daughter of Prime Minister Nawaz Sharif, Maryam Nawaz also took to Twitter to express her opinion regarding the matter.


For God's sake stop inciting prejudices. Doesn't behove leaders. Cease being Sindhi, Punjabi, Baluchi or Pakhtun. Be Pakistani for once!

— Maryam Nawaz Sharif (@MaryamNSharif) January 4, 2014


On Friday, Altaf Hussain had said during his telephonic address that "I want to tell the nationalist groups and PPP leaders that if they don't accept the mandate of urban Sindhis then [they should] create a separate province for them."
COMMENTS (24)
Comments are moderated and generally will be posted if they are on-topic and not abusive.
For more information, please see our Comments FAQ