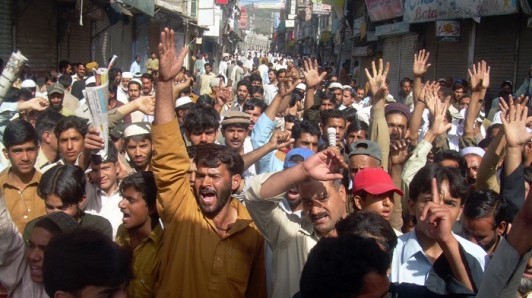 ---
ABOTTABAD: The NWFP government formed a commission for a judicial enquiry into the Abbottabad riots on Wednesday, while the newly appointed DCO of Abbottabad lifted Section 144 from the city.

The ongoing riots have claimed the lives of seven people and injured another 100 . The commission will be lead by the Peshawar High Court Judge Abdul Aziz Kundi.

The request for a judicial enquiry was made by the NWFP government. The committee is expected to present its report in fifteen days.

Interior Minister Rehman Malik has announced the release of all protestors arrested during the three days of riots.

The developments came as charged protestors observed a complete shutterdown and wheel jam strike in Abbottabad and other parts of Hazara divison.

Protestors came out on the roads early this morning in Abbotabad, Mansehra and Haripur to protest against the renaming of NWFP to Khyber Pakhtunkhwa.

The traders observed a complete strike and all bazaars, markets and shops remained closed.  The district administration had earlier closed educational institutions for an indefinite period.

A large number of police personnel are present in the city to control the law and order situation.
COMMENTS
Comments are moderated and generally will be posted if they are on-topic and not abusive.
For more information, please see our Comments FAQ