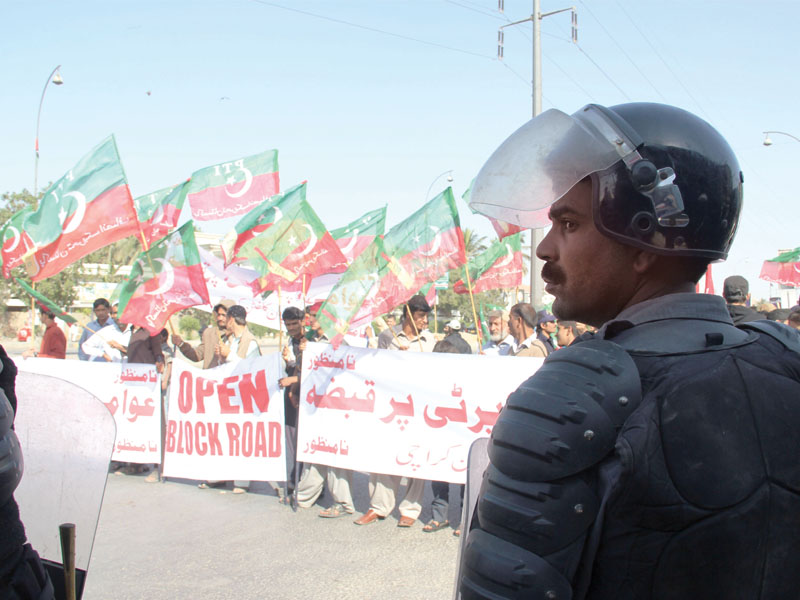 ---
KARACHI:



Armed with flags, banners, spray paint and shovels, the Pakistan Tehreek-e-Insaf (PTI) hoped to register its condemnation of the wall barricading Bilawal House on Sunday. But what transpired on the sunny afternoon of the 'Movement against Bilawal House' at Boat Basin left supporters flabbergasted.




"What did we do wrong?" exclaimed one angry participant. "We were here to register a peaceful protest but we were attacked."





All main arteries leading to Bilawal House, including the road from Park Towers, were blocked [bottom left]. PHOTOS: AYESHA MIR/EXPRESS




His anger was in reaction to the baton charge on protestors by police in riot gear. At about 3pm, the roundabout where Mai Kolachi meets Boat Basin was fortified by lines of daunting policemen. Some brandished wicked looking lathis, others walked about with tear gas canisters, waiting for a nod from a supervisor. "Madam, you should move to the side or you'll complain if you get hurt in this action," one security official said, as he adjusted his helmet.

With knee and shoulder pads strapped to his limbs, he waved his dusty shield to beckon comrades on the other side of the road. Together, on instructions, a row of burly police personnel charged at a handful of PTI supporters, led by Dr Awab Alvi, son of MNA Arif Alvi.

His shouts of "death to Sindh Police" and "we are here to save the country" were cut short by wallops from a resolute policeman. Other party supporters were grabbed by the collars of their hoodies and pushed back, all the time being warned by police officials not to advance towards the road leading to Bilawal Chowrangi.





A fight broke out when workers of the PPP also arrived at the scene. PHOTOS: AYESHA MIR/EXPRESS




As the crowd of riled up party supporters dispersed, muddied PTI flags lined the pavement. "Why can't they just protest at the press club?" asked an exasperated DSP Sarwar Commando. "Why can't they just do this from somewhere far? The mummy daddy crowd has been swarming these shops since this morning," he said, pointing towards the shuttered halwa puri joints. "If we hadn't closed them down, women and children would have been among those protesting and it would have been very difficult to hold them back."

Another superintendent of the police said the PTI workers were baton-charged because they vandalised property, and that the riot police had been especially called in from "headquarters". One policeman confessed that he had no idea what place he was deployed at, just that the government had given them breakfast in the morning and issued orders to control mayhem.





PTI MPA Arif Alvi berated the law enforcers for not providing the protesters security. PHOTOS: AYESHA MIR/EXPRESS




As the fever of the botched protest simmered down, all that was left at the Boat Basin roundabout was the presence of armed policemen.

The Peoples 'Party'





Across Park Towers in Clifton, PPP supporters enjoyed a festive atmosphere while dancing to their party songs. PHOTOS: AYESHA MIR/EXPRESS




Across Park Towers in Clifton, euphoric Pakistan Peoples' Party (PPP) supporters danced to 'Bijja Teer Bijja' blaring from large speakers placed in a Suzuki pick-up. Some danced using their PPP flags as accessories, while other clutched at their mirror-worked Sindhi caps as they broke into a move.

While a party insider confirmed to The Express Tribune that Bilawal Bhutto Zardari was inside the House during the protest, about a hundred or so supporters pledged to protect the party's patron-in-chief till their last breath.

"We are with Bilawal," said Waseem Chandio from the PS-113 constituency. "Because of Imran Khan our Sunday has been ruined. If his party hadn't issued this call for a protest, we would all be sitting home enjoying the day off with our wives and children. Even you are out baking in the sun because of him."

While most of the early afternoon hours on the 'PPP side' were spent  doing the jhummar to catchy tunes, when news of a scuffle between PTI and PPP activists at Boat Basin reached Park Towers, jiyalas became furious.

"Why are they attacking our political Mecca?" one supporter, Waleed asked. "They have not come to be peaceful. They have attacked our workers; we will attack them in retaliation. We are ready to lay down our lives for Bilawal."

Published in The Express Tribune, December 30th, 2013.
COMMENTS (30)
Comments are moderated and generally will be posted if they are on-topic and not abusive.
For more information, please see our Comments FAQ