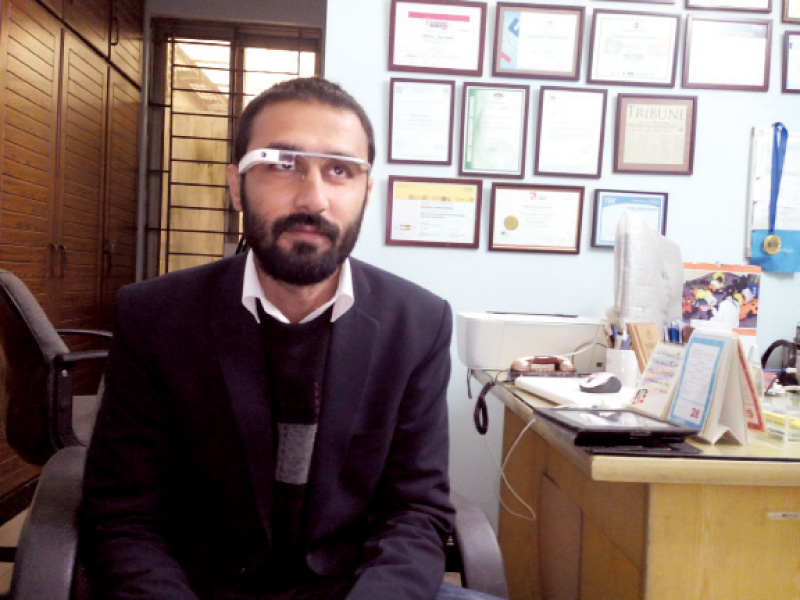 ---
ISLAMABAD:



Pakistani web developers, programmers and students who attended a Google Glass boot camp and "hackathon" on Friday and Saturday were brimming with ideas about designing applications for Google's yet-to-be-commercially-launched wearable technology.




The hackathon — an event where coders and developers collaborate on software projects with the goal of creating workable applications by the end of the event — was organised by Moftak Solutions, an IT services and web development company which has acquired the Glass hardware, at its Islamabad office.

Google Glass is a "wearable technology" device — essentially a computer — which Google started testing in 2012. It is worn similarly to normal eyewear, with the display appearing in a lens attached to the device. Glass is controlled using voice commands and a touchpad on the side of the frame.

As many as 40 web developers, programmers and students participated in the hackathon and by the end of the event on Saturday, they had already gotten a hang of the device and had completed basic testing of some apps they had coded.

"It is the first-ever Google Glass-related code jam in Pakistan," said Fakhar Abbas, a marketing manager at Moftak. "We wanted to create awareness and give hands-on training to local developers about a device as only around 2,000 pieces have been handed out by Google worldwide for testing."

The limited availability of Google Glass means most Pakistani programmers and web developers do not have much exposure to the cutting-edge product or how its apps work, said Najam Sikander, a Project Manager at Moftak. Pakistani developers who had worked on Glass apps for foreign clients were sending their code abroad to be tested, Sikander added.

Moftak's Chief Executive Officer Khurram Mujtaba got a chance to acquire one Glass device when he attended the 2012 Google I/O Conference in San Francisco. Once the device reached Pakistan, Abbas said they decided to share it with students and local web developers. There are only 10 to 15 Glass apps available online at the moment due to limited testing, which gives an opportunity for Pakistani developers to create a space for themselves.

"The idea was to get like-minded web developers on board, so together we could get Pakistan some representation in Glass app development," Abbas said.

Participants at the hackathon seemed to be warming up to that idea.

"Pakistan is an emerging IT country and it would be real nice if we can get a Pakistani app up on Google Glass," said Jehanzeb Malik, a senior software engineer at Red Buffer, who attended the event.

Malik said he and his team were trying to get a basic idea of Glass and they hoped to build a basic gaming app such as tic-tac-toe for Glass by the end of the event on Saturday evening.

In another room, software engineer Hassaan Anjum and his three fellow hackathon participants were working on a separate app. This app, Anjum said, would allow Glass users access to web services such as finding out the local time at a given geographic location.

On Friday, the first day of the event, the participants were informed about Google Glass through presentations and they got to see the way the device works by wearing it. On the second day, the participants set themselves to coding and testing. One participant was able to translate Glass's Mirror Application Programming Interface in to the PHP programming language, another converted it in to the Node.js software platform.

While web developers were excited by the technical opportunities, students also got some professional advice out of the event.

Abid Khan, a final semester computer science student at the National University of Modern Languages, said the event provided him with motivation and a peek in to the world of web development.

"As a student, it is sometimes difficult to get an idea of the professional scope of technical things we are learning at the university," Khan said. "Here I got to work with professional web developers and learn about the development process."

Abbas said the event was sponsored by Binex Solutions, a game development company, Alfoze Technologies, an IT and Telecom service provider, and Jumpstart — an initiative by Moftak, started earlier in 2013, where university students are provided support to launch their own start-ups.

Published in The Express Tribune, December 29th, 2013.
COMMENTS (3)
Comments are moderated and generally will be posted if they are on-topic and not abusive.
For more information, please see our Comments FAQ