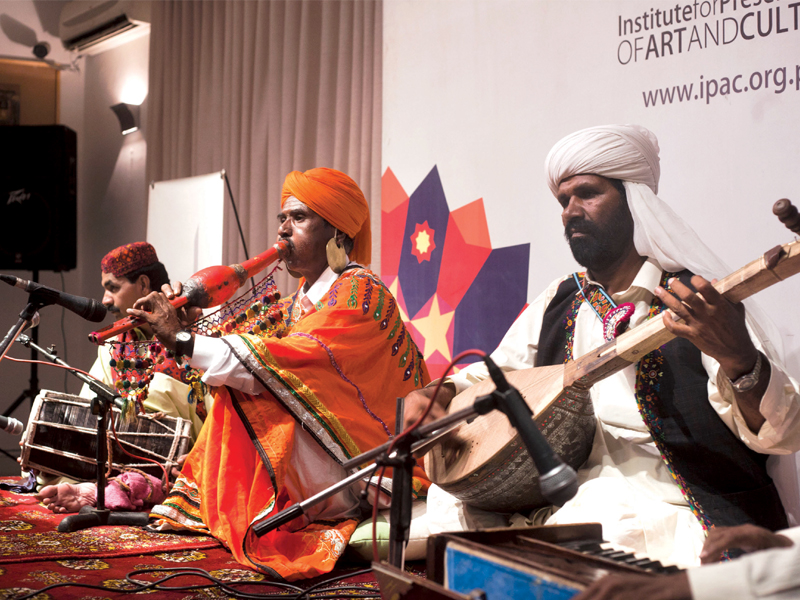 ---
HYDERABAD: Kafi, a distinctive genre of Sindhi poetry in the past, finds its enthusiasts petering out day by day much to the chagrin of its bastion. Superseded by modern forms of singing and music, kafi writers have vanished as dramatically as its listeners. "While we were documenting Sughars (traditional Sindhi folk narratives) around Sindh, we found that the art of writing and singing kafi is becoming extinct," said Dr Fehmida Hussain, chairperson of the Sindhi Language Authority (SLA) which organised a 'Kafi Conference' on Sunday.

The SLA is archiving Sughars and Sughar Katchehris (folk conferences) to preserve unwritten Sindhi literature, folklore and dialects. Dr Hussain said the objective behind the kafi conference is to revive the glory of this poetic genre.




Kafi is one of the three most popular genres of poetry associated with the Sufi order in Sindh with waee and bait being the other two. It is characterised by devotional intensity in its delivery. "You can feel it through its quintessence. It can be sung, not read, even when the poet is penning it down," said Dr Makhroor Bukhari.

Sachal Sarmast, Misri Shah, Khwaja Sahib Dino, Ruhal Fakir, Qadir Bux Bedal, Makhdoom Ameen Pakhan Dhani and Makhdoom Talibul Mola (father of Makhdoom Ameen Fahim) are illustrious kafi poets in Sindh. Punjabi and Seraiki poets like Shah Hussain and Bulleh Shah are popular in their respective languages.

Kafi is also commonly sung at shrines of Sufi saints in Sindh and Punjab. Famed singers like Abida Parveen, Runa Laila, late Allan Fakir, Zulfiqar Mazhar and Sanam Marvi have sung scores of kafis.

Origin

The experts differ, however, when defining what it exactly stands for. "Some say that it is a speech with words or sentences which rhyme. For others, kafi is a concise poetic composition," said Dr Bukhari. He went on to point out yet other varied definition of kafi which contests its description as a rhymed scheme. Many still believe that kafi is a form of north Indian thath.

There is also a divergence, he added, when it comes to tracing the origin of word kafi with Arabic, Persian and Sanskirit said to be its root languages. Nevertheless, historians are in consonance about the first known kafi poets in Sindh. According to Akhtar Dargahi, 16th century poet Shaikh Laadh is the earliest Sindhi poet who composed poems in kafi style. This practice was followed by Makhdoom Fazil Bakhri.

"Unfortunately, these two great poets find their mention only in written history. We don't have any samples of their poetic work," added Dargahi. Eighteenth century poet Sachal Sarmast is the first acclaimed kafi poet whose poetry is extensively available.

Composition

According to Dr Bukhari, there are up to 250 formats in which kafi can be written. However, the root formats are four - yaki (one liner), beenhi (two liner), teenhi (three liner) and chaunhi (four liner). Sachal Sarmast is the only eminent poet who wrote five to six liners.

Sindhi in India

Dr Jagdesh Lachani, an Indian Sindhi writer bewailed that some three million Sindhis living in India are becoming estranged with their culture and language. Dr Lachani recalled with nostalgia how the Sindhi mothers sang lullabies of Sindhi poetry to their children.

Dr Hero Thakur from India said, "At least 150 books are published every year in Sindhi language in India and 80 per cent of these books are sponsored by the government. The government also buys hundreds of books from any writer or poet who can get their books published themselves."

Published in The Express Tribune, December 24th, 2013.