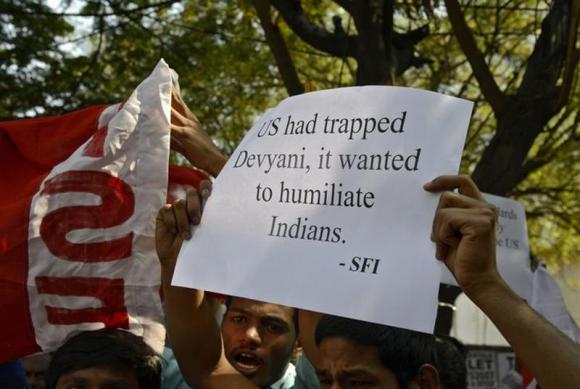 ---
NEW DELHI: India urged the United States to withdraw a visa fraud case against one of its diplomats in New York on Thursday, suggesting that Secretary of State John Kerry's expression of regret over her treatment in custody was not enough.

The arrest of Devyani Khobragade on charges of underpaying her nanny and her subsequent strip-search has caused a furore in India and put an unexpected strain on US-Indian relations.

It has also provoked anger over the treatment of Indians abroad and it has fed into a pre-election ferment, with political parties of all colours voicing patriotic outrage.

External Affairs Minister Salman Khurshid told reporters that New Delhi was not convinced there was a case against Khobragade, who he said had been treated like a common criminal.

"We have asked for an explanation for what has happened ... and why, and we have asked for the cases to be dropped and withdrawn immediately," Khurshid told reporters.

Khobragade was released on bail of $250,000 after giving up her passport and pleading not guilty to charges of visa fraud and making false statements about how much she paid the housekeeper, an Indian national. She faces a maximum of 15 years in jail if convicted on both counts.

The US Justice Department confirmed that Khobragade was strip-searched after her arrest. A senior Indian government source has also said the interrogation included a cavity search.

"The worst that can be said about the lady who was involved ... is that she did not comply with the amount that was supposed to be paid under law," Khurshid said. "I don't think that justifies treating her like a common criminal."

Washington said on Wednesday that US Secretary of State John Kerry had called Indian National Security Adviser Shivshankar Menon to express regret about the case and his concern that it should not hurt the two countries' relationship.

But in New Delhi, government leaders suggested Kerry had not gone far enough to assuage Indian sensitivities.

"They should clearly apologise and accept they have made a mistake. Only then will we be satisfied," Parliamentary Affairs Minister Kamal Nath said. "At a minimum, they must unilaterally withdraw all charges against Devyani and tender an apology."

In response to Khobragade's treatment, India has withdrawn some privileges given to US diplomats and removed security barriers at the US embassy in New Delhi.

Khurshid said he expected to speak to Kerry on Thursday.

Manhattan Attorney Preet Bharara on Wednesday defended the treatment of the diplomat, asked why there was less sympathy for the nanny and said it was standard practice for any defendant to undergo a full search, "rich or poor, American or not".

India's foreign ministry lambasted Bharara's remarks.

"The action taken against her was not in keeping with the Vienna Convention," spokesperson Syed Akbaruddin said. "There were no courtesies in the treatment that was meted out to the diplomat, under the normal definition of that word in the English language."

The Indian Embassy in Washington, in a written statement, accused the housekeeper, Sangeeta Richard, of blackmail in demanding that she be allowed to change her passport and visa status to work elsewhere.

It also called on US authorities to arrest Richard for stealing cash, a mobile phone and documents from Khobragade.

Bharara, in his statement, said Richard's family had been brought to the United States after legal efforts had begun in India "to silence her, and attempts were made to compel her to return to India".

Akbaruddin said: "It needs to be asked what right a foreign government has to 'evacuate' Indian citizens from India while cases are pending against them in the Indian legal system."

In a police report filed by the diplomat, the nanny told Khobragade in June that she felt "overburdened" by her work and wanted to be free to leave the house between 7 pm and 7 am.

Khobragade responded that Richard had come to the United States on an official passport and "perhaps government rules do not permit her to stay beyond the limit of consulate premises", according to police and court documents seen by Reuters.

The report alleged that Richard had committed crimes under Indian law by making a "false promise" in order to enter the United States and was duty-bound to surrender her passport the moment she stopped working as a domestic servant for Khobragade.

A court order issued a non-bailable arrest warrant for Richard, and - according to foreign minister Khurshid - her Indian passport has been revoked.

"Unless she takes asylum she will have to come back, she doesn't have a valid passport," he said.
COMMENTS (14)
Comments are moderated and generally will be posted if they are on-topic and not abusive.
For more information, please see our Comments FAQ