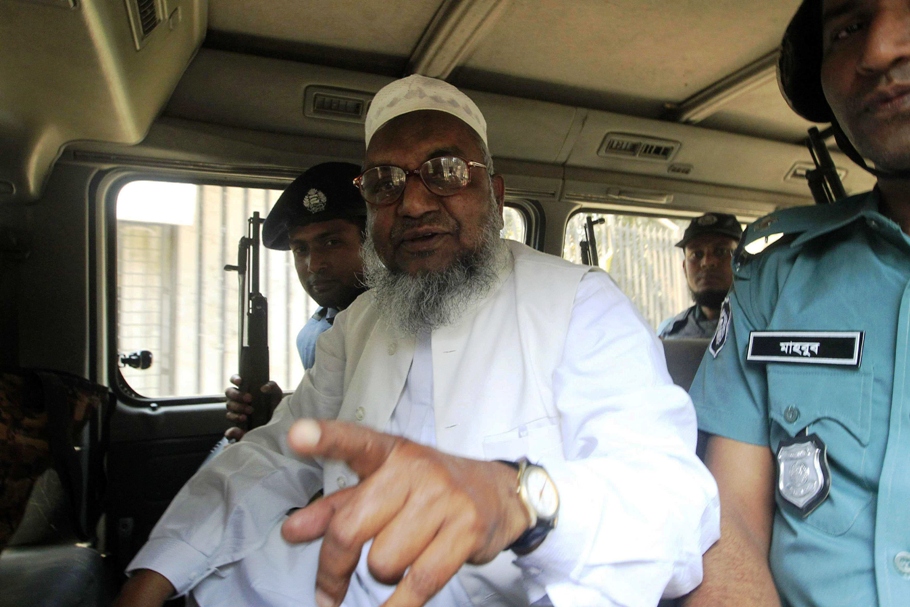 ---
DHAKA: Thousands of people entered the diplomatic zone outside the Pakistan High Commission in Dhaka on Wednesday, Express News reported.

The procession of 'Ganajagaran Mancha' was organised today to protest Pakistan's reactions on the execution of war crimes convict and Jamaat-e-Islami leader Abdul Qadir Molla, bdnews24.com reported.

Police attempted to stop the demonstators, but they broke through the barricade and proceeded towards the High Commission inside the diplomatic zone.

Earlier, the activists had demonstrated against what they described as "Pakistan's interference", on a road beside Gulshan-2 circle.

The demonstrators chanted anti-Pakistan slogans.

Commissioner summoned

On December 17, Bangladesh had summoned Pakistan High Commissioner in Dhaka Mian Afrasiab Mehdi Hashmi Qureshi to Bangladesh's Ministry of foreign affairs to lodge its protest over the resolution adopted by the National Assembly of Pakistan expressing concern over the execution of Molla.

Bangladesh Secretary (bilateral) Mustafa Kamal had conveyed in "unequivocal terms" that the war crimes trial in Bangladesh was "an internal matter" and as such "the uncalled for resolutions on the verdicts of the war crimes trial tantamount to interference in the domestic affairs of Bangladesh".

NA resolution

Pakistan's National Assembly on December 16 had passed a resolution against the hanging of Jamaat-e-Islami Bangladesh leader Abdul Quader Molla with majority votes.

Molla was executed on December 12 after Bangladesh's top court convicted him of war crimes during the 1971 war of secession.

"This house expresses concerns over the execution of Jamaat-e-Islami (JI) leader of Bangladesh, Abdul Quader Molla, for supporting Pakistan and [we give our] condolences to his family and the JI Bangladesh. This house demands of the Bangladesh government not to rake up the memories of 1971 and all cases against JI leaders [of Bangladesh] should be settled amicably," read the resolution.

Interior Minister Chaudhry Nisar Ali Khan who began the debate over the issue, announced the government's support for the resolution.

"Bangladesh is a sovereign state and we respect that," but the execution of Molla, a supporter of united Pakistan, was a 'judicial murder' and has saddened the entire nation again", he had said.
COMMENTS (69)
Comments are moderated and generally will be posted if they are on-topic and not abusive.
For more information, please see our Comments FAQ