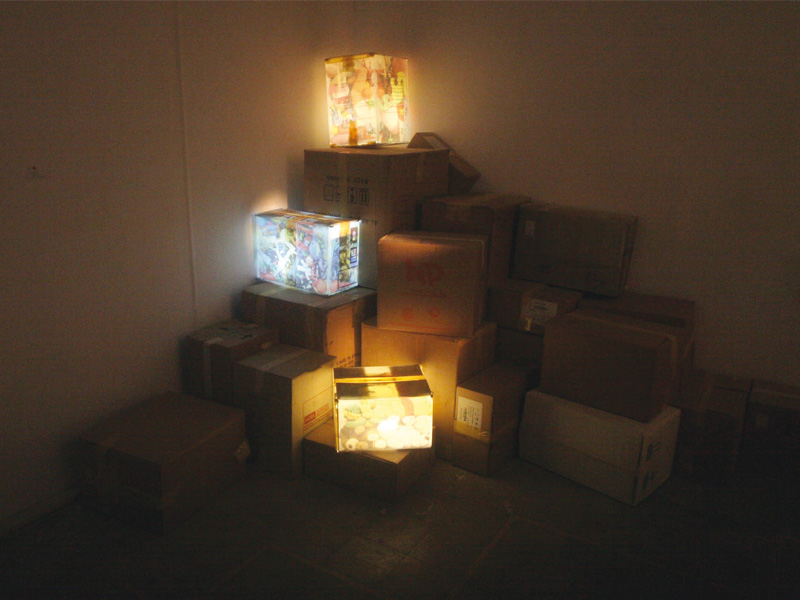 ---
KARACHI: "I am pleasantly surprised to see the works of the Karachi University's students in terms of quality. There wasn't one single approach — the students were allowed to work with whatever they wanted," said renowned artist and sculptor, Amin Gulgee, while talking to The Express Tribune about the KU Visual Studies Department's thesis display.

The display of the works of the 2013 batch of the department, featuring graphics, print media, fine arts, textile, Islamic design, film-making and industrial design,  concludes today (Wednesday).

Durriya Kazi, the head of the department, was very happy with the creativity of the students. She said that the employment rate of the students was very high and the self-employment opportunities in graphic, textile and even in architecture design were rapidly growing. She told The Express Tribune that the department wants to organise a film festival to match the revival of the industry taking place in Pakistan and was hoping for patronage from the industry, especially the media.

Graphic and print media

Huda Afzal, a final-year graphic arts student, saw a YouTube video in which an injured stray dog was treated cruelly — a boy shoots the dog with two bullets, ties a rope around him and drags him away.

This inspired her to design her campaign, Save a Stray (SAS), to spread awareness and to create a way to help stray animals. The campaign on display includes multiple posters and reward items for those who help the poor creatures. It also features an app that helps anyone who wants to contact SAS from a smartphone, tell them the location of the animal in need and sent a snapshot to them so that they come to help. The campaign will also help collect data for future action.

Muhammed Zeeshan, who focused his campaign on Ayubia National Park to promote the safari culture in Pakistan, said that some countries earn a chuck of their GDP from national parks. "Pakistan has as many as 26 of them and I decided to highlight them. I spent a whole week in the park to get good shots," he said.

In the fine arts group, Arsalan Nasir presented a unique display about how the human memory works.

Film students

Without the backing of a sponsorship, the film students at the Feroz Hasham Hall had to come up with resources themselves. Some of them had to sell their possessions to get their ideas through  production. The expenses for the film screening were also collected by the students. "This is public-sector university and there are no funds," complained Raza, a junior student of the department.


'Hasht Roch (Eight Days)' by Adil Bazinjo on Lyari and 'Chenak' by Fajr Raza, about a waiter who becomes a criminal, were among the films produced by KU students. PHOTOS: ATHAR KHAN/EXPRESS

Adil Bazinjo's one-actor film, 'Hasht Roch (Eight Days)', shows a young man of Lyari trapped in a school near Aath Chowk during an operation against criminals. It depicts what actually happened and usually happens to the residents in such days. 'Chenak' by Fajr Raza is a story of a waiter who is weak in arithmetic and cannot calculate the bills of customers. Failure at this job leads him to become a criminal.

According to junior students, they were very much inspired by the work done by their seniors, some of whom have already been picked up by representatives of media outlets who visited the display.

Industrial and textile designs


The thesis display also featured works of students of fine arts and textile groups. PHOTOS: ATHAR KHAN/EXPRESS

Students Ama Ahmed and Zainab Tahir designed kitchens that would accommodate stoves, fridge and utensils in a compact place. According to them, all the students in the departments of industrial design were girls even though it was considered a male domain.




Karama Batool, a textile student, had designed her dress on the theme of bargad (Banyan) tree. She said that there were a lot of these trees in Karachi but now, they have become scarce. Visitors Ghazal Nadeem and Aliya Karim, both housewives, said that the students had given new dimensions to old themes, such as the Balochi dress.

Published in The Express Tribune, December 11th, 2013.
COMMENTS (1)
Comments are moderated and generally will be posted if they are on-topic and not abusive.
For more information, please see our Comments FAQ