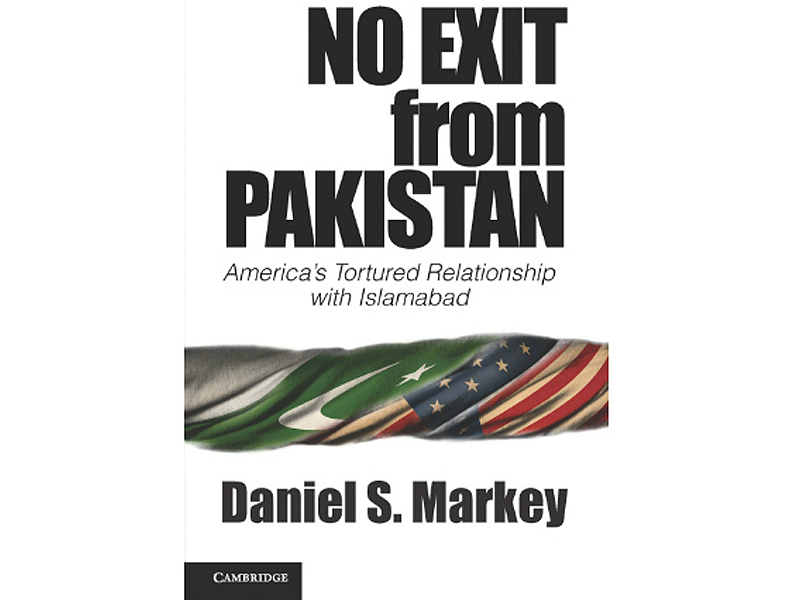 ---
LOS ANGELES: "Both countries are marked by a sense of mutual vulnerability and are vulnerable to what the other does," said Daniel Markey, He added that the world now is too small to escape from the reality of a country on the other side of the world. He also mentioned that Pakistan was of great geo-strategic importance to the US.

There is a sense of frustration with regards to US-Pakistan relations, said Daniel Markey. Five years ago as President Obama came into office and Pakistan had a civilian leadership after General Pervez Musharraf had been swept out of power, there had been enthusiasm in Washington for future relations between the two countries.

Markey, a senior fellow for India, Pakistan, and South Asia at the Council on Foreign Relations, was speaking at The University of California Los Angeles (UCLA) at a talk organised by the UCLA's Burkle Centre for International Relations. He was speaking about his recently published book, No Exit from Pakistan: America's Tortured Relationship with Islamabad.




The title of his book, he said, referenced Jean Paul Sartre's play No Exit and this was a meaningful choice. The relationship between the United States and Pakistan has a very specific comparison with the play that consists of three characters that are pitted against one another in a living room. Markey said that these aspects of the play worked as a useful analogy for US-Pakistan relations.

He quoted US Congressman Gary Ackerman as saying that Pakistan was a black hole for American aid out of which nothing good comes out. But he insisted there seemed to be no alternative than to work through this relationship. "War against Pakistan would be too messy, too dangerous and too awful."

The author recounted his time in Pakistan a week after the US raid on Bin Laden's compound and the sense of humiliation among Pakistanis. He said that some Pakistanis he had spoken with had wondered if they really needed the US and that China was always present as an ally. He remembered responding that his sources in Beijing had told him that they were not interested in being Pakistan's protectors.

Markey said that since then, the sense in Pakistan has been that the country has to work with the US as it wields a large amount of influence in the region, in the global economy, with financial institutions and with Pakistan's neighbours. Nawaz Sharif's government, he added, had decided on a narrower cooperation with the US as opposed to distancing themselves from it.

Markey turned to the oft-asked question of why Pakistanis hate the US. He divided the population into three strands. The liberals who are left-of-centre and are angry with the US for supporting military leaders. These people, he said, are highly educated and globally aware who sense the hypocrisy in the US's actions.

The second group, he said, were the nationalists who were politically in the centre. These people viewed themselves as patriots and were angry at the US for leaving Pakistan in its time of need. Markey said broken alliances with Pakistan were not just fickle mindedness on the part of the US but much more complicated. And last, he added, were the jihadis who were anti-American in a manner similar to Al-Qaeda. They, he pointed out, were a minority, albeit a vocal, armed one that many fear.

Markey then moved on to listing the three options he thought the US had in terms of dealing with Pakistan and also de-bunked all of them.

First on his list was defensive insulation whereby Pakistan could be quarantined. This, he said, meant the country could be walled off and alliances developed with its neighbours while drones were increased to manage the threat from a distance. He said such a strategy would be costly and further push Pakistan from the status of 'frenemy' to adversary.

Markey's second option was military-to-military relations. He said this would be a narrow transactional relationship. The US had done this in the past and it had not worked out well. "The Pakistani military will also suffer as it will lose respect."

Comprehensive cooperation was Markey's third option. This meant some of the above two options and more of helping the population by institution building. He said the Obama administration had tried and failed at this strategy. "It is challenging to cultivate relationships and fight terrorists at the same time."

He said that the US would have to pick and choose as no one strategy seemed effective.

Published in The Express Tribune, December 9th, 2013.
COMMENTS (36)
Comments are moderated and generally will be posted if they are on-topic and not abusive.
For more information, please see our Comments FAQ