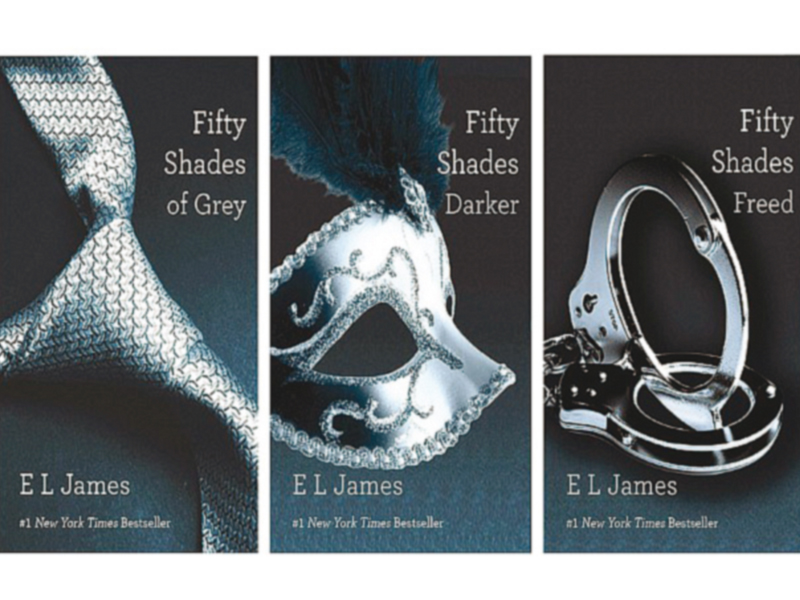 ---
KARACHI:



How it all began




Book trilogies are often converted into Hollywood films and they do surprisingly well due to their already established fan base. Harry Potter, Lord of the Rings, Twilight, The Girl with the Dragon Tattoo, the Jason Bourne trilogy and James Bond are all names that have already made a transition from print to the silver screen. In fact, book adaptations often make for compelling viewing, such as The Great Gatsby and The Social Network.

However, not every book that is popular should get a big screen adaptation. A case in point: Fifty Shades of Grey. Written by British author E L James, the books (inspired by Twilight and originally developed as fan-fiction) tell the story of wealthy businessman Christian Grey, 27, and a senior college student named Anastasia Steele, 21, and their convoluted and downright disturbing relationship. And that's putting it mildly.

It is a well-known fact that the book series has done extremely well in Pakistan. Liberty Books, which continues to stock the books in Pakistan, couldn't reveal actual sales figures, but maintain that the Fifty Shades series is still a popular seller. Around the world, Fifty Shades of Grey books have topped best-seller lists, sold more than 90 million copies, have been translated into 52 languages and have generated millions of dollars.

The excessive hype behind this contrived piece of writing, spread over three novels, might have died down if Hollywood had not came calling. Mark Wahlberg reportedly wanted to produce the film with Brad Pitt as Christian Grey, but that never happened. Emma Watson and Rooney Mara were supposedly two contenders for the role of Anastasia. Other names attached to the project included actors Christian Bale and White Collar star Matt Bomer. In the end, after months of speculation and debate, the lead cast, consisting of Jamie Dornan and Dakota Johnson, has been announced, and the final cast doesn't include a super-famous face, but then again, neither did Twilight.

A dangerous precedent

Here's the real crux of this story: Fifty Shades of Grey promotes abuse, according to a research study (released this year) by the Journal of Women's Health, aptly titled 'Double Crap: Abuse and Harmed Identity in Fifty Shades of Grey'. The book trilogy reflects various forms of abuse, including Intimate Partner Violence (IPV).

The Center for Disease Control (CDC) describes IPV in the following terms: "Physical, sexual, or psychological harm by a current or former partner or spouse." The World Health Organisation says that one third (30 per cent) of women worldwide, who have been in a relationship, have experienced IPV in one form or another.

According to this particular study, "emotional abuse is present in nearly every interaction, including: stalking (Christian deliberately follows Anastasia and appears in unusual places, uses a phone and computer to track Anastasia's whereabouts and deliver expensive gifts); intimidation (Christian uses intimidating verbal and nonverbal behaviour, such as routinely commanding Anastasia to eat and threatening to punish her); and isolation (Christian limits Anastasia's social contact).

Sexual violence is pervasive in the story, including the use of alcohol to compromise Anastasia's consent, as is the threat of bodily harm (Christian's intimate interactions with Anastasia are motivated by anger, he dismisses Anastasia's requests for boundaries and threatens her).

Furthermore, this pattern of abuse also spills over to Anastasia as she struggles with her identity. The study says, "Anastasia experiences reactions typical of abused women including constant perceived threat (''my stomach churns from his threats''); altered identity (describes herself as a ''pale, haunted ghost''); and stressful managing (engages in behaviours to ''keep the peace,'' such as withholding information about her social whereabouts to avoid Christian's anger). Anastasia becomes unempowered and entrapped in the relationship, as her behaviors become mechanized in response to Christian's abuse."

In short, this game changing work of fiction does much more than inspire its readers to add a healthy dose of excitement into their intimate relationships. It perpetuates violence and abuse in multiple forms, so much so that one has to wonder if popular culture has crossed a line in allowing these books to entrench themselves into the mainstream of both fiction and film.

Maheen Sabeeh

is a freelance journalist. She blogs at maheensabeeh.wordpress.com and tweets @maheensabeeh

Published in The Express Tribune, December 7th, 2013.

Like Life & Style on Facebook, follow @ETLifeandStyle on Twitter for the latest in fashion, gossip and entertainment.
COMMENTS (1)
Comments are moderated and generally will be posted if they are on-topic and not abusive.
For more information, please see our Comments FAQ