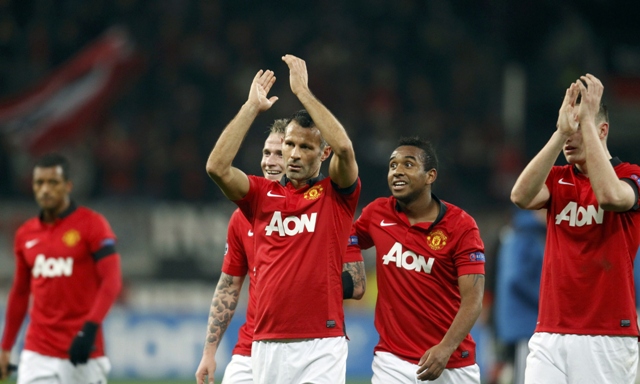 ---
LEVERKUSEN: Manchester United manager David Moyes paid tribute to Ryan Giggs who, two days before his 40th birthday, gave a dazzling exhibition in their 5-0 rout of Bayer Leverkusen on Wednesday.

Giggs was outstanding in a commanding midfield role as United outclassed the Germans to book their place in the knockout phase of the Champions League.

"You cannot question Giggs as a footballer," Moyes told reporters. "He did not look fatigued for his age at all. He is incredible, his vision and fitness are incredible. I am lucky to be working with him."

With Wayne Rooney delivering pin-point passes and Giggs controlling the pace, United stormed past Leverkusen with goals from Antonio Valencia, Emir Spahic into his own net, Jonny Evans, Chris Smalling and Nani.

"We really killed them on the counter-attack and it was a pleasure to play behind the front four," said Giggs.



Real defence still a concern despite win

Real Madrid may have strolled into last-16 with a 4-1 win at home to Galatasaray, but coach Carlo Ancelotti levelled some sharp criticism at centre backs Sergio Ramos and Pepe after the game.

Ramos got himself sent off midway through the first-half when he allowed Umut Bulut to get in front of him before felling the Galatasaray forward when he was through on goal.

Pepe was at fault for the Turkish side's equaliser when he reacted too slowly to a Didier Drogba through ball and Bulut snuck in behind him to finish clinically past Iker Casillas.

"I have told the defenders many times that they have to cover behind them and I don't need to say it again," said Ancelotti.



Invincible Bayern show no sign of stopping

Treble winners Bayern Munich's winning run through the Champions League group stage shows no sign of stopping with the title holders displaying ruthless efficiency in their 3-1 victory at CSKA Moscow.

Missing half a dozen players through injury and battling freezing temperatures and heavy snowfall, Bayern struck at just the right times for their fifth win in five games.

"The conditions were very hard and we could not play a perfect game," said Thomas Mueller, who converted a spot kick for Bayern's third goal. "But we got the goals at the right times and did what was necessary."

Meanwhile, Shaktar Dontesk downed Real Sociedad 4-0 and Juventus registered a 3-1 win against FC Copenhagen. In Group C matches, PSG overcame Olympiakos 2-1 as Benfica secured a 3-2 victory against Anderlecht. Premier League club Manchester City entered the last-16 by beating Czech team Viktoria Plzen 4-2.
COMMENTS
Comments are moderated and generally will be posted if they are on-topic and not abusive.
For more information, please see our Comments FAQ