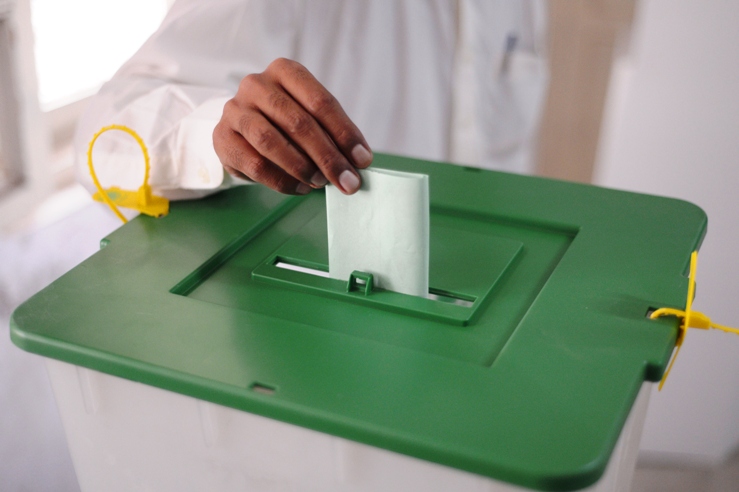 ---
ISLAMABAD:



Everything is possible in Pakistan – and it is not a cliché. There can be hardly any democratic country in the world where one voter had cast as many as 44 votes in a short time.




This is not the single case. There are a number of persons, men as well as women, who had cast multiple votes in different constituencies during this year's general elections. The identities of these persons have been established now, thanks to use of modern technology for the first time in country.




National Database Registration Authority (Nadra) through its Automated Fingerprint Identification System (AFIS) has established authenticity of voters by conducting forensic analysis of election material. A number of complaints were filed with election tribunals after the polls but they had sent only half a dozen or so cases to Nadra for verification of voters.

One such constituency was NA-256 where Mutahidda Quami Movement's (MQM) Iqbal Muhammad Khan had won, bagging 151,788 votes. The runner-up was Pakistan Tehreek-e-Insaf's Muhammad Zubair Khan who had took the initiative of contesting the results.

During forensic analysis, thousands of voters could not be verified due to what Nadra called 'bad thumb impressions' and were not verifiable. Yet those that could be verified revealed that a number of voters polled multiple votes. One of them was Waseem Anwar Hussain who polled a total of 35 votes at the polling station No 34.




According to Nadra's thumb impression verification reports filed in post-election tribunals, another voter, Shakir Zaheer, had cast 7 votes at the polling station No 168 in the same constituency. In the same constituency, Muhammad Faizanuddin had cast eight votes.

The trend is not limited to Karachi or to a particular party.  In the NA constituency NA 202, Shikarpur, a woman, Hajra wife of Ghulam Nabi, had cast four votes. Muhammad Ibrahim Jatoi of National Peoples Party had won from the constituency, securing as many as 54,890 votes.

The maximum number of multiple votes cast by one person was 44. The accused is identified as Muhammad Arif Saller, who had cast these votes at the polling station No 54 of the Sindh Assembly constituency PS-114, where Pakistan Muslim League-Nawaz (PML-N) Irfanullah Khan Marwat was declared the winner.

In another National Assembly constituency, NA-258, where PML-N's Hakeem Khan Baloch won the elections, Muhammad Sohaim had polled eight votes at the polling station No 229.

Of more than 398 post-election petitions filed with the tribunals, the majority had been received from Punjab.

However, so far, only one case had been sent to Nadra by a tribunal from Punjab for thumb impression verification. This case is about NA 118 Lahore from where the PML-N's Muhammad Riaz Mailk won against PTI's Hamid Zaman. No case had been forwarded for thumb impression verification from Balochistan and Khyber Pakhtunkhwa.

Published in The Express Tribune, November 27th, 2013.