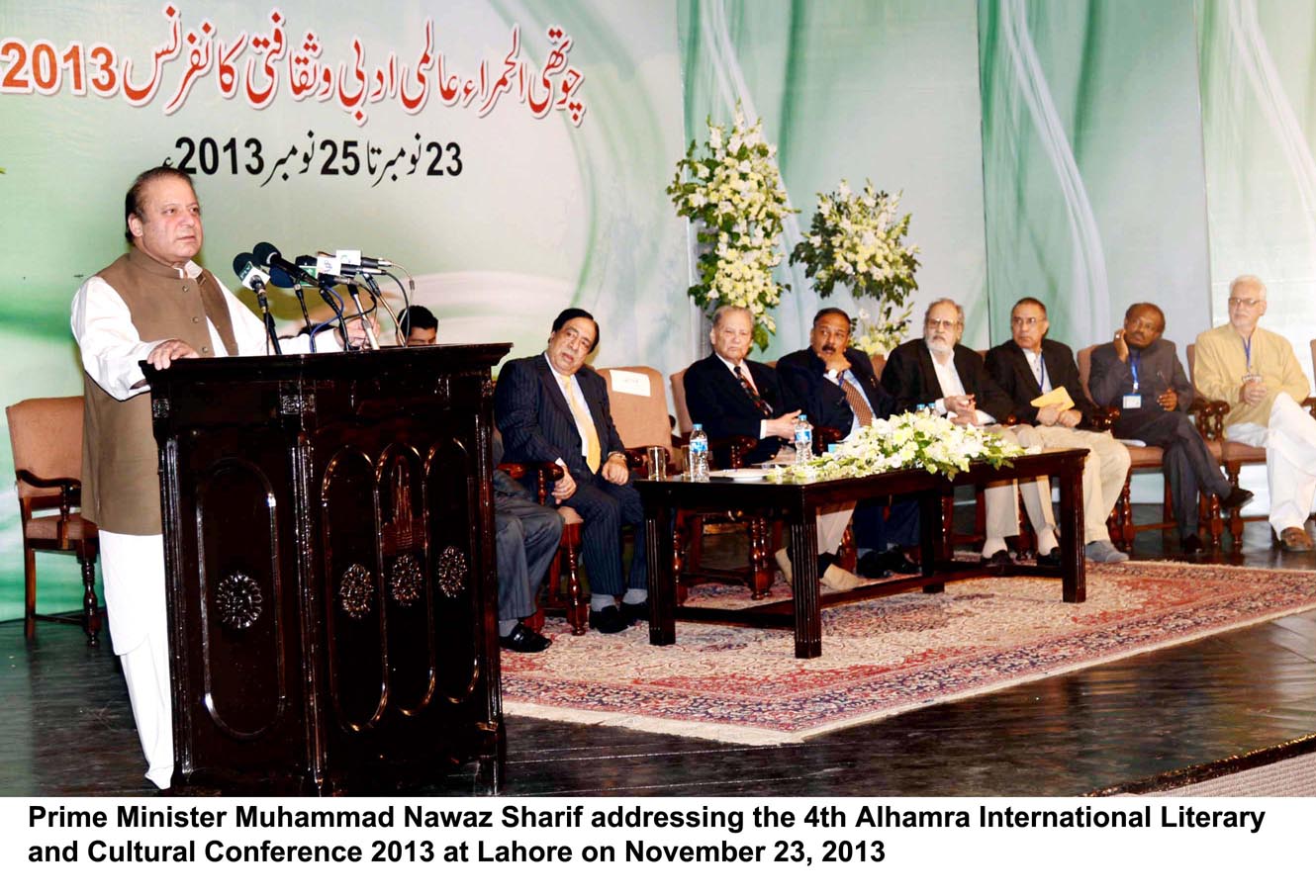 ---
LAHORE:



Prime Minister Nawaz Sharif has once again offered an olive branch to archrival India, sweeping aside concerns over the barrage of criticism directed at his country from Indian politicians ahead of next year's elections.




"If India moves one step towards normalising ties, Pakistan will move two steps," he said while reiterating the ruling Pakistan Muslim League-Nawaz's 'principled position' vis-à-vis relations with India.

"I'm an advocate of a good relationship with India and the PML-N still believes in its old policy of establishing peaceful relations with all neighbouring countries," the premier told an international literary and cultural conference in Lahore.

Recalling his interaction with the Indian media before the May 11, 2013 elections, he said that he had called for doing away with the visa requirement to facilitate the peoples of India and Pakistan. He added that Pakistan has good ties with its neighbours, particularly China and Iran. "Our relations with Afghanistan are improving and I also want to resolve all issues with India including the Kashmir dispute through dialogue," he added. "Hostilities along the Line of Control (LoC) are not in either side's interests."

The premier said that the PML-N had never resorted to India-bashing in its election campaigns. However, he regretted the spate of Pakistan-bashing in India in the runup to next year's elections which, he said, was counter-productive.




"The trust deficit between the two countries is being exaggerated," he said and recalled his meeting with the then Indian prime minister, Atal Bihari Vajpayee, in 1999 who had expressed resolve to settle all issues in an amicable manner. "We have to move forward with this spirit," he added.

The premier also called upon the incumbent Indian premier, Manmohan Singh, to seriously work for solving all the issues they discussed in their meeting on the sidelines of UN General Assembly in New York last month. "It's fact that Pakistan and India are neighbours, and no one can deny or change this fact," he said.

Nawaz asked the Indian guests at the conference to convey his message of peace to the people of India. He added that the people of Bangladesh still lived in the hearts of Pakistanis, who should, however, remember how the country was disintegrated and who were responsible for it.

Relations between Pakistan and India strained in August, this year, after the killing of six Indian troops in a cross-LoC raid in the disputed Himalayan state of Kashmir. Border skirmishes between the two sides continued for nearly two months and abated only recently. Even the New York summit between Nawaz and Singh was overshadowed by border tensions.

Domestic politics

The prime minister called upon Pakistani politicians not to politicise the important issues of terrorism and economy. "All institutions, including media and civil society, would have to follow a uniform policy, and play their role and refrain from politicising national issues," he added. "The government would surely achieve success in resolving economic issues and eliminating terrorism, though it would take time."

Referring to his party's victory in the May 11 elections, Nawaz said it was a golden opportunity for the PML-N to implement its vision because it has been voted to power for a third time. "When I took oath as the prime minister, I was cognizant of all the challenges and I have a plan to tackle them," he added.

The premier blamed his predecessors for the loot and plunder of national exchequer. Friday's ruling of the Supreme Court in the NICL scam shows the state of affairs during the previous governments. He conceded that the challenges were huge but promised that his administration would clean up the mess it has inherited from the previous governments.

Published in The Express Tribune, November 24th, 2013.
COMMENTS (4)
Comments are moderated and generally will be posted if they are on-topic and not abusive.
For more information, please see our Comments FAQ