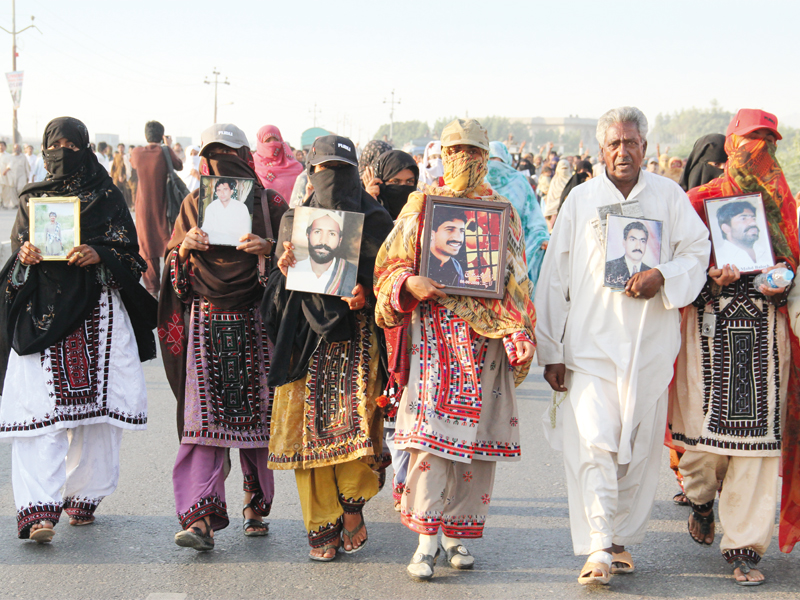 ---
KARACHI:



Leaving behind five children at her home in Panjgur, Wahida has walked more than 700 kilometres this past month, to demand the recovery of her brother, Obaidullah.




"It is difficult to live without my kids - my youngest one is only five years," the strong woman, with a chadar wrapped around her, admitted. "I cry thinking about them but I am doing all this for my brother. I want him back." She panted as she walked hurriedly, eager to catch up with the caravan.

With blistered and swollen feet, Wahida is one of the aggrieved persons who have been marching from Quetta since October 27 to demand the recovery of their missing Baloch men. Thursday was the 26th day of their long march, and the tired but determined protesters reached their destination Karachi on a sunny afternoon.

Activists of a nationalist party greeted the men, women and children with floral garlands after the caravan entered the city after starting their walk on Thursday morning from Hub. Most of the affected persons, who were participating in the long march, were fearless Baloch women, who came out of their homes to demand their loved ones be released.




Upon reaching Karachi, Farzana Majeed, whose brother Zakir has gone missing, said she was pleased to reach the port city. "We have finally reached our destination." She described the journey as difficult. "I feel my fingers will break.  I am so tired. My skin is sun burnt," she said pointing to her face.

As the protesters rested on a roadside near Yousuf Goth upon reaching Karachi, Sammi Baloch said that her mother has become mentally unfit since her father, Dr Deen Baloch was abducted in June 2009.

"We still have hope. Every phone that rings gives us hope that maybe someone has some information about my father. Every sound of a car coming to our house gives us hope that my father can be in it."

The march is being led by Mama Qadeer Baloch, the chairperson of the Voice for Baloch Missing Persons. He was happy to recall how they were welcomed in every area they walked through. According to the Baloch tradition, shelter and food were offered wherever they went. "Sometimes we would not eat in the daytimes but people were always coming to give biscuits and juices," said Qadeer.

The journey started from Quetta and covered much of the Balochistan province, including the hilly areas of Lasbela district. "There were suspicious cars that tried to hit us thrice but we survived."

Qadeer, who had his left foot bandaged, said that he has been having painkillers to suppress the pain. Qadeer's son was found dead after he went missing but, he said, he continues to march on for others. "I understand their pain. My son is no more but all these missing men are like my sons. I will struggle for them."

Voice for Baloch Missing Persons could have come to Karachi using buses and other transportation but they preferred walking the distance, explained Qadeer, adding that they wanted to grab the attention of the whole world and tell them about the thousands of Baloch men who are missing to this day.

The caravan includes men, women and children. Ten-year-old Ali Haider pushed a wheel barrow carrying his clothes as his elder sister, Samina, walked alongside. The two siblings were participating in the long march to demand the safe return of their father, Muhammad Ramzan, who went missing four years ago from Zero Point.

Since the long march began, the protesters would walk from 6am to 6pm. Initially, the caravan had only 20 people but it has now swelled to nearly 60 to 70 affected families. An elderly Bibi Ayesha joined them from Hub Chowk. "My knee is broken but I have come out to speak for my relative," she said.

By Thursday evening, the caravan marched in the presence of police vans, Rangers and an ambulance, towards Mawach Goth, where they would spend the night. Today, they will go to Karachi Press Club, where they will hold a demonstration and move to a camp set up outside the premises.

Published in The Express Tribune, November 22nd, 2013.
COMMENTS (29)
Comments are moderated and generally will be posted if they are on-topic and not abusive.
For more information, please see our Comments FAQ