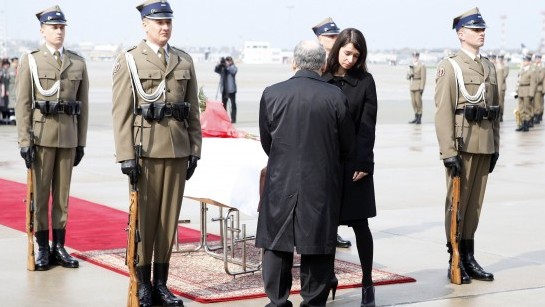 ---
WARSAW: The body of Polish President Lech Kaczynski will lie in state from Tuesday for grieving citizens to pay respects, as investigators probed the jet crash in Russia that killed him and 95 others.

The remains of his wife Maria were to be flown back to Poland so their coffins could rest beside each other for the sombre public memorial at the presidential palace in Warsaw. Questions over Saturday's crash prolonged Poland's national trauma, with Russian officials saying the pilots had ignored weather warnings and repeatedly tried to land at the fog-bound Smolensk airport.

Polish prosecutors said there was no evidence the crew had been pressured by those onboard to override the advice, so as not to miss a ceremony for Poles massacred after their capture by Soviet forces in World War II.

Besides the Kaczynskis, the doomed plane carried military leaders, members of the political elite, the central bank governor and relatives of victims of the 1940 Katyn massacre. The crash happened almost exactly 70 years after the original Katyn tragedy and near the notorious forest where Joseph Stalin's secret police shot dead 20,000 Polish officers.

But the accident, and Russia's swift and grief-stricken reaction, has brought the historic foes together. "Maybe this will contribute to normalisation, I see their (Russia's) reaction as an opportunity for reconciliation with Russia," said Halina Pasik, 77, who lives in the Kaczynskis' old Warsaw neighbourhood.

Relatives of the crash victims have been flown to Russia to try to speed up the process of identifying the corpses, many of them mutilated beyond recognition when the plane came down near the western city of Smolensk. Kaczynski's body is the only one to have so far been repatriated.

Poland, in the midst of seven days of mourning, is to hold an official memorial service on Saturday for Kaczynski and the other victims. It has not said when he will be buried. The return of his coffin on Sunday sparked scenes that echoed the mass grief when Poland honoured Polish pope John Paul II on his death in 2005.

Russian officials say 24 victims had so far been identified by relatives. Eighty-seven bodies had been retrieved from the wreckage, Poland's chief prosecutor Andrzej Seremet said Monday, leaving nine unaccounted for. Acutely aware of Russia's troubled history with Poland, Russian Prime Minister Vladimir Putin has taken charge of the crash probe and promised a "objective and thorough" investigation.

Russia observed a day of mourning for the victims on Monday, flying flags at half mast and banning all advertising on television and radio. The European Union also held a day of mourning Monday while NATO's political governing body held a minute of silence at its Brussels headquarters.

A conservative nationalist, Kaczynski was politically divisive both at home and in Europe, but his death has brought unity, to Poland in particular. Poland's democratic institutions, forged since the collapse of communism in 1989, have held up after the crash, with parliamentary speaker Bronislaw Komorowski assuming the duties of acting head of state.

He has to set the date of a snap presidential poll in the next two weeks and the vote must be before the end of June. A presidential ballot was due later this year. Komorowski, a liberal, was expected to run against Kaczynski.
COMMENTS
Comments are moderated and generally will be posted if they are on-topic and not abusive.
For more information, please see our Comments FAQ