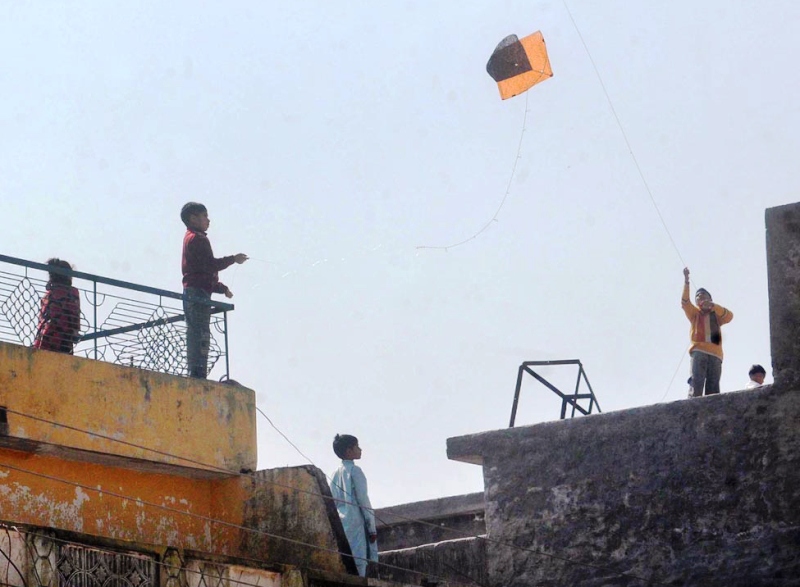 ---
LAHORE:



A two-year-old girl was killed and three others were injured by stray kite string on Sunday.




The girl, Noor, was sitting at the front of a motorbike driven by her father Muhammad Ajmal, 37, when the string got entangled around her neck and sliced through her blood vessels.

The string also cut the neck of her brother Hamza, 5, who was sitting behind her, and Ajmal. His nephew, Ali Raza, 10, was also sitting on the motorbike. He too was injured when Ajmal lost control of the motorbike and they all fell to the ground near Scheme Mor, Baba Shah Fareed Chowk.

They were taken to the Social Security Hospital on Multan Road, where Noor was declared dead. Hamza also had serious wounds but he was declared to be out of danger after treatment. Dr Anjum Shabbir, the hospital's medical superintendent, told The Express Tribune that he was being kept under close observation. Ajmal and Ali Raza were discharged after treatment.

Ajmal, who owns a garments shop, told the police that he had been taking the children to Sabzazar for breakfast from his home in Rasool Park, Multan Road, when the incident took place at around 10am. He filed a complaint with Sabzazar police. An FIR was registered against unidentified kite flyers under Section 302 (murder) of the Pakistan Penal Code.

Kite-flying was banned in the province under the Punjab Prohibition of Kite Flying Act of 2009, in view of the injuries and deaths caused by kite string, which is often laced with powdered glass.

Inquiry

Chief Minister Shahbaz Sharif ordered an inquiry into the girl's death, said the Directorate General of Public Relations. He also ordered action against those violating the kite-flying ban.

Police said that they had arrested three suspects and recovered string and kites, but did not provide their names or the FIR number for the case against them, if any.

Acting Operations DIG Rana Abdul Jabbar dismissed three patrolling officers in the area following the incident. He said that the SHOs of the areas concerned had been suspended following similar previous incidents, but there was no law to this effect.

CCPO Shafique Gujjar said that a committee had been formed to investigate the incident. After the inquiry, action may be taken against SHO Shareef Sindhu, he said.

DCO Ahmad Javed Qazi visited the injured in the hospital. He told reporters that action would be taken against the SHO.

Published in The Express Tribune, November 11th,2013.