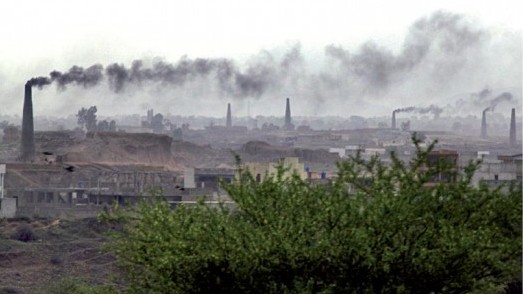 ---
ISLAMABAD: Environmental pollution has increased to alarming levels in the federal capital, which is also adversely affecting the adjoining areas of the twin cities.

Citizens have said the concerned authorities should evolve a strategy for the protection of trees, land and water ponds. During a survey conducted by The Express Tribune, citizens highlighted the smoke emitting factories in Sectors I-9 and I-10, traffic, cutting off trees, improper garbage disposal, bad sewerage system, constructions on the land adjacent to Rawal Lake and frequent incidents of bush fires in the Margalla Hills, as the main factors causing environmental pollution.

According to CDA 7,298 trees were uprooted for expansion of roads. The CDA officials said that they were removing Paper Mulberry and Eucalyptus trees only, while other trees were being planted at alternate places.

Citizens also complained of poisonous smoke being emitted from the factories which was becoming a major source of air pollution in the area.

"Non-provision of Sui-Gas in the rural areas resulted in people cutting up trees for daily use. Nearby residents throwing poultry waste in the main drain of Rawal Lake was also causing environmental pollution," they added. "CDA has failed to stop the eruption of fire on Margalla Hills that normally happens during summer," they said, adding that no systems of sewerage and disposal of garbage has been provided in the rural areas by the local administration, while dirty water ran in the middle of streets.

According to Environment Protection Department's report, the aggregate ratio of environmental pollution in Islamabad is 108 percent higher than the world standard while the sound pollution in Islamabad is 39 percent higher. Usage of generators in markets and commercial centres of Islamabad due to loadshedding has added to the sound pollution quotient.

According to medical experts, hypertension and heart diseases are caused by the sound pollution and it can also affect the memory and damage the concentration on studies. Smoke fumes released by the engine of vehicles and chimney of industries can cause breathing problems and cancer as well.

Quantity of TSP causing eyes and skin diseases in sector I-9 of Islamabad has been found 78 percent higher than the limit prescribed by the World Health Organization. According to experts, increase in the skin diseases is due to environmental pollution in Islamabad.

Despite lapse of 50 years, residents of federal capital are still deprived of solid waste system and keeping it in view the condition of rural areas this could be easily gauged.
COMMENTS
Comments are moderated and generally will be posted if they are on-topic and not abusive.
For more information, please see our Comments FAQ