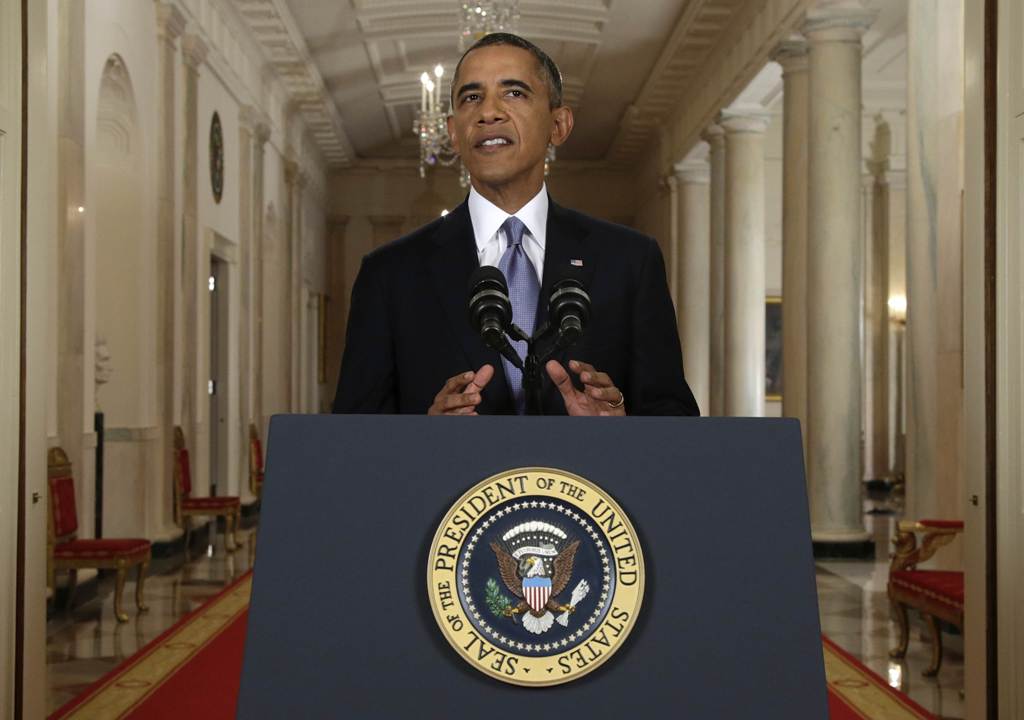 ---
WASHINGTON: Their nations are estranged by decades of distrust - but Barack Obama and Hassan Rouhani share a common political problem.

Hawks and hardliners in Washington and Tehran are putting the squeeze on the US and Iranian presidents as they grasp for a landmark nuclear deal.

As new international talks on Iran's nuclear program open in Geneva, deep mutual suspicion leaves American and Iranian negotiators little time or political space to act.

In Washington, national security conservatives who view Iran's diplomatic charm offensive through the same skeptical lens as Israeli Prime Minister Benjamin Netanyahu, want the White House to swear off inducements for Iranian concessions and threaten to toughen sanctions.

In Tehran, clerical and political conservatives, temporarily silenced by Rouhani's election, disdain talks with the "Great Satan" America.

"It is entirely possible that there are political considerations on either side that will complicate this," said Suzanne Maloney of the Brookings Institution.

"Both sides have to insulate against that to the extent that it is possible."

For Obama, a deal to disable Tehran's nuclear program without using military force would offer a shining foreign policy legacy.

But Democratic and Republican hawks, steeped in decades of antipathy towards revolutionary Iran, doubt a genuine deal is possible.

A new Senate push for even tougher sanctions than those currently hobbling Iran's economy prompted intense lobbying from a White House fearful that hardliners in Tehran could torpedo Rouhani's diplomatic outreach.

But powerful Democratic Senate Foreign Relations Chairman Robert Menendez and Republican colleague Mark Kirk argue Iran only came to the table because of sanctions - and urge more tough medicine.

Convincing the Senate to hold off on new measures to further choke Iran's oil sector is one thing - selling a divided, dysfunctional Congress on interim and final deals brokered by the US team in Geneva is another.

Although Obama has the power to waive certain sanctions on the Islamic Republic, he would need help from lawmakers to offer the full relief that might motivate Iran to do a deal.

But his sway on Capitol Hill is waning amid criticism over his handling of the Syria crisis and a second term malaise.

The likely shape of any final deal will prove politically contentious.

Menendez is on record with a bipartisan group of senators as saying Iran must be barred, among other restrictions, from enriching uranium - in line with Israel's red lines on a nuclear deal.

But former Obama administration non-proliferation official Robert Einhorn says a "perfect" deal may already be out of reach.

"The problem is that Iran is exceedingly unlikely to cave in to demands that it regards as tantamount to surrender," he said, in a speech in Tel Aviv last month widely interpreted as hinting at administration thinking.

"Most observers who follow Iran and its internal dynamics believe that no matter how devastating the sanctions, no matter how persistent we are at the negotiating table, and no matter how credible the military option we are able to threaten, Iran will not agree to the maximalist terms that the Israeli government and some Americans advocate."

If Einhorn is right, Obama will have to convince skeptical lawmakers that a less than ideal agreement - which leaves Iran short of "breakout" capacity to building a nuclear bomb but does not deprive it of the "right" to enrich uranium, is worth supporting.

Rouhani's limited room for political maneuver was reflected in his diplomatic dance at the United Nations in September - when he dodged a meeting with Obama but spoke to him by phone.

Many Iran watchers here interpret Iran's desire for quick results in the talks as a sign Rouhani is on borrowed time, after winning election in June on a pledge to ease US sanctions.

They also noted Supreme Leader Ayatollah Ali Khamenei's comment Sunday that talking would do Iran no harm.

But Khamenei, with ultimate authority over the nuclear program, also warned he was "not optimistic."

"The reason why the Supreme Leader came out two days ago in support of the negotiating team was to silence some of those opponents who were talking about a sellout," said Haleh Esfandiari, director of the Middle East program at the Woodrow Wilson International Center for Scholars.

"So far he has the support of the Supreme Leader. How long that will last we don't know," she said at a packed Center for Strategic and International Studies forum which reflected high interest in US-Iran gambit in Washington.

US officials are privately satisfied with the makeup of the Iranian negotiating team under Foreign Minister Mohammad Javad Zarif, who experienced US-style politics close up during law studies in Denver and as UN ambassador.

But while there may be some tactical advantage derived from a "good cop, bad cop" routine with lawmakers, there is concern that hawks in Tehran might interpret tough talk in Congress as a provocation.

"Elites in Iran who oppose improved US relations will certainly and understandably read any movement towards sanctions in the middle of negotiations as hostile," said Jim Walsh, an Iran specialist with the Massachusetts Institute of Technology.
COMMENTS
Comments are moderated and generally will be posted if they are on-topic and not abusive.
For more information, please see our Comments FAQ