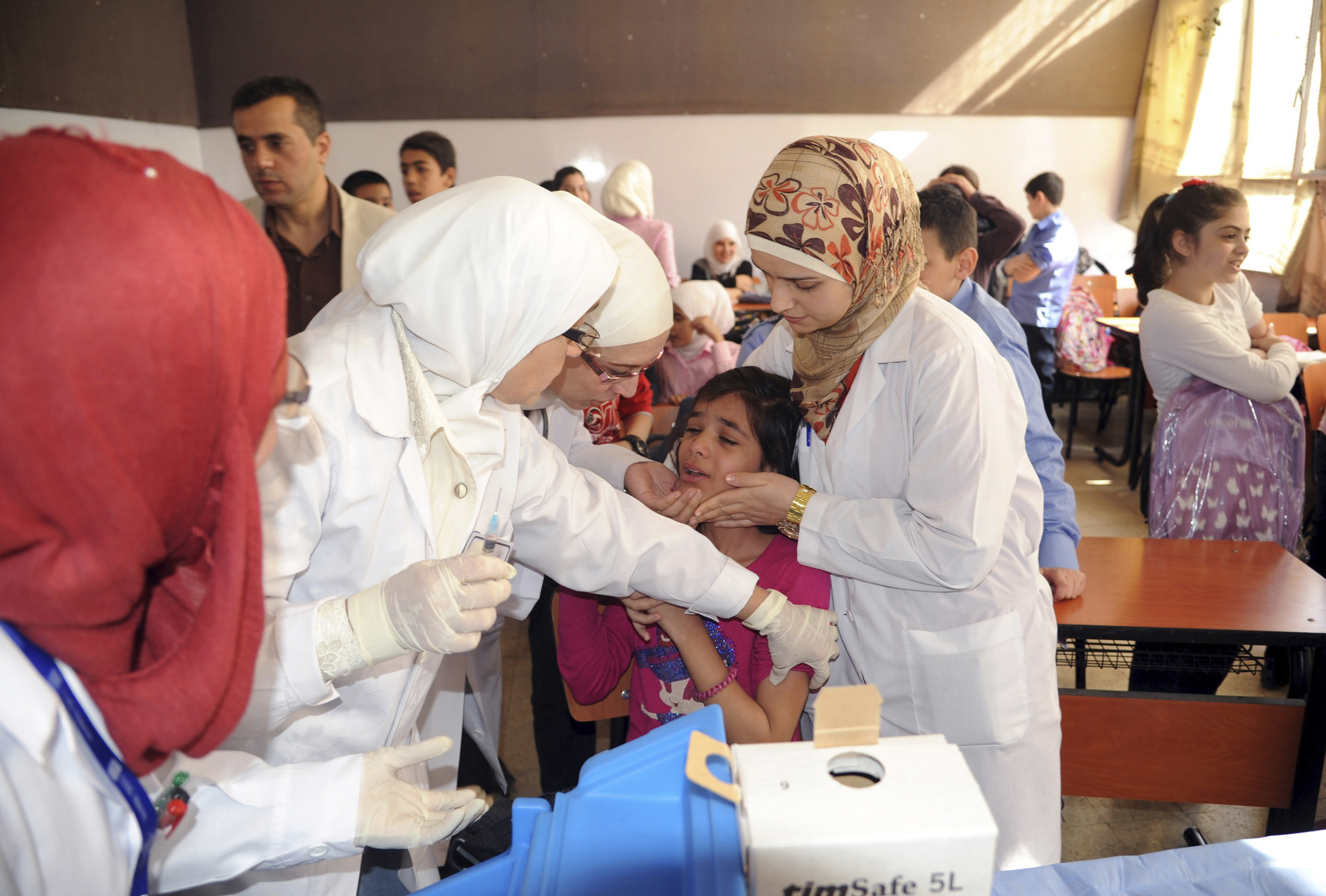 ---
PESHAWAR:



High-ranking officials working for the polio eradication programme have indicated that there is a possibility that the ongoing poliovirus outbreak in Syria that recently left ten children paralysed after 14 years, originated from Pakistan.




World Health Organisation (WHO) Polio Eradication Chief Dr Elias Durry, while taking to The Express Tribune, said that the Regional Reference Laboratory had not yet completed the genetic analysis of the virus found in Syria and there was a possibility that the virus had originated from Pakistan.

"We have laboratory proof that viruses isolated in Palestine and Egypt originated from Pakistan but, until the genetic analysis of the Syrian poliovirus is not complete, we cannot be certain that it is of the same strain," he said adding that the possibility was due to the ongoing poliovirus circulation in the region.

The global battle against the polio virus has largely been a success story, with the total number of cases being reduced from 350,000 in 1988 to 223 last year. India, which once accounted for half of the world's cases of polio, was taken off the endemic list in 2012 after a massive public health campaign. But with a sizeable number of cases confirmed in Somalia and Kenya, and now probably Syria, the number of cases will this year represent an increase rather than a fall – the first upward trend since 2008. There were also a handful of cases reported in Cameroon, south Sudan and Ethiopia and this year's total already stands at 301, before the cases in Syria are added.

Experts say the new outbreaks highlight the need to completely eradicate polio in those counties where it is still endemic and from where it can spread to other countries – especially those considered high risk.

Meanwhile, Pakistan remains one of the toughest challenges for polio workers. Many communities in the remote tribal areas bordering Afghanistan have historically been suspicious of vaccination programmes.

Last year, the Taliban prevented health workers vaccinating children in North and South Waziristan, a decision that meant 240,000 children under the age of five missed out. Dozens of health workers and police guards have been attacked and many have been killed.

It is not yet known where the Syrian virus originated from, something that will only be identified by the tests being conducted in laboratories in Tunisia. Some reports have raised the prospect that the polio virus in Syria may have been introduced by a foreign fighter joining the hostilities against President Bashar al-Assad. The city of Deir Al Zour is partly controlled by Syrian government forces while the surrounding countryside is held by rebel forces.

Khyber Pakhunkhwa Governor Shaukatullah Khan had said in the event on World Polio Day that if the situation is not handled, there could be a ban on Pakistanis wanting to travel to Saudi Arabia for Hajj.

The UN estimates that more than 100,000 people have been killed in the Syrian conflict and that 2 million Syrians have fled the country. As a result, children are now at far higher risk of diseases such as polio and measles. Most of the 22 children with suspected cases reported in Deir Al Zour are believed to be aged less than two years.

In addition to the vaccination programme, Unicef has flown in extra supplies of fortified food for children.

Published in The Express Tribune, October 31st, 2013.
COMMENTS (24)
Comments are moderated and generally will be posted if they are on-topic and not abusive.
For more information, please see our Comments FAQ